Giorgio Occhipinti's Less of Five - Chapter two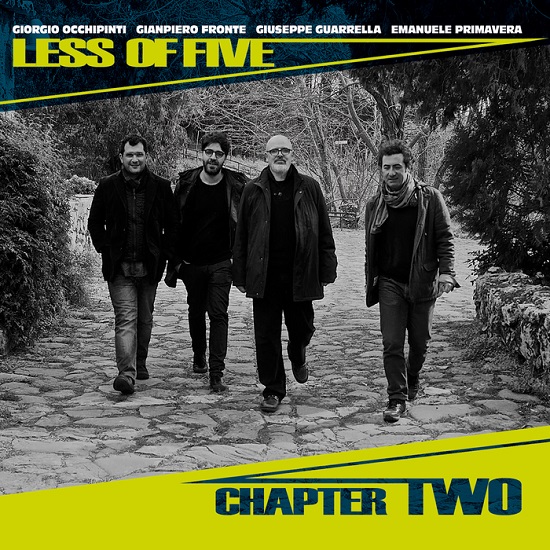 G
Caligola Records
Giorgio Occhipinti est un vieux complice de Jazz'halo, qu'il s'agisse des Jazz'halo Music Days ou des albums.
Les jazzfans belges avaient pu découvrir le pianiste italien, d'abord lors d'un Jazz au Château à Oupeye, au sein du quintet de Pino Minafra (tp), puis en duo avec Joëlle Léandre lors d'un Jazz Halo Days (album Incandescence) et avec son Heroe Nonetto (album The Kaos Legend, avec Alberto Mandarini à la trompette, Lauro Rossi au trombone, Carlo Actis Dato au saxophone, Renato Geremia au violon, puis Global Music and circular Thought avec Cello sequence).
Sur disque, on avait pu l'entendre aussi avec son December Thirty Jazz Trio (Free for 3) et en quartet avec Pino Minafra (Concert for Ibla). En 2002, il avait présenté un quartet avec la saxophoniste Olivia Bignardi (Acrobati folli e innamorati).
Le voici avec son nouveau quartet Less of five.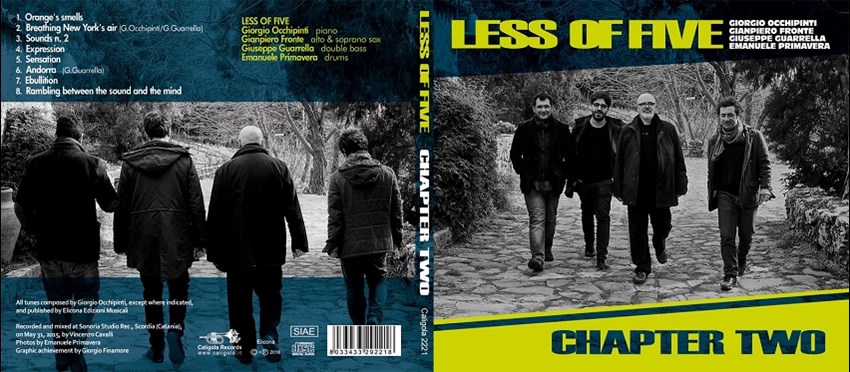 A la contrebasse, son vieux complice Giuseppe Guarella, membre du December Thirty Trio comme du Hereo Nonetto.
A la batterie, Emanuele Primavera qui a étudié avec Fabrizio Sferra, batteur du trio italien d'Enrico Pieranunzi et a suivi des workshops avec Paul Motian et Alberto Gatto.
Enfin, aux saxophones alto et soprano, Gianpiero Fronte. Après avoir découvert tout jeune le jazz au travers de Charlie Parker, il a étudié avec Tino Tracanna, le saxophoniste du quintet de Paolo Fresu, et avec Rosario Giuliani: deux vraies références. Originaire de la province de Raguse, il dirige un quintet à deux saxophones, avec Sergio Battaglia.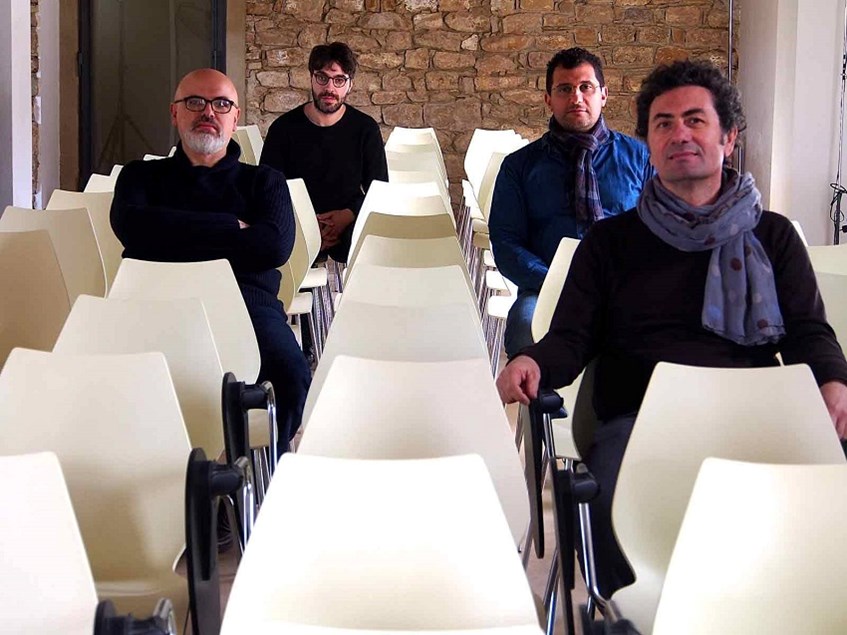 © Emanuele Primavera

Au répertoire, 6 compositions d'Occhipinti, une de Guarella (Andorra) et une cosignées par les deux complices (Breathing New York's air).
Tout au long des huit plages aux nombreuses circonvolutions rythmiques, sous l'impulsion de Primavera, un jazz fougueux, avec un alto volubile (Orange's smell, Expression, Sensation, Rambling between the sound and the mind) ou un soprano incisif (Breathing New York's air, Sounds, Andorra, Ebullition).
Quant au leader, son jeu est marqué par une grande vélocité du doigté et une totale indépendance entre les deux mains, à tel point qu'on pourrait croire être en présence de deux pianistes simultanément. Pour ce qui est de Guarella, écoutez son solo sur Orange's smell, ses intros dynamiques sur Andorra ou Breathing New York's air.
Plus sage que les albums du Hereo Nonetto, ce Chapter Two allie luxuriance des rythmes et charme méditerranéen des mélodies.

Claude Loxhay