Gilbert Isbin Trio - Yes Love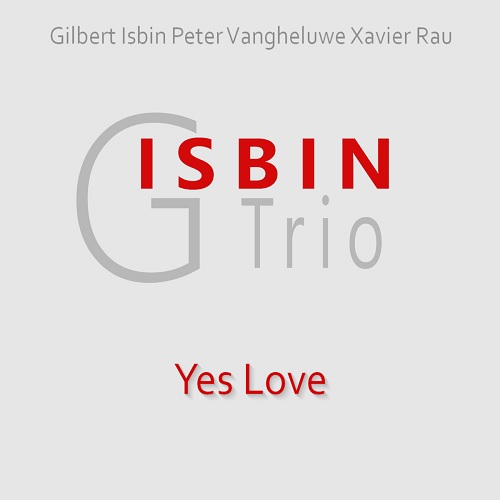 G
Tern Records
Gilbert Isbin est un grand spécialiste de la guitare acoustique et du luth. Admirateur de Ralph Towner et Egberto Gismonti, comme Alain Pierre, il marie jazz, musique classique contemporaine et folk.
On a pu l'entendre aux côtés de musiciens américains, comme les contrebassistes Cameron Brown et Joe Fonda ou le saxophoniste Vinny Golia. Côté européen, il a côtoyé aussi bien Ernst Reijseger que Michel Godard.
A son actif, une bonne douzaine d'albums.
Dès 1990, il enregistre Blue Sounds and touches en quintet avec le saxophoniste Luiz Marques. Par la suite, il grave plusieurs albums en solo: Solo Works en 97, Plays Nick Drake en 99, Red wine et The fingerstyle en 2001.
Pour le label Jazz'halo, il a enregistré Spring cleaning, avec Cameron Brown, Chris Joris, John Ruocco et Steve Houben;  un duo avec Joe Fonda (Blisters) et, en 2006, un trio avec Jef Gauthier au violon et Scott Walton à la contrebasse et au piano. Il a aussi gravé Water with a smile, avec la chanteuse Lea Van Loo.
Le voici en trio avec le contrebassiste Xavier Rau et le percussionniste Peter Vangheluwe, déjà présent sur Water with a smile mais aussi sur Blue sounds and touches.
Au répertoire, 9 compositions originales mais aussi le Blue in Green de Bill Evans et Miles Davis, interprété sur un tempo plus lent que l'original; Singsong, une belle mélodie de Jan Garbarek et Wawacou co-écrit avec Cameron Brown, un thème au tempo plus enjoué.
Ce qui frappe, dès la première écoute, c'est la pureté du son, le lyrisme naturel du luth, bien mise en valeur par une rythmique attentive et tout en délicatesse.
Une musique qui respire la sérénité comme l'indique la composition Peace Piece.
© Claude Loxhay