Gianni Lenoci Trio - Wild Geese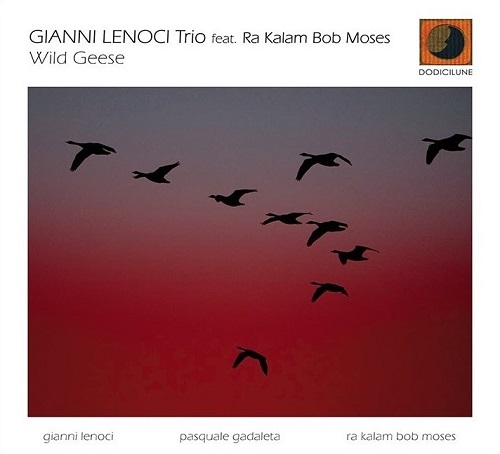 G
Dodicilune
S'il n'a pas, chez nous, l'aura d'un Enrico Pieranunzi, Stefano Bollani ou Franco D'Andrea, Gianni Lenoci est un des pianistes majeurs du jazz moderne italien.
Né en 1963, il a étudié avec Paul Bley et Mal Waldron. Il a beaucoup enregistré en trio avec Bruno Tommaso, Roberto Gatto, Kent Carter ou William Parker. Il a enregistré avec les saxophonistes Massimo Urbani et Carlo Actis Dato, Avec Joëlle Léandre (Sur une balançoire), Steve Potts et la vocaliste Tiziano Ghiglioni (No Baby).
Il forme ici un trio avec le contrebassiste Pascale Gadaleta qui a fait partie auparavant d'un trio avec John Betsch. Et avec Ra Kalam Bob Moses, batteur né en 48 et qui a croisé Gary Burton, Steve Kuhn comme Dave Liebman.
On peut écouter cet album comme un triple hommage.
D'abord à Carla Bley, avec quatre titres: And now the queen, avec son thème mélodique obsédant, Vaskar avec une contrebasse véloce comme NHØP, Ohlos de gato, mélodie très lyrique et Ida Lupino, splendide mélodie avec intro de batterie.
Ensuite Ornette Coleman, avec 4 titres aussi, Job Mob porté par la vigueur de la batterie et de la basse, Sleep talking avec jeu à l'archet, Latin genetix très rythmé et The beauty is a rare thing qui révèle tout le talent mélodique d'Ornette.
Enfin, une composition de Gary Peacock, Moor, au charme évident.
Un grand trio dans un répertoire choisi avec beaucoup de discernement
© Claude Loxhay