Gharana Fusion – Tides of Time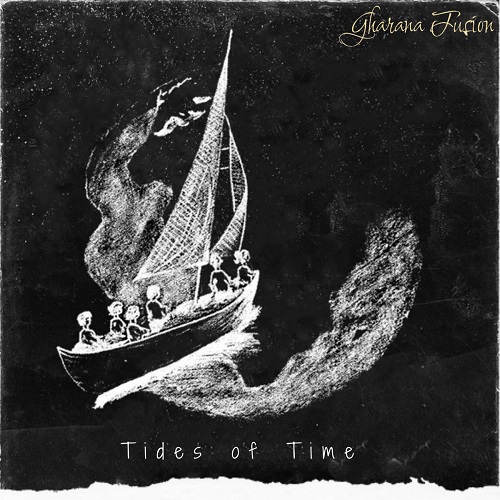 G
self production
Gharana Fusion besteht seit August 2006 und wurde von Susnata Har und Probir Narayan in Calcutta (Indien) aus der Taufe gehoben. Ethno Pop, Fusion oder indische Ragas –  das macht die Band aus. Dabei wurde all dem auch ein wenig bengalische und armenische (sic!) Folklore hinzugefügt.. Und worum geht es in der Musik, vor allem wenn Vokales im Fokus steht? "Their music speaks about the inner emotions, environment, eternal bonding between a mother and her child, harmony among people, lifestyle of rural dwellers connected to the river, confiding to universal cosmic energy and the celebration of life." So liest man es in einem das Album begleitenden Pressetext.
Neben dem Klang der korpuslosen Gitarre die Susnata Har spielt, ist es vor allem der Klang der Bansuri, einer Bambusflöte, die die Klangfärbungen ausmachen. Multi-Rhythmik durchzieht obendrein die Musik, in der auch Sitar-Klänge eine Rolle spielen. Cajon und Tabla sind die Instrumente, die für die Rhythmisierung der Stücke wesentlich sind. Dubki (indische Handtrommel), Ghunghroo (eine Reihe von Metallkugeln, die an der Fessel getragen werden) und khamak (eine Trommel mit einer Saite, die gezupft wird) gehören auch zur instrumentalen Ausstattung der Band.
Was hören wir denn da, wenn "Tides of Time" erklingt? Ein bisschen Rock der 70er Jahre vermischt sich teilweise mit lautmalerischem Gesang, der sich "instrumental" in den Klangreigen der übrigen Instrumente einreiht. Im Verlauf des Stücks hat man für Momente sogar den Eindruck, The Ventures würden ihren Auftritt haben, dank an Susnata Har. Für das Vokale ist im ersten Stück Debjani Acharya verantwortlich. Ist es Hindi was wir hören? Wir müssen es vermuten. Exotisch bleibt es auf alle Fälle, denn eine Übersetzung der Lyrik liegt nicht vor. In Stakkatolinien erleben wir Ayan Mukherjee auf der Bansuri. Der Flötenklang trifft in einer Klanggouache auf einen Gitarrenklang, der ohne Delays und Distortions sowie Midi oder Moog auskommt und uns bunte Melodiepartikel aus der Welt der Popmusik präsentiert. Unsere Vorstellung von indischer Musik ist gewiss durch den Sitarspieler Ravi Shankar geprägt. In "Bagmati" eröffnet der Sitarspieler das Stück, ehe dann der Gitarrist dazu stößt und Argha Dey auf Tablas für eine Rhythmisierung sorgt. Insgesamt erscheint das Stück trotz der Sitar als Popsong mit allen Zutaten, die ein solcher Song braucht, um Aufmerksamkeit zu erzeugen. Zudem gibt aber auch noch als "Zugabe" fetzige Funkriffs auf der Gitarre.
"Armani" lässt schon nach den ersten Takten an einen Tanz denken. Die Gitarre scheint sich gelegentlich in die Welt der Mandoline zu versteigen. Wiederkehrende Akkordschleifen sind auszumachen. Und was hören wir als rhythmisches Element? Cajon oder? In die Rock- und Popsong-Welt der 1970er Jahre nimmt uns die Band bei "Flights of Fantasy" mit. Das klingt auch ein wenig nach The Ventures, Merseyside Rock und Ostrock aus der DDR, oder? Die Melange reißt mit, lässt den Zuhörer kaum auf seinem Sessel verharren. Treibend ist der Rhythmus, der in den Händen von Gitarrist Susnata Har und Drummer Suman Chkraborty liegt. Irgendwie ist auch der Geist von Woodstock mit im Spiel. Nichts aber auch gar nichts hat zum indischen Raga einen Bezug, was wir ja bei indischem Pop erwarten würden. Wenn der Bansuri-Spieler uns die Flötentöne beibringt, dann scheint  Ian Anderson ganz nahe, sprich europäische Rockmusik und nicht die des indischen Subkontinents. So erleben wir ein ganz einmaliges Crossover mit indischen Perkussionsinstrumenten und Sitar, aber europäischen Melodieschleifen. Auch dieser Titel ist wie andere tanzbar. Einfach gestrickt ist auch dieses Stück nicht; Raum für Solos ist gegeben. So hat auch der Gitarrist freie Hand und lässt sein Saiteninstrument gelegentlich wimmern. Doch zumeist sind es schnelle ungeschliffene Riffs ohne elektronischen Schnickschnack, die wir hören.
© ferdinand dupuis-panther




Infos
Musiker:
Susnata Har (guitar),
Debjani Acharya (female vocal),
Ayan Mukherjee (bansuri, sitar, acoustica),
Kusal Bhandari (bass),
Argha Dey (tabla, ghunghroo, backing vocal),
Suman Chakraborty (drums, cajon, khamak, dubki)

https://www.gharanaworld.com

Tracks:

1. Tides of Time (LIVE, w/ vox) 08:23
2. Aey Khuda (LIVE, w/ vox) 05:28
3. Ray of Hope 08:42
4. Dariya (LIVE, w/ vox) 06:53
5. Bagmati 04:03
6. Ecstasy (LIVE) 06:37
7. Armani 03:54
8. Flights of Fantasy (LIVE) 03:15
9. Taalbandi 04:06
10. Nightsky (LIVE) 03:26