Gebhard Ullmann Basement Research - Impromptus and other short works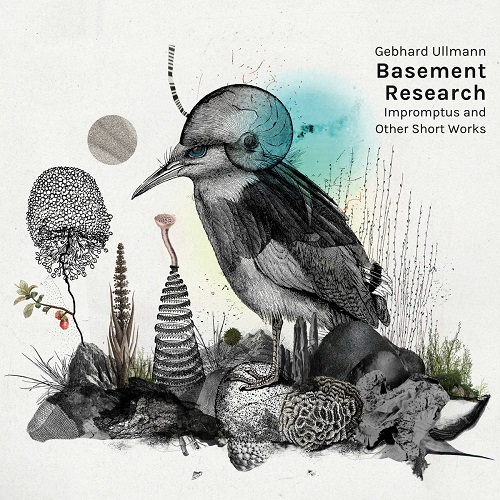 G
Whyplayjazz
Gebhard Ullmann est une des figures marquantes du free jazz germanique.
On avait pu l'entendre au festival Jazz!Brugge de 2002, avec son trio de clarinettes, en compagnie de Juergen Kupke et Theo Nabicht. Après des études à Hambourg en compagnie d'Herb Geller et Dave Liebman, il a partagé sa vie entre Berlin et New York. Il a formé un trio avec J. Argüelles et Marvin Smitty Smith, un quartet avec Enrico Rava et, à côté de son trio de clarinettes, il a rejoint un double trio avec Sylvain Kassap. Il a aussi participé au projet Septych de Bram De Looze.
A New York, il a fondé le projet Basement Reseach, avec lequel il a enregistré 7 albums. D'abord quartet, avec Ellery Eskelin puis Tony Malaby (ts), la formation s'est élargie en quintet avec Steve Swell (tb) et Julian Argüelles (bs). Après l'album Hat and shoes de 2015, voici Impromptus, pour lequel il a rassemblé 11 compositions personnelles, certaines anciennes revisitées, d'autres nouvelles.
Au trombone, Steve Swell qui fait partie de la scène new yorkaise depuis 1975. Parmi sa discographie, les albums Soul travelers avec William Parker (cb), Dave Burrell (p) et Gerald Cleaver (dm), Live in Tel Aviv avec Peter Brotzmann (ts), The Chicago plan avec Gebhard Ullmann et Music for 6 musicians, un hommage à Olivier Messiaen, avec Rob Brown (sax).
Au saxophone baryton, Julian Argüelles, qui a fait partie d'une formation majeure de la scène britannique, Loose Tubes, avec Django Bates au piano (Open Letter en 1988). Mais il a aussi joué au sein du Carla Bley Big Band, enregistré avec John Taylor (Phaedrus) et Kenny Wheeler (The long waiting).
A la contrebasse, Pascal Niggenkemper qui a poursuivi ses études à Cologne puis à la Manhattan School of Music, avec Maria Schneider et Gonzalo Rubalcaba. Parmi ses nombreuses collaborations, relevons sa participation à un trio de Robin Verheyen (Urban Creatures).
A la batterie, l'Américain Gerald Cleaver qui a accompagné de nombreux pianistes (Yaron Herman, Craig Taborn) et saxophonistes (Charlie Gayle, Tony Malaby). Avec l'Italien Gianluca Petrella (tb), il a enregistré We Don't live here anymore.



Pour ce nouvel album, Ullmann a rassemblé 6 "Impromptus" et d'autres compositions de 2'30 (Air) à 6' (Shifting Tonalities): une musique intense qui navigue entre retour au free des débuts (Albert Ayler, Archie Shepp) et cette longue tradition entre hymne et gospel (titre de la première plage).
A l'exception de Almost Twenty-eight joué à la clarinette basse, sur toutes les autres plages, on retrouve Ullmann au saxophone, un ténor impétueux (29 shoes, Lines, Sticks) sur lequel viennent se superposer - s'affronter trombone vrombissant et baryton rocailleux (c'est lui qui domine Gospel ou 29 shoes).
Galvanisés par la solide rythmique, les trois souffleurs, à l'image de la tradition free, ne jouent pas à l'unisson mais de manière collatérale, ouvrant de larges espaces à l'improvisation. La palette sonore s'élargit encore lorsque Niggenkemper joue à l'archet (Shifting tonalities, For Jim).
Un bel exemple de free music.
© Claude Loxhay
Musiciens:
Gebhard Ullmann (saxophone ténor, clarinette basse)
Steve Swell (trombone)
Julian Argüelles (saxophone baryton)
Pascal Niggenkemper (contrebasse)
Gerald Cleaver (batterie)