Gabriel Latchin - I'll Be Home For Christmas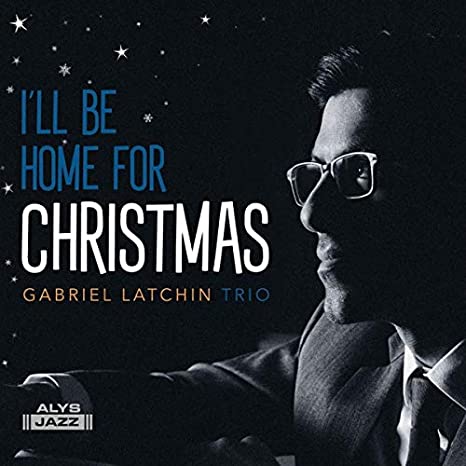 G
Alys Jazz
Quelques pianistes britanniques ont à coup sûr marqué l'histoire du jazz, on peut sans trop d'effort citer Victor Feldman, Gordon Beck, John Taylor ou George Shearing parmi les plus anciens, et la jeune génération nous séduit aujourd'hui avec Gwylim Simcock, Liam Noble, Jason Rebello, Andrew McCormack et ceux de la vague anglo-néo-jazz… Gabriel Latchin est lui moins connu sur la grande île que les Anglais appellent Europe.
Son troisième album réalisé en trio pourrait paraître « old fashioned » de par son inspiration, les chants de Noël. Mais alors que souvent ce genre de production qu'on pourrait qualifier de « marronnier » (terme utilisé en journalisme pour définir un sujet saisonnier) sent le sapin et le sirop de par l'abus de cordes, Latchin a choisi d'interpréter ces thèmes en trio piano-basse (Dario di Lecce)- batterie (Josh Morrison) et de leur donner des couleurs très années soixante.
Ainsi nous livre-t-il, outre une composition personnelle, dix titres d'un répertoire traditionnel mais pour lesquels il s'est inspiré de ses maîtres pianistes qui l'ont influencé : dans les notes de pochette, Gabriel Latchin cite Bill Evans, Thelonious Monk, Ahmad Jamal et quelques autres, souvent reconnaissables par les citations du pianiste : inévitable Monk sur le morceau d'introduction « Winter Wonderland », côté orchestral de Jamal sur « Rudolph The Red-Nosed Deer », technique proche de Peterson sur « A Toast to Friends » (une composition de Latchin) ou le toucher délicat de John Lewis sur « God Rest Ye Merry, Gentlemen », un traditionnel anglais.
Tous les amateurs de piano-jazz s'amuseront à détecter les pistes d'influences du pianiste et les fans de la grande école swing se régaleront du jeu de ce trio qui si il n'apporte rien de bien neuf à la formule du trio, nous propose un bel exercice de style et un moment intemporel de belle qualité. 
© Jean-Pierre Goffin
Une collaboration Jazz'halo/JazzAround