Tutu Puoane & Brussels Jazz Orchestra: "We Have A Dream"
Stadsschouwburg Brugge, 21 april 2018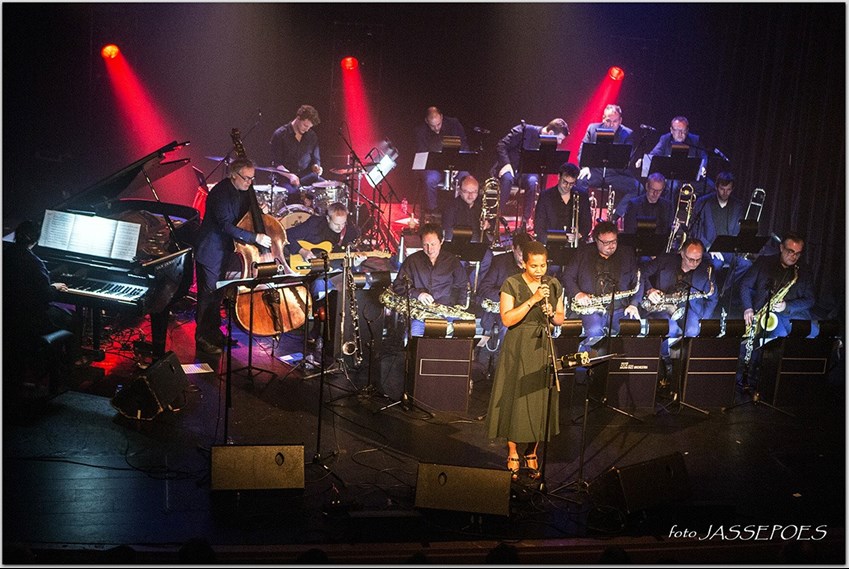 Tutu Puoane en het BJO droegen "We Have A Dream", hun nieuw project rond mensenrechten, op aan Rik Bevernage die in maart veel te vroeg van ons heenging. Frank Vaganée stelde dat er zonder Rik wellicht geen sprake meer zou zijn van het BJO.
Het programma bestond uit een reeks songs uit pop, rock, soul en jazz, in nieuwe arrangementen van o.m. Bert Joris, Michel Herr, Lode Mertens, … en ook Tutu Puoane.
Het Brussels Jazz Orchestra mocht de aftrap nemen met een knallende versie van "War", een Norman Whitfield/Barrett Strong compositie, die door Edwin Starr en later Bruce Springsteen onsterfelijk werd gemaakt. Met het wat Mingus-aandoende arrangement en Bart Defoorts schitterende, gedreven solo op tenorsax, was dit een ideale opener.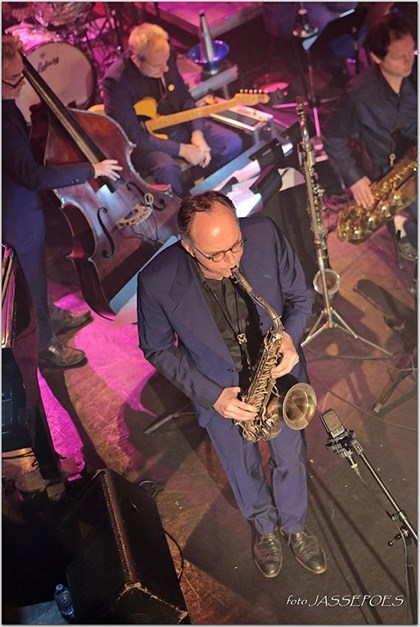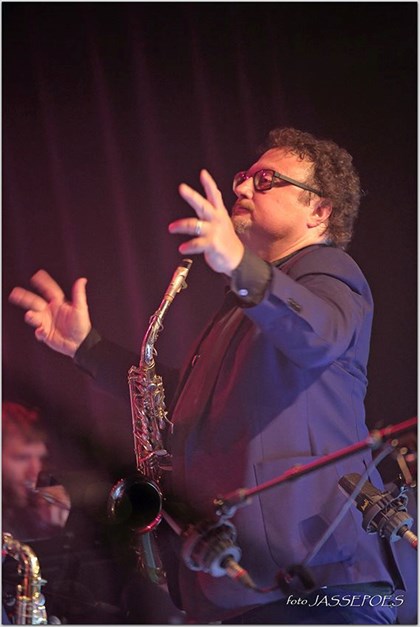 Dan trad Tutu Puoane aan met een ode aan Martin Luther King, het Gene Taylor nummer "Why? (The King Of Love Is Dead)". Het moet een zaligheid zijn om met een subliem orkest als het BJO te kunnen samenwerken. Tutu voelde zich duidelijk als een vis in het water. Pierre Drevet stond in voor een mooie flügelhorn solo.
In de Joni Mitchell song "Cherokee Louise" mocht altsaxofonist Dieter Limbourg zich uitleven. Heel knap. Trombonist Lode Mertens arrangeerde de Marvin Gaye hit "Inner City Blues (Make Me Wanna Holler)". Het nummer werd met een klein blaasensemble (trombone, baritonsax, trompet, sopraansax en klarinet) ingezet. Bloedmooi! Toen het volledige orkest inviel kwamen er mooie solo's van Lode Mertens en tenorsaxofonist Kurt Van Herck. Een absoluut hoogtepunt!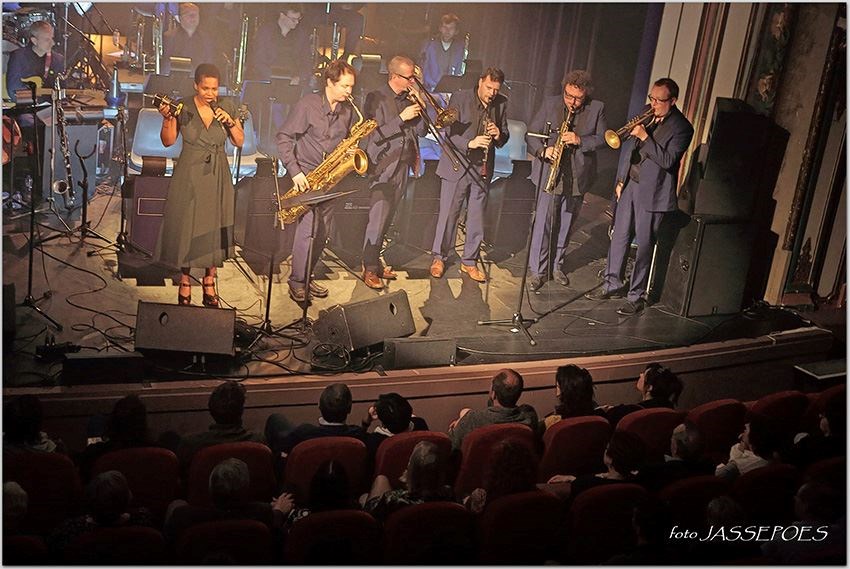 Donny Hathaway is een van Tutu's favorieten. Zijn "Someday We'll All Be Free", met tekst van Edward Howard, werd door Spike Lee gebruikt in de filmklassieker 'Malcolm X'. Altsaxofonist Frank Vaganée nam hier de wervelende solo voor zijn rekening.
Dan werd het tijd voor het tweede Joni Mitchell nummer, "Big Yellow Taxi", waarin de erg mooie piano- en contrabaslijnen opvielen.
Het aangrijpende Letta Mbulu-nummer "Not Yet Uhuru" bracht Tutu in duo met drummer Tony Vitacolonna. Aansluitend werd Nina Simone's "Four Women" ingezet met een warme basklarinet waarbij even later de klarinetten en dwarsfluit (Frank Vaganée) bijkleurden, gevolgd door de andere blazers. Marc Godefroid tekende voor de briljante trombonesolo.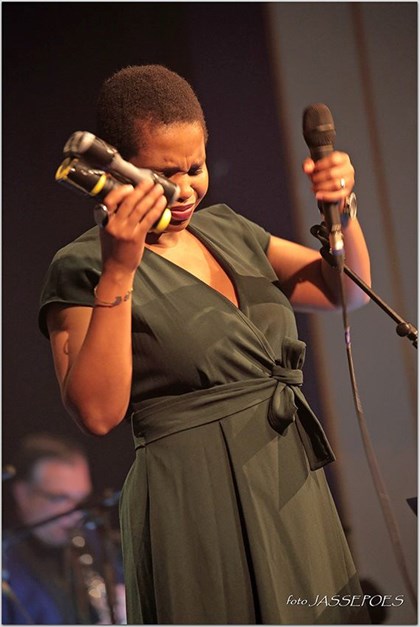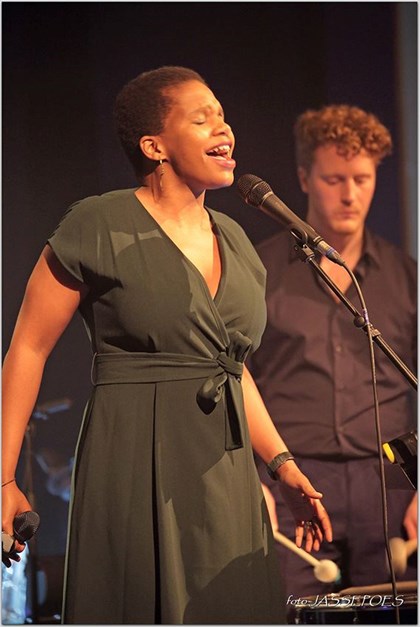 "The Killing Of Georgie (Part I & II)" schreef Rod Stewart naar aanleiding van de gewelddadige dood van zijn homoseksuele vriend Georgie. Een swingend nummer met Jeroen Van Malderen die hier excelleert op de trompet.
Stings "They Dance Alone" kreeg een intro op piano. Bo Van der Werf op baritonsax en Frank Vaganée andermaal op altsax gaven het nummer extra diepte.
Gitarist Hendrik Braeckman hadden we al horen bijkleuren maar het was pas in Stevie Wonders classic "Heaven Help Us All" dat hij even op het voorplan kwam. Een meester die zich volledig in dienst stelt van de groepssound.
"It's Not Easy Being Green" schreef bassist Joe Raposo in 1970 als themanummer voor het eerste seizoen van het Amerikaanse 'Sesame Street'. Jos Machtel soleerde met zijn warme sound. Topklasse!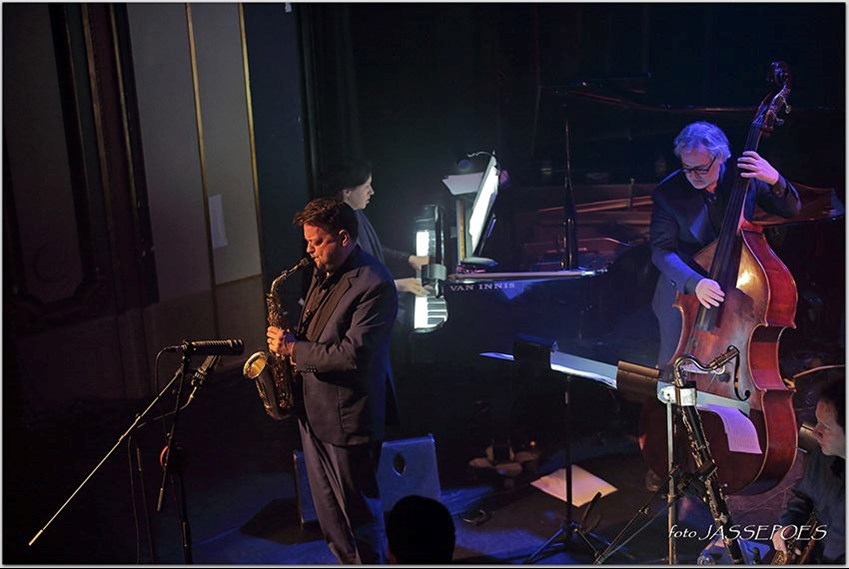 Eens te meer bleek wat een prachtige, wendbare sopraanstem Tutu heeft. Het Brussels Jazz Orchestra is absolute wereldklasse. Het was een meer dan geslaagd eerbetoon aan Rik Bevernage. Hij zou er trots op geweest zijn.
De avond, werd net als in het begin, afgesloten met een filmpje van Amnesty International die partner is van deze productie.

Tekst © Jos Demol  -  foto's van het concert op 14 April 2018 in de Stadsschouwburg Mechelen © Erwin Van Rillaer (Jassepoes)