MOL JAZZFESTIVAL 2009 BUDAPEST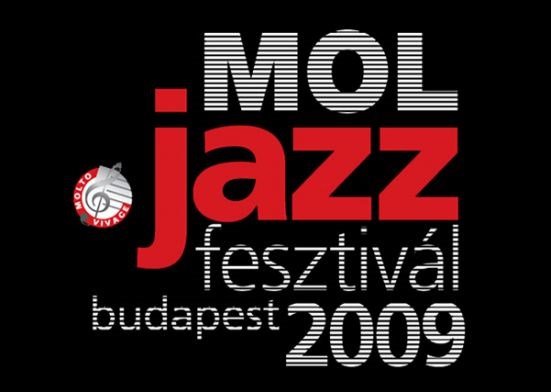 Budapest is one of Europe's most beautiful cities. It's divided into Buda (higher part) and Pest (low part) by the (not so blue, but almost brown) Danube. The Budapest Music Center organised the MOL Jazz Festival (9/9 until' 13/9) for the 7th time this year at the IXth district (in Pest). It was hot these five days, and not only weather-wise. We witnessed some of the hottest music at the European scene.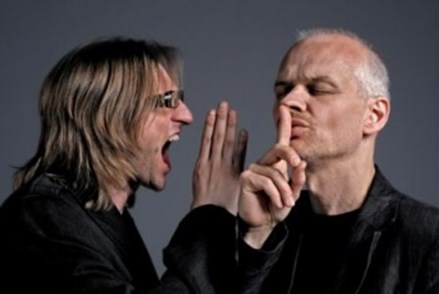 The quartet of Swedish double bassist and cello player Lars Danielsson started the opening night at the wonderful large concert hall at the Müvészetek Palotája (Palace of Arts),. This band was a substitute for the trio the bassist has with the exciting Polish piano player Leszek Możdżer and Zohar Fresco, a percussionist from Israel. Fresco couldn't make it and Lars decided to add British guitarist John Parricelli and drummer Magnus Öström (from the original EST line up) at his duo with Możdżer. The quartet couldn't convince, while the duo Lars and Leszek was overwhelming. In the encore the band was joined by singer Caecilie Norby, Lars Danielsson's wife.
Belgian singer David Linx has a wonderful, though particular voice. The first part of his concert with an amazing trio (pianist Diederik Wissels, bassist Christophe Wallemme and drummer Stéphane Huchard), his voice was disappointing. He sounded without strength and couldn't excite. In the second part he invited the most prolific Hungarian singer Winand Gábor and that worked very well. It's promising as they plan to go into the studio together. Winand's singing reminded me at the legendary singer/songwriter Tim Hardin: same warm voice.
All in all a disappointing opening night.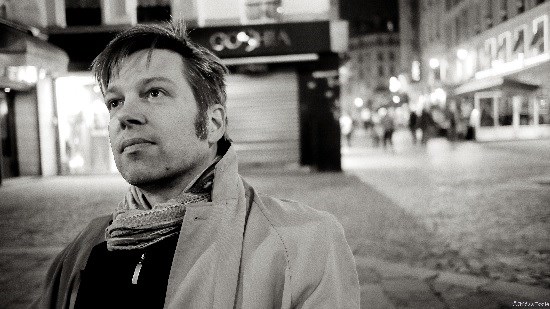 Daniel Erdmann © Gildas Bocle
The second night the first two concerts took place at Trafó, a wonderful small venue (300 people). The German band Erdmann 3000 was a joy to listen at: sort of minimal jazz on speed. With Erdmann 3000, less is more! This way of playing brings a continuing sense of tension in the music. There are plenty of rhythm changes so the listener is always attracted. All four are exceptional musicians and they are a very tight quartet. Drummer Samuel Rohrer, bassist Johannes Fink, guitarist Frank Möbus and tenor saxophonist Daniel Erdmann were signing for a first highlight!
The music of the September Quartet from Danish saxophonist Lotte Anker is original, humorous, profound and poetic in a delicate way. Drummer Kresten Osgood is a master entertainer, waving with a handkerchief and then blowing on a steel pipe. He gave the answer on Zappa's question "Does humour belongs in music?" and that is a whole-hearted YES. There was not a moment that his actions influenced the quality of the music (as is sometimes the case with his colleague Han Bennink). Anker has a strong sound on both soprano and tenor saxophone. Double bassist Nils Davidsen is a sensitive player who's alert to react immediately on his partners in crime. Pianist Simon Toldam (later also in Han Bennink's trio at the festival) is a very subtle player who's colouring the sound of this quartet. A second highlight.
As the next two concerts were at the Dome (near the Palace of Arts) and this extraordinary concert was a perfect conclusion for an exciting evening, I didn't attend the gigs by the quartets of Kristóf Bacsó (HU) and Hans Ulrik (DK).
I still don't understand why they spread out the venues instead of programming everything at the gorgeous Trafó.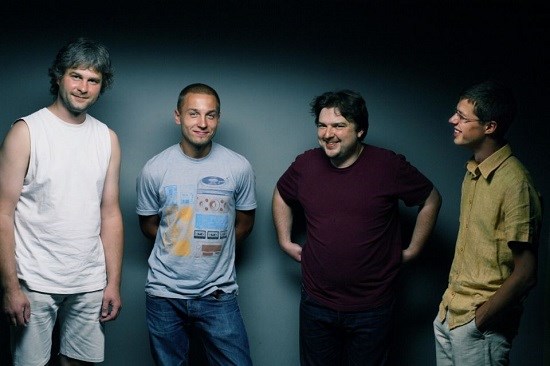 The Saga Quartet from Lithuania started day 3. They brought an excellent mix of jazz, rock and contemporary improvised music: music beyond all boundaries. Saxophonist Liudas Mockūnas has the same energy in his playing as Tony Malaby. His style is both original and fascinating. He's using overtones and the multiphonic technique in an intelligent way. Double bassist Vytis Nivinskas's solo on the Jimmy Giuffre's "Emphasis" demonstrated he's a mature player full of interesting ideas. His sound is rich and expressive. The technically skilful pianist Dmitrij Golovanov knows his roots. His excellent composition "Had to make money this way" was pure joy. Drummer Marijus Aleksa appeared already at the age of thirteen at the professional scene. This distinct player is the solid backbone in the quartet. A discovery!
I couldn't attend Aki Takase's Fats Waller Project because I wanted to hear the Emile Parisien Quartet at the Dom. Parisien is a master on the soprano saxophone. Although the sound was very (too) loud in the Dome it was an enjoyable concert. These youngsters explore the world of Coltrane and Shorter but also 20th century music. Drummer Sylvain Darrifourcq, bassist Ivan Gélugne, pianist Julien Touery and Emile Parisien were setting the Dome on fire. Their energetic playing is well documented on the CD/DVD "Original Pimpant" (out on Laborie Records). Although each musician is equal and not a backing trio for Parisien, I was very impressed by the bass player's skills. Their music is demanding a lot of intense listening but it's more than rewarding to make the effort. Wonderful!
The Mihály Dresch Quintet closed this night. I first heard the leader on the great CD "Hungarian Bebop" on BMC Records, with Archie Shepp as special guest. This time he had the extraordinary cimbalom player Miklós Lukács with him. Lukács is a master on this typical Hungarian instrument. This quintet was bringing a brilliant jazz influenced by the Hungarian soul. There were great solos by Lukács, violinist Márton Bakai and Dresch on saxophone and recorder. Dresch is a master on this wooden flute and it was only his singing that couldn't attract me. Nevertheless this was a wonderful concert for a packed Dom.

Day 4 started with the quartet of pianist Oláh Kálmán, double bassist József Horváth Barcza, Finnish drummer Marcus Ketola, and Estonian Meelis Vind on bass clarinet. Although these musicians were very skilled, their concert couldn't persuade. Drummer Ketola impressed me the most. He's a very subtle player full of wonderful ideas.
The Viktor Tóth Trio with American bass player Henry Franklin (known from his work with Roy Ayers, Harold Land, Hampton Hawes, Willie Bobo and Archie Shepp), and Swedish drummer Robert Ikiz started very promising. Tóth is an exceptional saxophonist that I heard during last year's edition of the MOL Jazz Festival at the Take Five Jazz Club, where he was recording with drummer Hamid Drake, bassist Mátyás Szandai and trumpeter/violinist Ferenc Kovács. This recording was recently released on the BMC label as "Tartim". This year's trio couldn't keep the tension the whole set. Certain moments were a bit boring. A pity!
At the Dome, Dutch drummer Han Bennink proposed his trio with the exciting Danish pianist Simon Toldam and Belgian reed player Joachim Badenhorst. I only heard the last two pieces and I didn't have the feeling I missed much. Maybe it also had a lot to do with the too loud sound and the lack of atmosphere due to only a few people attending the concert.
SG5 is a band with young Hungarian musicians lead by trumpeter Gábor Subicz. He's an amazing talent. His skilful companions were Gábor Lukács (alto and soprano saxes), Dávid Benkö (keyboards), Zsolt Feke (bass) and drummer Szilveszter Miklós. They played an entertaining set from jazz, funk, and influences from sixties rock. Disappointing was that there were only a few people to hear these guys play their guts of.

The Duo Rita Marcotulli/Bebo Ferra opened the closing night at the Palace of Arts (in a smaller but acoustically exceptional concert hall). I confess I'm a fan of Marcotulli's playing and composing, and she didn't disappoint me. Acoustic guitarist Bebo Ferra was a perfect match! Great lyricism, improvisations and dialogues. Cherry on the cake was a guest appearance of the grandfather of Hungarian jazz, the amazing Béla Szakcsi Lakatos. Wonderful concert and a standing ovation by a great audience!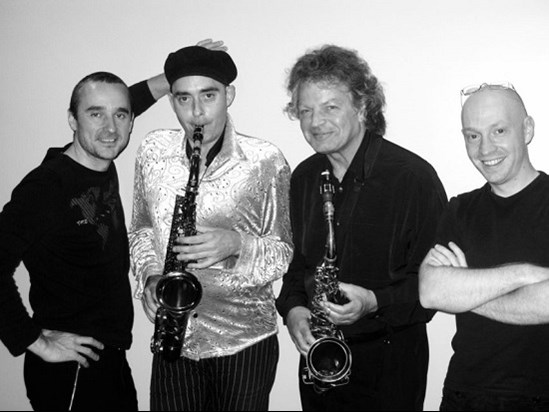 The MKMB Quartet presented their just released album "Emotions Homogènes" (on the BMC label). This is a super band with pianist Joachim Kuhn, saxophonist Christophe Monniot, master bassist Sébastien Boisseau and drummer Christophe Marguet. Nice to see all four musicians had an equal role in this quartet. Kuhn was at his best. He never asked more attention but was soloing on the highest level. Monniot is such a wonderful improviser with a great sound. The rhythm section was solid but also very subtle. A marvellous quartet getting a well earned standing ovation too. A worthy organ point for a well succeeded edition of this gorgeous MOL festival.
Let's hope László Göz, Tamás Bognár, Kornél Zipernovszky, and team are allowed to continue next year. Hopefully MOL, the Hungarian oil company, was as happy with this edition as we are.

Jos Demol, September 2009