International Jazzfestival Saalfelden, August 17 – 20, 2023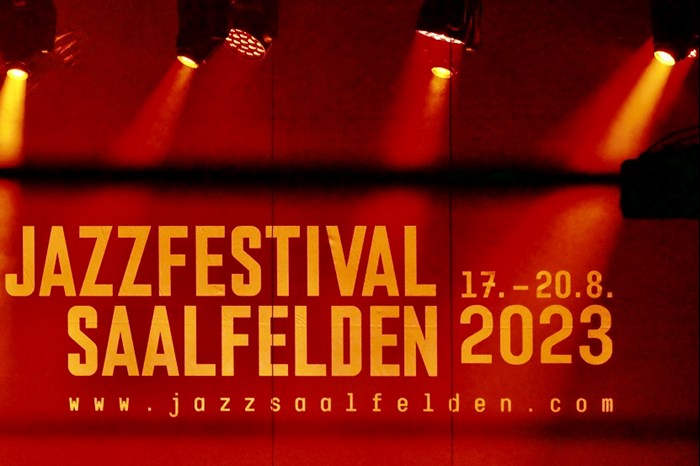 Saalfelden is Saalfelden is Saalfelden - for several good reasons. Thanks to its picturesque alpine surroundings, there are remarkable sites for concerts and there is a greater number of residential musicians that form surprising constellations within the little cosmos of the festival.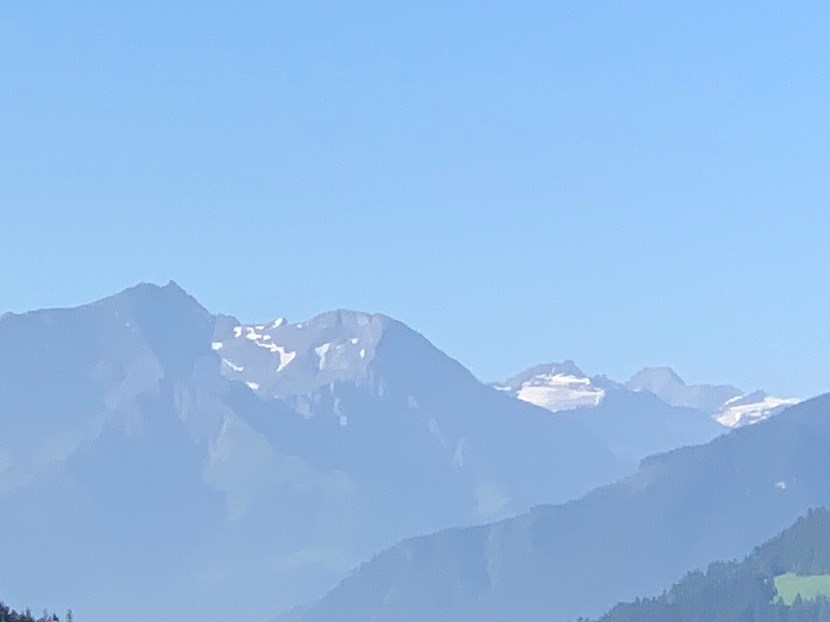 And, Saalfelden is no doubt an attracting international meeting place for musicians, presenters, bookers and media people in the context of outstanding hospitality and a well-balanced range of different types of music for a greater diversity of audience types. In short, it is a working and future proof kind of squaring the circle, all established in a small Alp town of 17.000 inhabitants inviting the wide world like this year reaching from Japan to Norway and from the Americas to Australia.
Saalfelden excels by a steadily developed and maintained ensemble of features that many other festivals only have a few of. You can feel well at this for a few days created homeland hosting a community of artists, guests and audiences.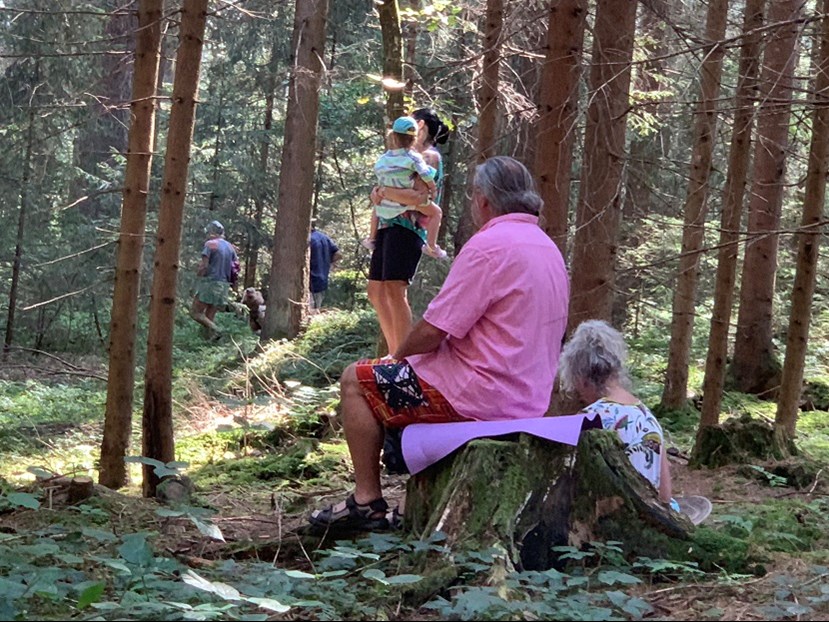 Sites and sceneries
Music to be played on the water, music to be played on the mountain, music to be played in the forest, on the Alm (great height situated pasture), music to be played in a printing workplace, music played in the park, music played in the modern architecture of cultural centre Nexus or the traditional one of Brücklwirtshaus (Little Bridge Inn), music played in a defunct factory next to music on the main stage in a congress centre with a roof terrace and its fantastic view on the surrounding sea of mountains, a roof terrace to sojourn, meet, mingle, eat and drinking Austrian wines as part of the festival's unique hospitality.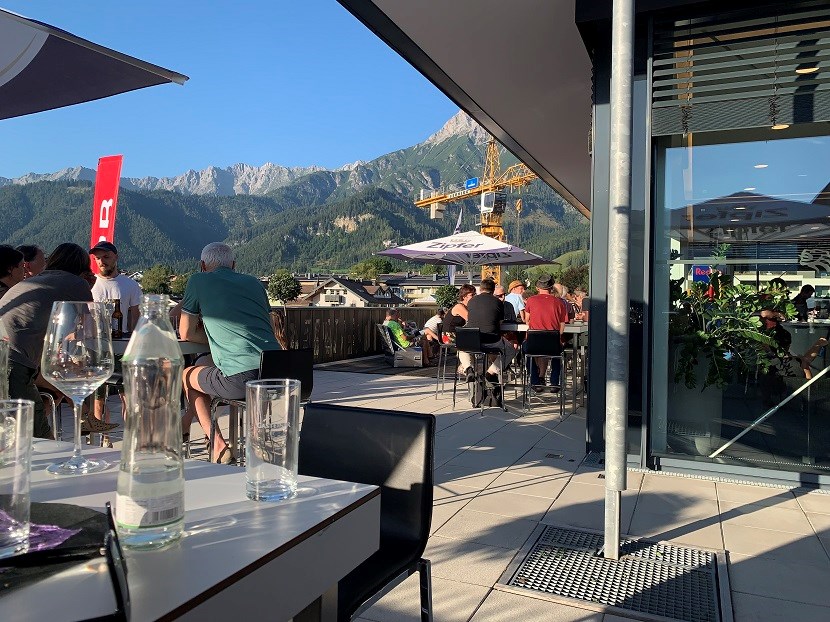 In town everything is on short walking distance but it's also possible to hike up to the mountains or take a more moderate walk to concerts in the neighbouring forest or at a lake. A very special concert place is the workplace of printing house Fuchs with its atmosphere of solid craftsmanship. There, both musicians and audience have to find their place in between vintage printing machines and a plethora of materials and print work. It was always full there a quarter before the concerts started. Also the hikes were sold out even weeks before.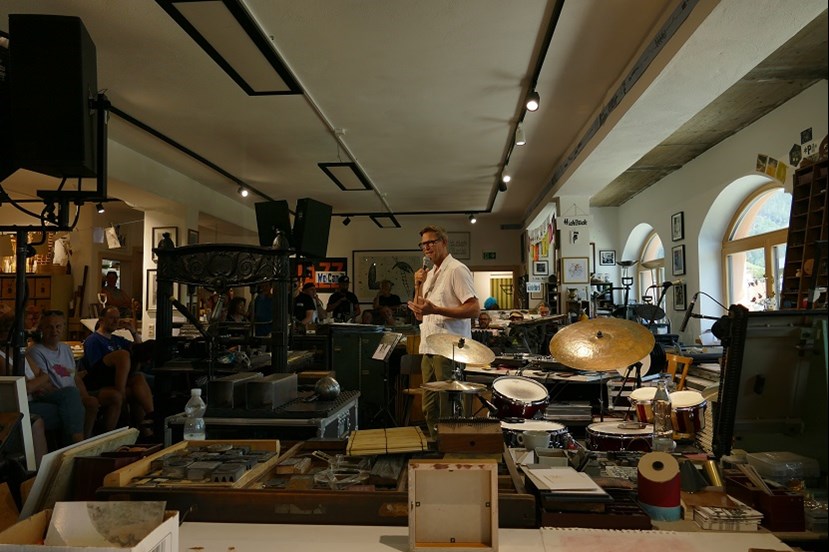 Götz Bühler announcing at Printing House Fuchs

Saalfelden just has a truly attractive radius of music and adventure opportunities in sunny late summer. It's a place to be and see (each other) before the concert season in the bigger cities in Europe starts. It's always a pity, when you can't make it.


Radius of music
Saalfelden has a very well balanced presentation of domestic and international musicians, European, transatlantic and oriental musicians and groups together on equivalent level. This is reinforced by a greater number of multilateral residential musicians playing in various combinations and ensembles next to the official artists in residence, Swiss vocalist Andreas Schaerer and Japanese koto-player Mishiyo Yagi. Due to this, those musicians are in a way 'our', the festival's temporary community's musicians. The festival this way establishes a creational work context on site and on close sight.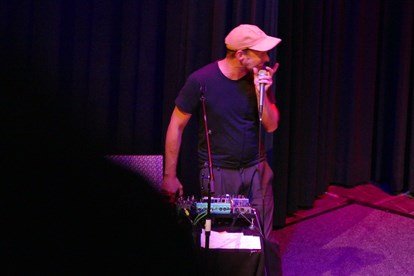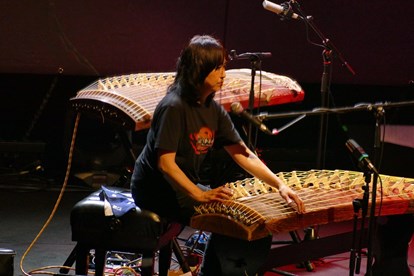 Andreas Schaerer and Mishiyo Yagi

Andreas Schaerer was involved in Hike Jazz, played with Kalle Kalima and Tim Lefebvre and in Stellar Stutter. Mishiyo Yagi played with Eivind Aarset, next day with Ingebrigt Håker Flaten and finally in duo w/ Hamid Drake. Sometimes high expectations for certain Saalfelden-specific (re)combinations do not turn out up to those expectations. That is however accepted as part of the game.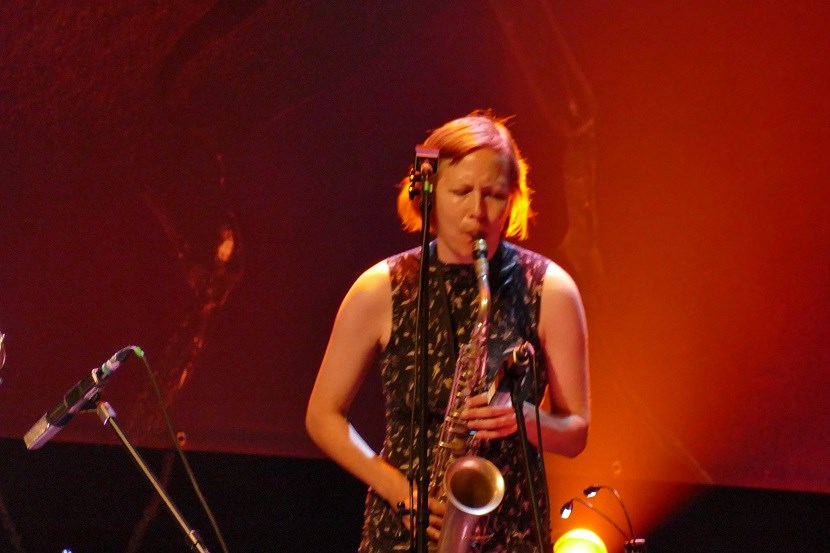 As an example of a multi-various musician let's take Swedish saxophonist Anna Högberg. She played four concerts in three constellations: her own sextet Attack, now on the scene for almost a decade, then twice in a festival-constellation called "Hymns of Past and Future" with Austrian bassist Lukas Kranzelbinder and US-American drummer Billy Martin next to her young colleague Zoh Amba from the USA. Also she got the turn for the Kolling Forest concert and invited bassist Ingebrigt Håker Flaten and Swiss drummer Julius Sartorius, who has worked a lot in open nature, on mountains and in forests.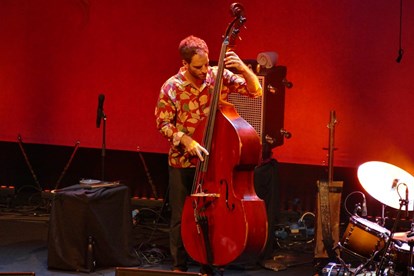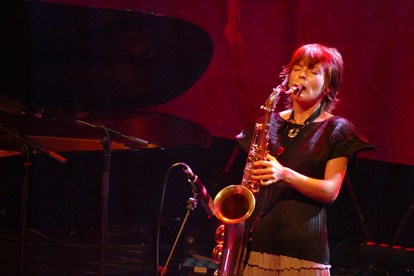 Lukas Kranzelbinder and Zoh Amba

The example shows which possibilities and chances the artist gets and how the audience can get acquainted to an artist and her/his various sides and ways of expression under different circumstances. A similar story goes up for bassist Nick Dunston, saxophonist Zoh Amba and last but not least Lukas Kranzelbinder himself, for years now the 'draft horse' for the heavier hikes up to higher mountain regions. Those hikes entail a strong involvement of the audience and leave a correspondently strong memory trace.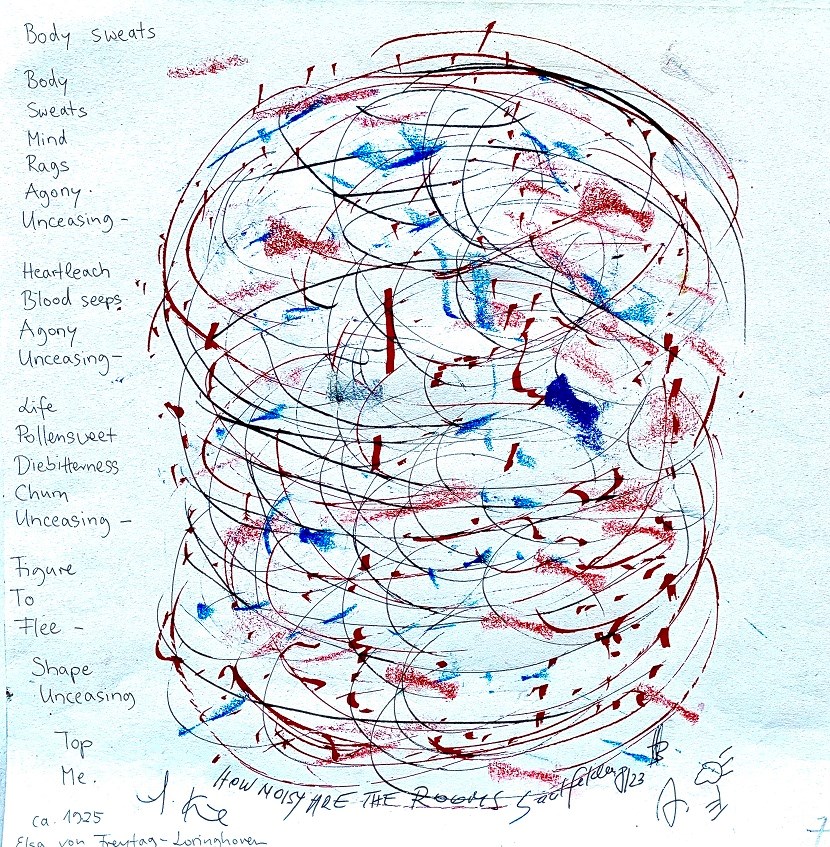 The Foxhole Experience
I decided to include my personal experience as performing artists of live drawing here in this article. It's a different role I write from than in the other parts of this article. Live drawing for me is finding visual forms in real time synchronous with the music played. It visually manifests my listening experience of the music played.
It is different from distanced ways of reflective writing. It is 'translating' my listening impressions into visualisations created à l'improviste without ex post elaborations. It's documenting characteristics of the music and it is my way of visual expression inspired by live music.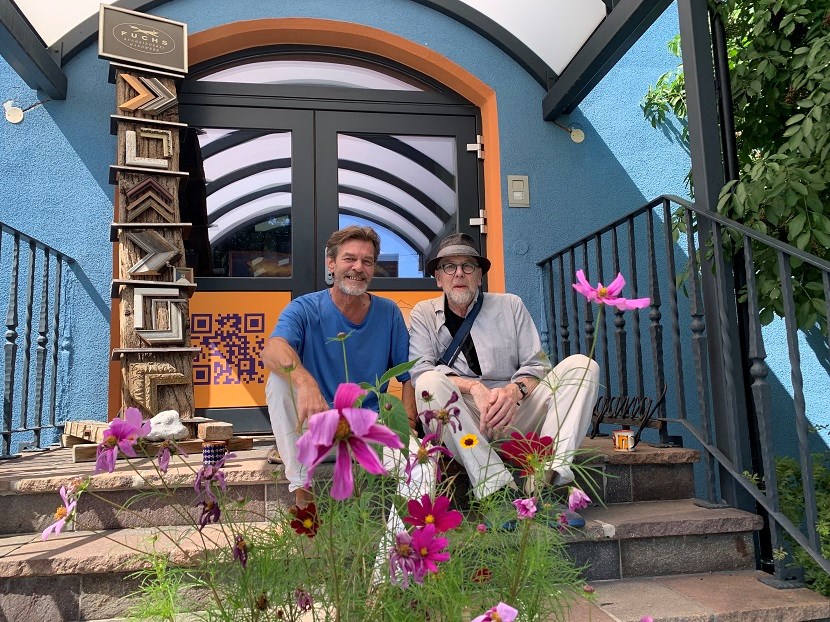 Partners in crime, Christian Fuchs and Henning Bolte © Frank Schindelbeck

The special ambiance of the printing house's workplace turned out as an ideal place for this kind of improvised art work. I am grateful for the inspirational challenges the musicians of the three groups fed to me. In that role I acted in three concerts:

Melting Pot with Mona Matbou Riahi (cl), Louise van den Heuvel (b), Camila Nebbia (sax), Tuva Halse (vln) and Hubert Zemler (dr), in the concert of the Berlin Tesserae Trio of Tilo Weber with Elias Stemeseder (harpsichord) and Petter Eldh (b), and the trio  of vocalist Almut Kühne, turntablist Joke Lanz and drummer Alfred Vogel, called How Noisy Are The Rooms? - a trio with musicians of Swiss, Austrian and German origin from Berlin.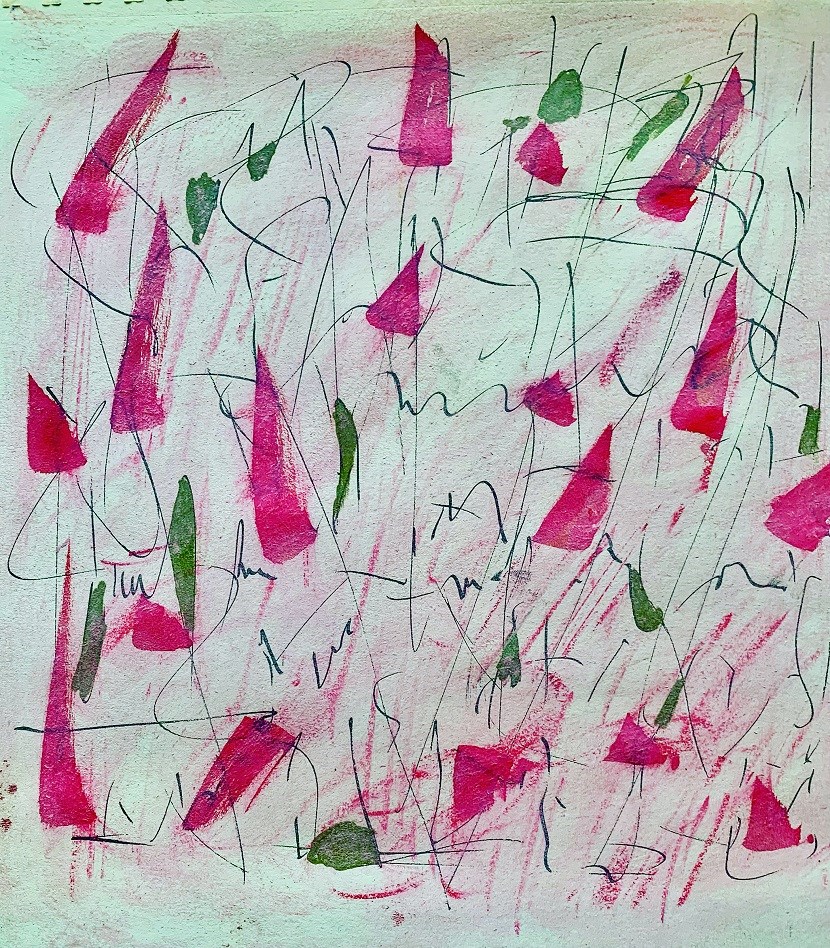 Melting Pot is a long-term recurring project. It presents a group of promising young musicians, delegated by participating festivals/venues from Oslo, Wroclaw, Berlin, Gent and Saalfelden. These musicians present themselves in that ad-hoc group after a short preparatory meeting to the audience . It can win ground and develop during appearances at five festivals. It is quite a challenge for them to find and develop a collective form to present themselves in that context and time-window. This year's group was quite successful in creating a convincing collective form that gave every member opportunities to manifest its musical personality. It resulted in a well-balanced and highly enjoyable concert without overdone sophistication.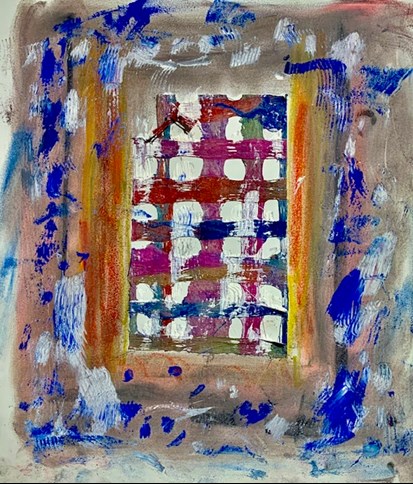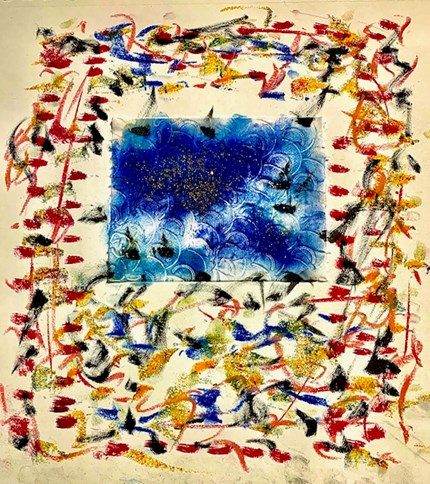 In polls we (still) have the category 'miscellaneous instruments' and it's sometimes hilarious which instruments fall in this category. Elias Stemeseder has a good chance to get nominated in that (silly) category with his use of the spinet, a lighter traveling format of the harpsichord.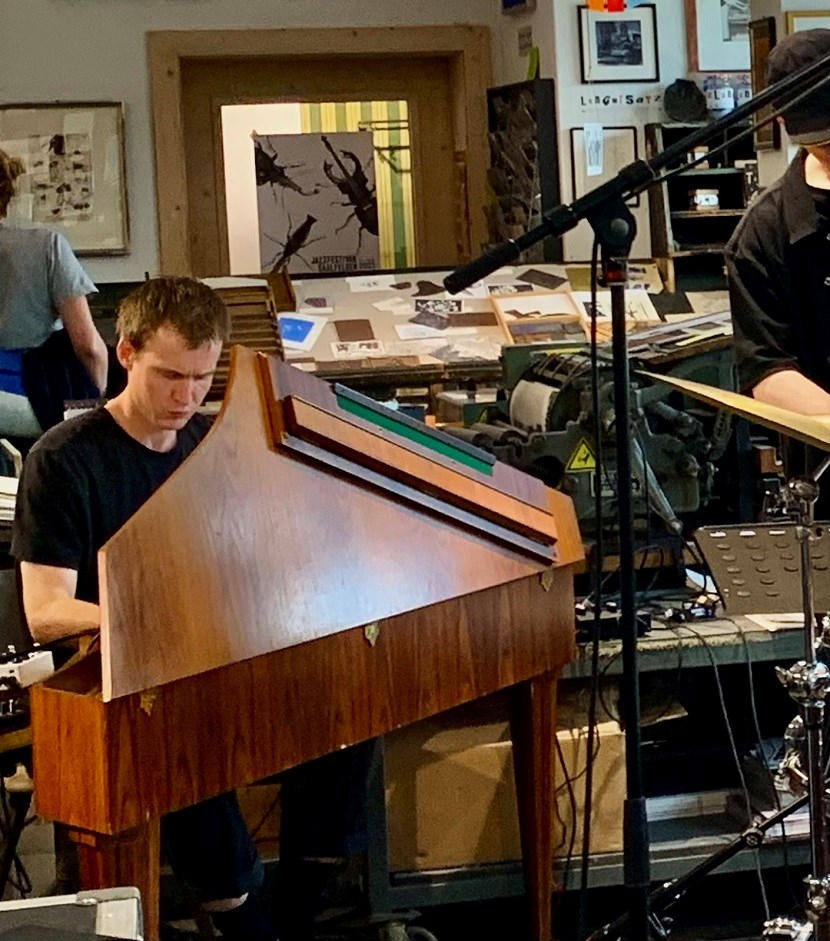 Actually, in the Tesserae Trio of drummer Thilo Weber the spinet is NOT a miscellaneous instrument but an electronically uplifted instrument that functions as coequal, complete substitute of the (grand) piano. Tilo Weber expressly wanted to start a piano trio without piano. Harpsichord and spinet were a good alternative but demanded for a couple of adaptations. Proof of how well it can function in Black American music are harpsichord versions of Scott Joplin's ragtime works by the great harpsichord player Elisabeth Chojnacka (1939-2017). For me those sound often 'better' than the conventional piano versions (zie "LINK CONCERTZENDER"). Also in contemporary music the harpsichord presently plays a greater and fairly interesting role.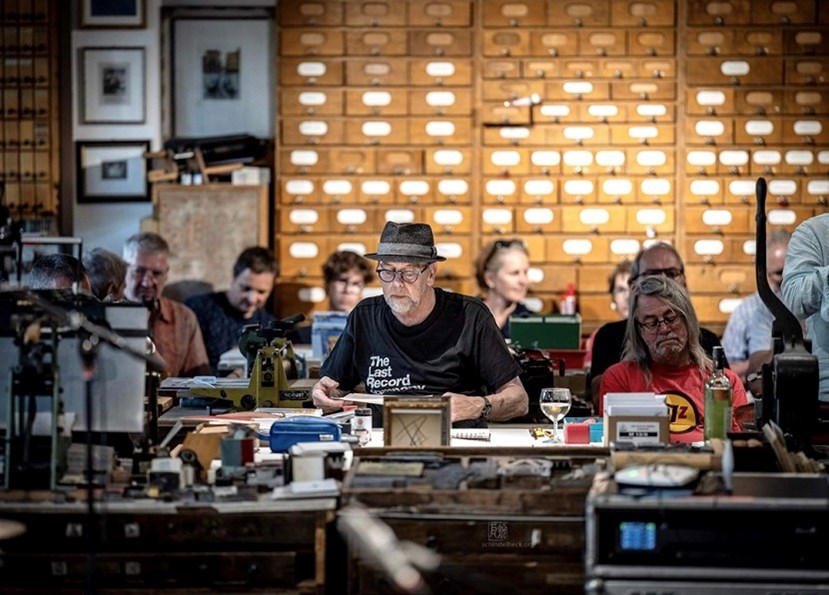 Henning Bolte, live drawing © Frank Schindelbeck

It needed a while to get into those new sounds and their dynamics. It was good that Saalfelden programmed that line-up in an intimate setting as the Fuchs Printing House (that also uses 'old' types of instruments). I had the privilege to experience the uncommon trio while joining by live drawing the music and musical process. Two things stood out: the high tempo of playing and the rhythmic complexity of the pieces performed and brilliantly carried by Petter Eldh's bass playing. By mentioning complexity here, I don't want to indicate that it is 'difficult' music. In the perception it was the opposite. The exciting flow induced by the Saalfelden performance made it very special and sounding like something greatly shifting between Scarlatti and funfair music. It takes skill to make complex structures appear fluid and easy to grasp as it happened in this case. And, to catch that flow in live drawing, was a wonderful, inspiring experience leading into self-surprising imagery.
The joint performance was followed by a conversation with Raymund Knösche, director of the Wiesbaden Magnet Festival, who gave me the opportunity to talk about processes and results of my live drawing through the years and brought in some great clarifying throws from his own practice as architect, who is operating between sketching and physical completion of a construction.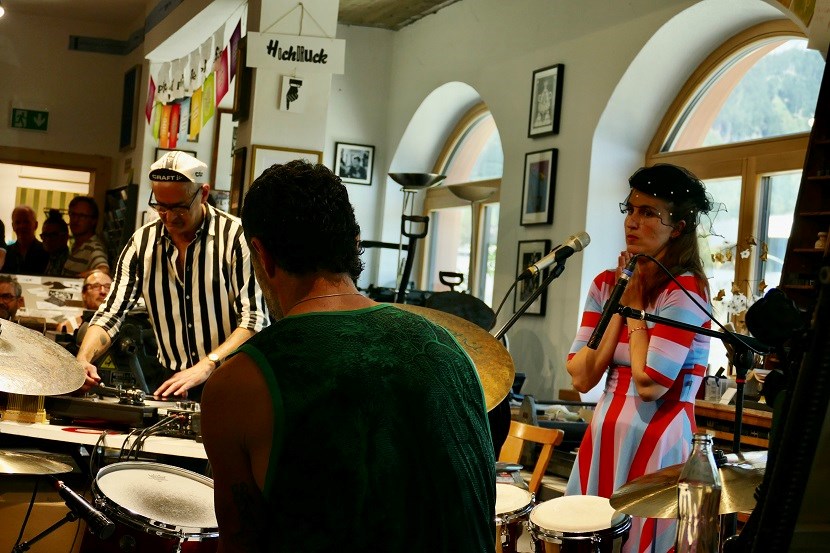 Something else was also the appearance of vocalist Almut Kühne in the German-Swiss-Austrian trio How Noisy Are The Rooms. She and her fellow musicians, Joke Lanz (turn tables, sampling) and Alfred Vogel (dr) worked on the basis of poetry of now unknown but still amazing female Dada poet Elsa von Freytag-Loringhoven (1874-1927). They brought back to life her poetry in a fantastic interlocking weave of Kühne's vocals (articulating Elsa's staccato, jumpily stuttering and speaking in tongues poetic lines), the greatly interspersed quirky samples (vocalistic and others) of Lanz, and Vogel's edging beats, crashes and claps: just a greatly stirring, spicy, fast-paced, hilariously liberating show. It was utmost joy to transform the great vocal theatre into visual movement and shape.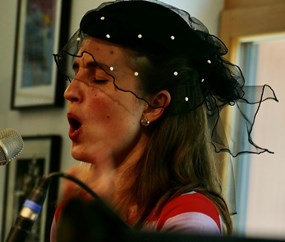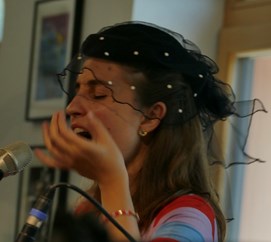 It is by the way highly remarkable how these forms of vocalism are clearly and regularly represented through the years, also by artists in residence as this year's work of Andreas Schaerer. It is without doubt an exceptional trait of the festival.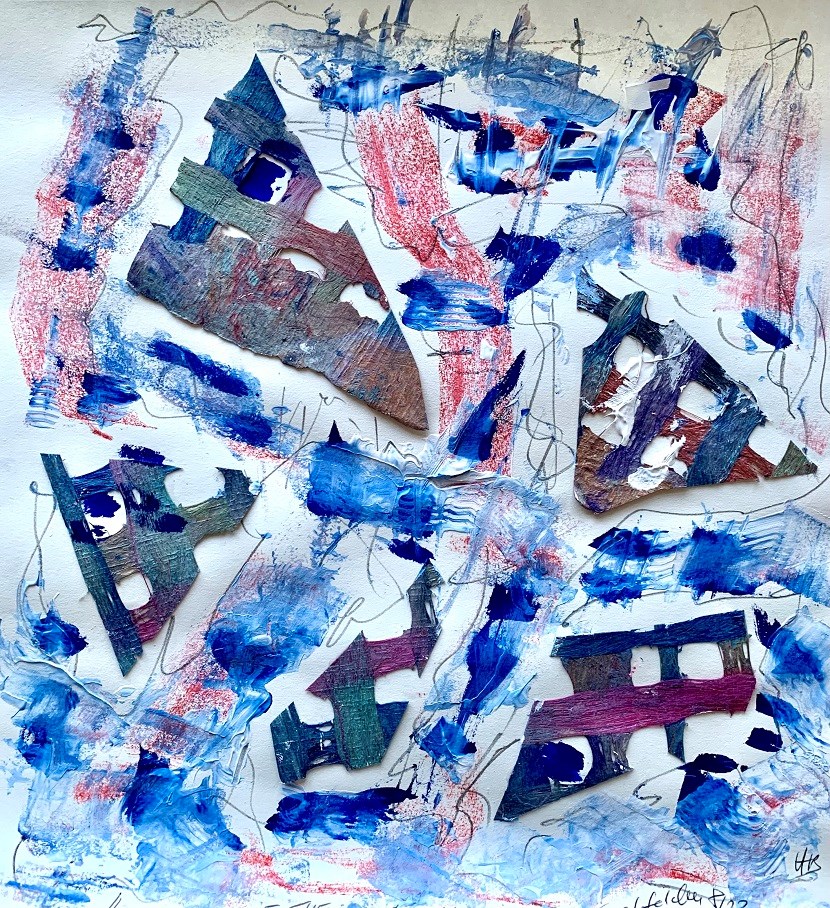 A further closer look
There were a lot of, plenty excellent concerts, concerts pushing the envelope and inspiring concerts with great fun- and enjoyment factor.  Considering that I could attend only a smaller number of concerts due to my performance role in three concerts at Printing House Fuchs, I confine myself to a few extra comments on some concerts, namely Hymns of Past and Future, Rob Mazurek's Father's Wing, Anna Högberg invites Ingebrigt Håker Flaten & Julian Sartorius (in the Kolling Forest), Tesserae Trio, Lukas Koenig's Sound Hazard, Stellar Stutter, and Dave Douglas' New Quintet.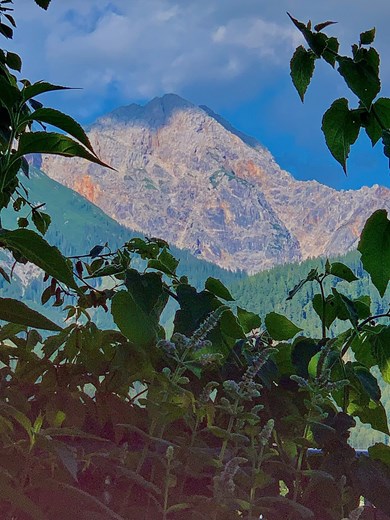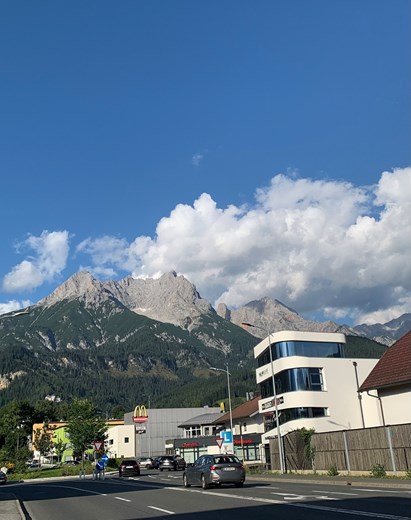 Hymns of Past and Future
For years in the recent past Austrian bassist Lukas Kranzelbinder seemed to be everywhere in Saalfelden. Yes, he was, except on the main stage! The last time on the main stage was eight years ago with his ensemble Shake Stew that went on a high flight through Europe after its illustrious Saalfelden appearance. In his Hymns of Past and Future traces of different generations were united with drummer Billy Martin as binding force: Kranzelbinder's own with the traces of two saxophonists from the younger and the youngest generation, Anna Högberg from Stockholm and Zoh Amba from the USA (originating from Memphis). Zoh Amba played in two other constellations on this year's festival, her own group Bhakti and in duo with Nick Dunston, Anna Högberg in her own group Attack and in trio with Ingebrigt Håker Flaten and Julian Sartorius.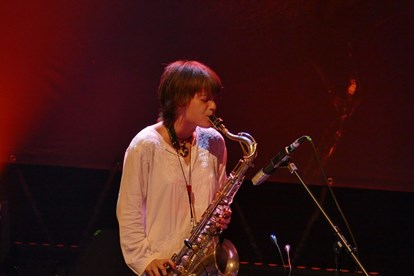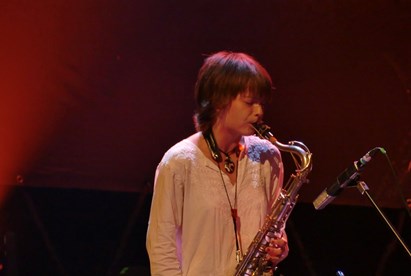 Zoh Amba

Hymns of Past and Future turned out as extraordinary powerful. Not so much through saxophone overdrive but by amazingly flowing dynamics moving between ecstatic, subdued, tender and solemn with great inner consistency, where all voices got their due and the audience was carried in magical ways - in fact the highest achievement in improvised music. Actually the performance came fully out of the 'music mind' and was drenched into it in highest degree, to indicate the music's quality with a key concept of the recently deceased master Karl Berger (1935-2023). 
In 1972, Berger together with Ornette Coleman, founded the Woodstock Creative Music Studio and ran it until his death - along with vocalist Ingrid Sertso and Billy Martin as his right hand man.
It is great when it manifests itself so noticeably in and through the music. It is also worth mentioning it here in memory of Berger's long time work as musician (piano, vibraphone) and educator. Next to numerous recordings (with the likes of Don Cherry, Ed Blackwell, Dave Holland, Bill Laswell a.o.) his work has been dealt with in a documentary by Julian Benedikt/Axel Kroell and is presented in his recent book "The Music Mind Experience - Playing, Listening, Singing, Moving" (Wolke Verlag, 2020), published when he was still in life, it is the legacy left behind by a great musician.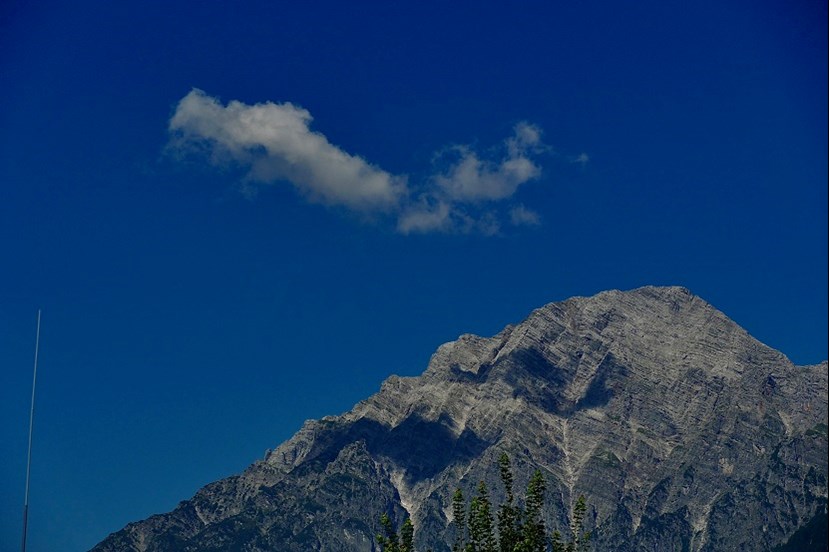 Rob Mazurek, Anna Högberg
The wild and gentle knives of Rob Mazurek's Father's Wing and Anna Högberg's explorative shaping of into-/out-of-forest voicings had a common factor: bassist Ingebrigt Håker Flaten. Father's Wing with Chad Taylor on drums and Italian pianist Fabricio Puglisi (the original album was recorded with Kris Davis on piano).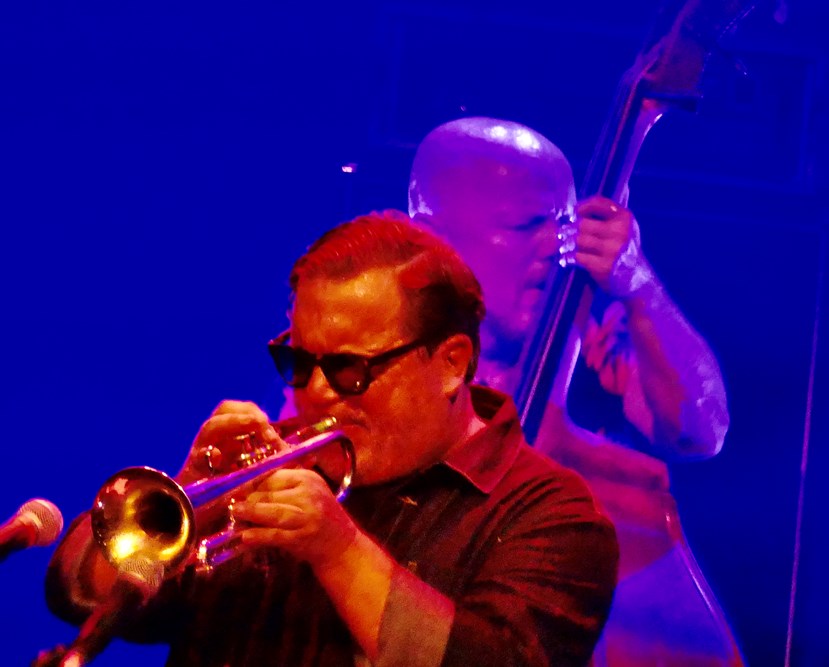 The music of Father's Wing was full of unpredictable mood changes yet consistent in its underlying trust and orientation. Those different temperatures and tailorings illuminated each other, which made it an exciting matter to follow. It was sharp and tender episodic music always to the point, never getting lost in sound-tripping.
Quite a different matter was Anna Högberg's concert in the Kolling Forest. Echoes, rustling and murmuring are characteristic features of forests in general. Often sounds are not immediately clearly localisable. The challenge for musicians then is to work with and on that open kind of space. There was a provisional wooden stage construction and there was amplification of the musicians' sound making. There was a large audience of all ages spread over the light coniferous forest place.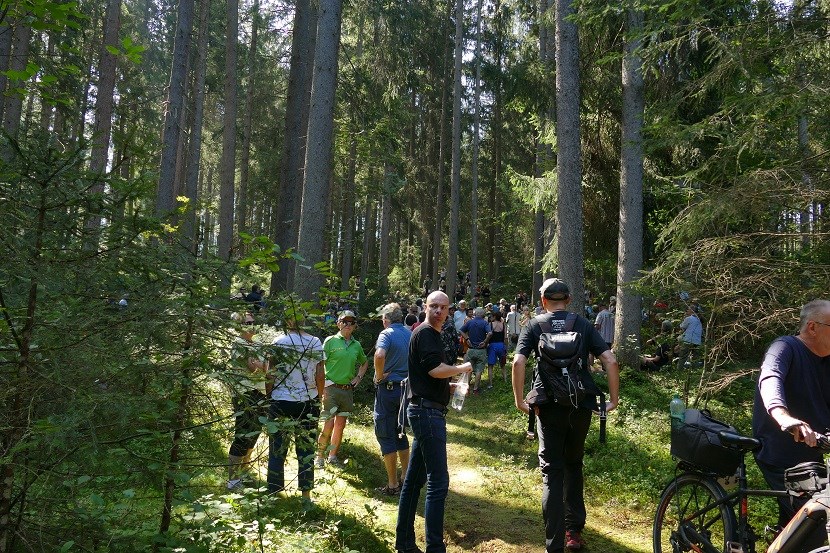 Kollingwald

So you could follow it directly from around the stage (like in an indoor concert) or from a more remote higher place in the surrounding area. I preferred the mobile distant variant. From a greater distance we only got glimpses of the acting musicians and so mainly had to concentrate on the perception of the instrumental (musical) sounds. It was a great pleasure in this case and we got not only far saxophone garlands but highly animated soulful sounds that even made the trees tremble and whisper among each other.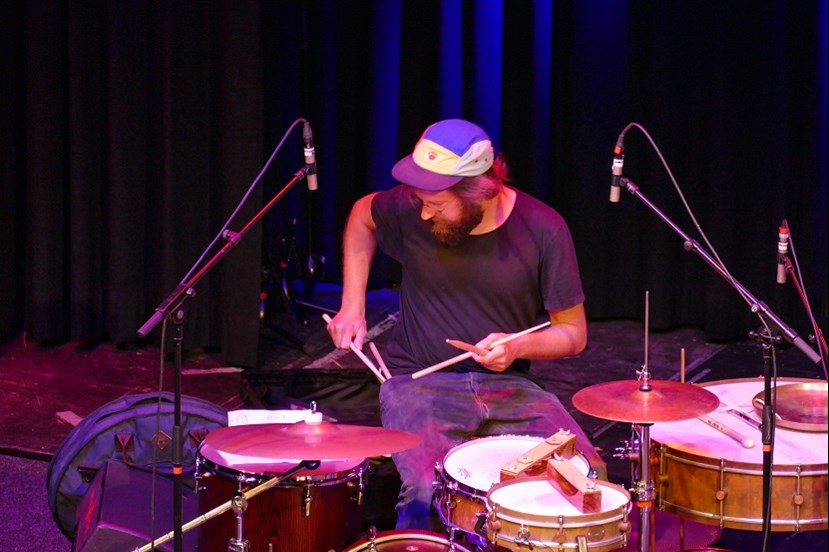 Julian Sartorius
Sartorius is quite experienced in working in open landscapes and the other two turned out to be quite good at it too.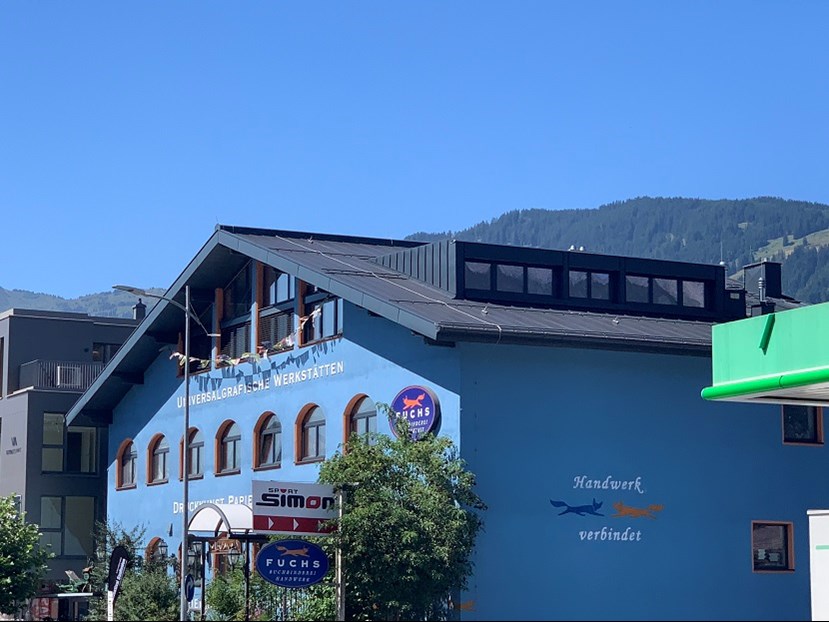 Lukas Koenig's Sound Hazard
This was an ensemble especially composed for the performance of a festival commission, a heavy one in terms of instrumentation and musicians: Pat Thomas (p), John McCowen (contrabass clarinet), Farida Amadou (el. bass), Luke Stewart (b) and Lukas Koenig on drums, marimba and electronics. I was still fulfilled from Koenig's crushing concert from a week earlier at A L'Arme Festival in Berlin with its stunning revelation of the electronic actions of a Victoria Shen from San Francisco and also sharp vocal and electronics contribution of Rojin Sharafi from Vienna.
Koenig is a musician that is used to give space to his fellow musicians and at the same time has a tight and strong approach in his drumming. In Saalfelden there was heavy heaviness and no vocals. The playfully intense music had a strong elephantic presence and elegance. It was a bold venture that owned more potentials than could be revealed in that short hour.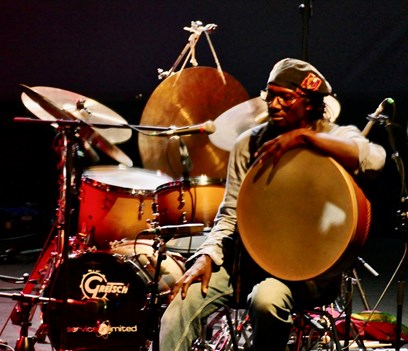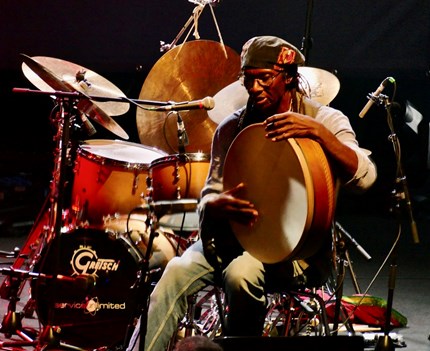 Hamid Drake



Stellar Stutter
Artist in Residence Schaerer is not only an extraordinary vocalist. He is a master of staging and dramaturgy and acts in a greater diversity of imaginary dramatized sceneries, often with slightly surrealistic tendencies.
Stellar Stutter, a good example for that, was the only show of Schaerer I could attend. A purely Swiss matter with electronica wizard Svetlana Maras, electric bassist Björn Meyer and drummer Julian Sartorius, who frequently gave acte de présence during the festival.
Schaerer left much space to his fellow musicians and and only after a while he operated from the created pulsating deep space - an interesting attempt that deserves many further explorational expeditions. The operational range of Schaerer in all respects is impressive and the festival clearly went for a smaller quality selection of it.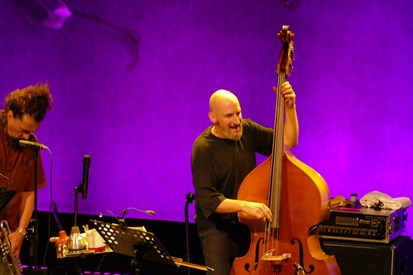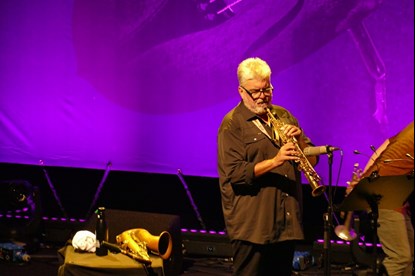 Luis Vicente, Gonçalo Almeida and Tony Malaby


Dave Douglas
The Dave Douglas New Quintet with Marta Warelis (p), Nick Dunston (b), James Brandon Lewis (ts) and Joey Baron (dr) was a wonderfully splendid finale of rich and colourful content where everything was in place.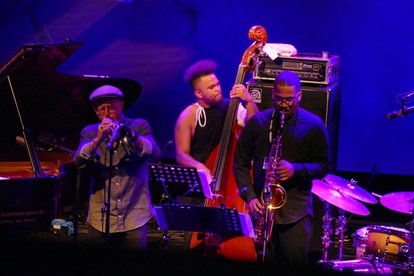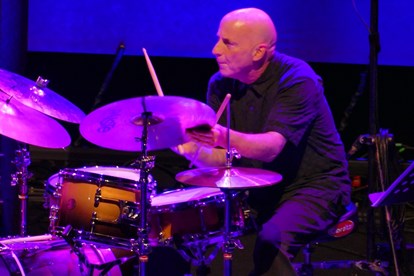 It simply sounded good, strong and convincing. Douglas played with force and also gave space to his fellow musicians, especially the younger ones to show their own voice. It's a group where the music sounds right as a whole consistent entity and consists of contributions in its own right.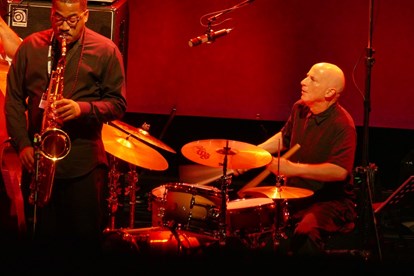 In that sense it also was a good resumé of four days of a great diversity of creative music that reflected itself in that concert.

Text © Henning Bolte -  photo's © Henning Bolte / Frank Schindelbeck