International Jazz Festival Münster 2023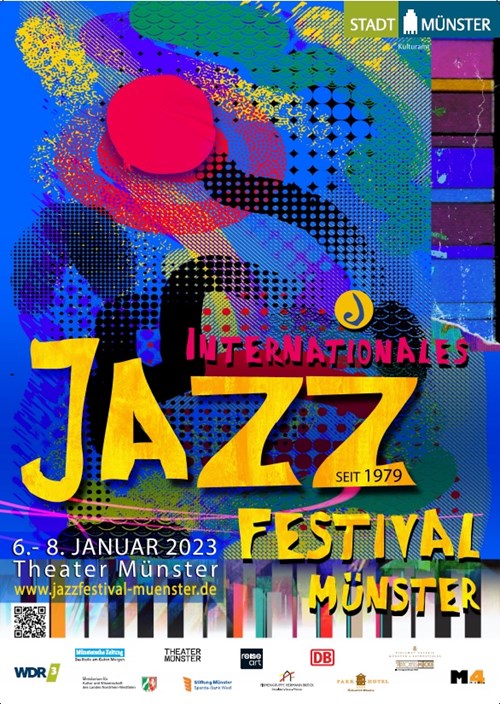 International Jazz Festival Münster is a biannual festival existing since 1979 being led by Fritz Schmücker (since 1985). It takes place three days in the first weekend of January and is characterised by great continuity and stability, carried by its close and direct connection with the municipality and the unrelenting passion of Fritz Schmücker, who combines two essential virtues in the way he takes care of the festival: great independency in his way of programming and mutual trust of festival and its audience - a question of a good balance of daring and caring.


The 2023 edition presented 5 units from Germany, 4 international units with musicians from the US, Germany, Netherlands, France, Norway and Austria, 3 units from UK and Scotland, 2 from Austria and 1 each 1 from Israel, France, Norway and Belgium. I attended the second and third day of the festival, on January 7 and 8. I will focus in this review on my personal favourites and valuable approaches with promising potentials. The first category comprises Eva Klesse/Ethan Iverson/Andreas Lang, Louise Jallu Quintet, Transylvanian Folksongs, Tobias Wiklund Quartet and Paal Nilssen-Love Circus. The second category comprises Louis Volkmann's Été Large, the duo Bertault/Helbock and the trio Other:Mother.



Personal favourites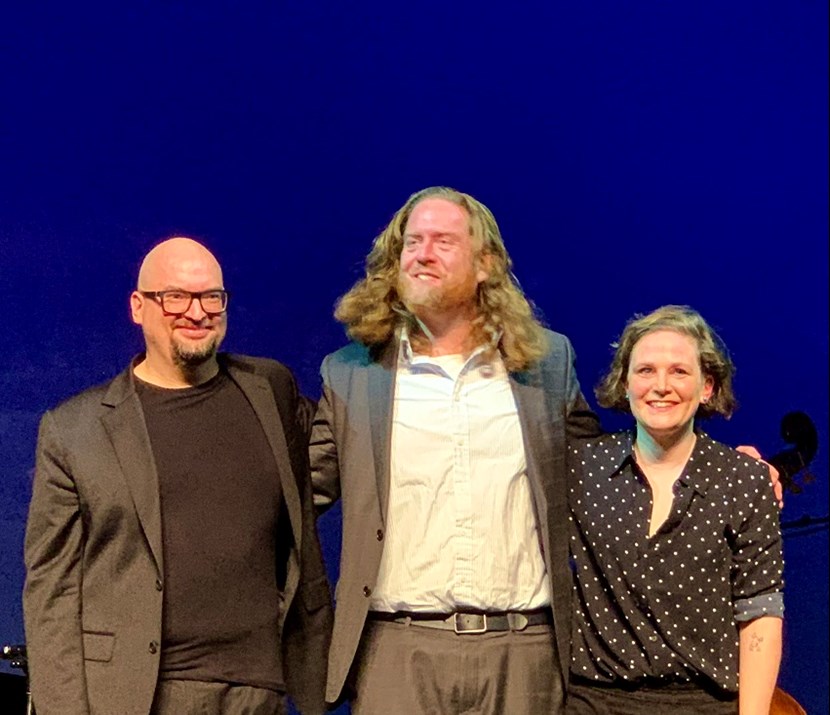 Eva Klesse, the drummer from Germany came up with a new trio of New York pianist Ethan Iverson and Berlin bassist of Danish origin Andreas Lang that immediately and completely hit home: light, with wide space and rushing and rustling dynamics. The cymbals were swishing and hissing, the toms got hit briefly and the snare with care and a now and then wink of the bass drum. A highly dynamic and relaxed whirl spread out irresistibly and enthrallingly driven by pure joy of playing. Iverson acted admirably economically, accurately setting the atmosphere with just a few pointed moves. It created both great clarity and deep mood carried confidently buzzing by Lang. It kept everything in airy state and gave the music wings for far stretching flight. It was so refreshing different from a lot of current trios trying to max out the piano. Iverson brought in understatement to beauty.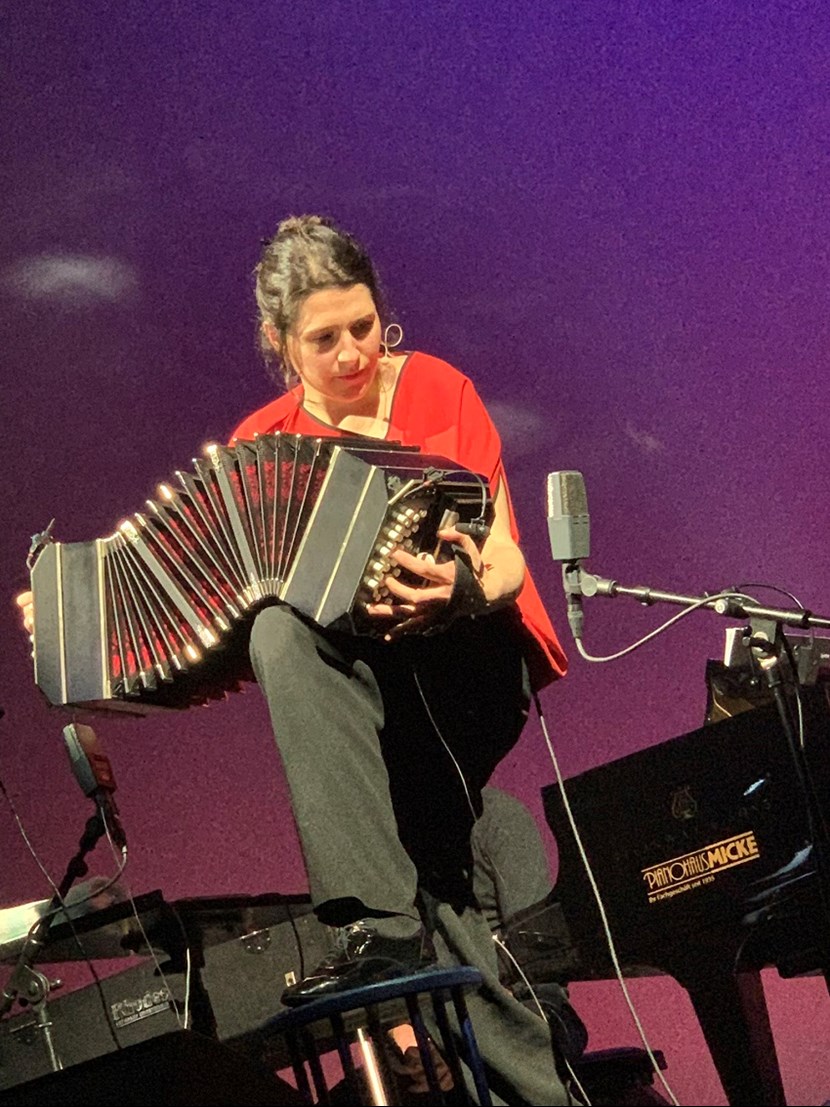 Louise Jallu (1994) from France belongs to a new female generation of thirty-somethings, that take their own wishes and destiny into own hands and make their way into typical male domeins of music, including certain instruments and, as the most important, leadership of their own ensembles. She did it with her early tango passion to a splendid mastery of the key instrument of tango, the bandoneon. In her five-piece ensemble of piano (Thibault Gomez), violine (Mathias Levy), guitar (Karsten Hochapfel) and double bass (Arthur Hennebique) she is the fully dynamic key figure throwing her musicians into the winds of tangomotions. A bit like Charles Mingus but with a smiling kind of no escape-confidence and surrender.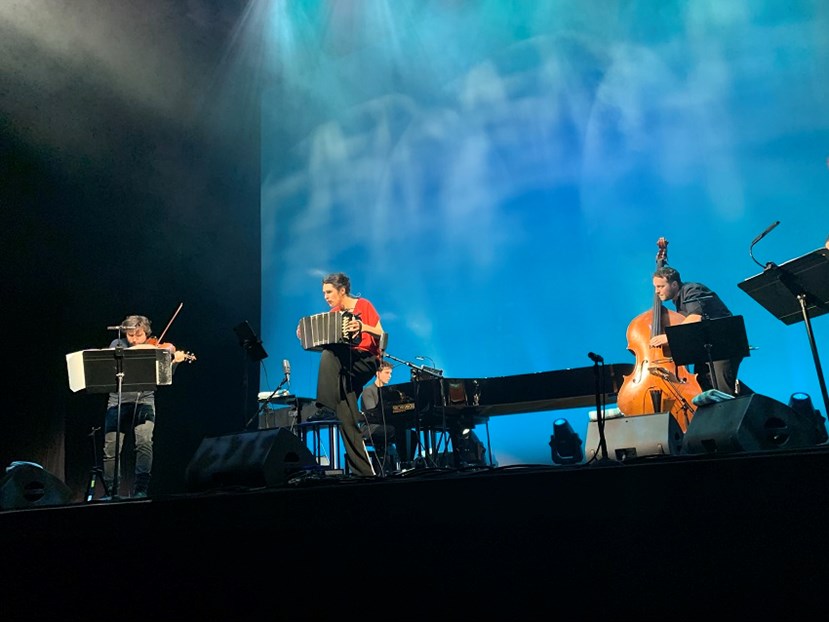 In all this, she is a team-player giving space to the full flash and flame of her male fellow musicians true to the motto 'its takes two to tango'. The key question is not if she 'innovates' Piazzolla's New Tango that was born out of a marriage of handed down old tango traditions, jazz and contemporary music. The key question is her credibility when playing on the Piazzolla grounds: in no time she eliminated my skepticism as someone who has experienced the Astor-miracle live many times in the 1980s. Actually she has the same presence as the master and a similar gift to let the members of her ensemble shine. Memories of great pianist Pablo Ziegler, great bassist Hector Console flared up from my memory.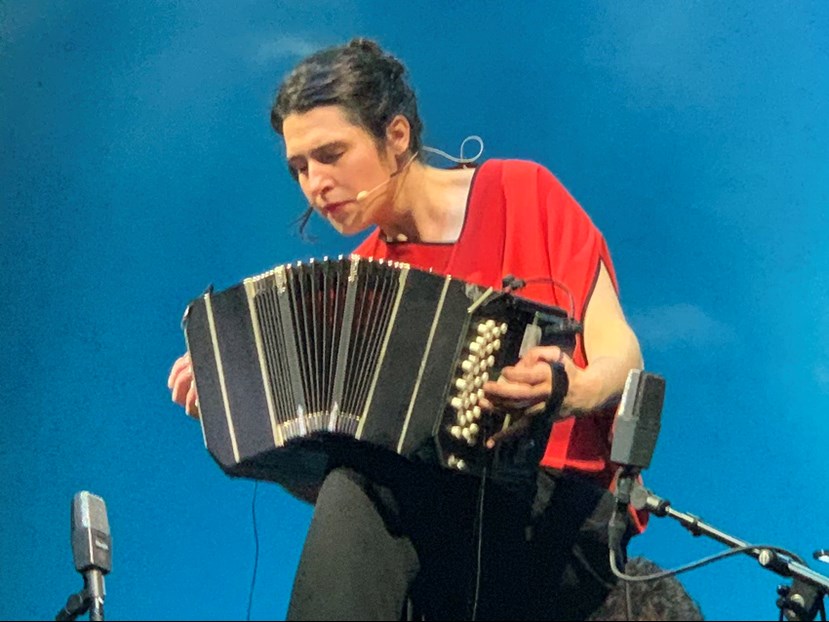 The concert of her group revealed perhaps as the most steady surprise of the festival for me. With Jallu this Afro-Latin form and tradition is back at the core of contemporary new jazz. While Piazzolla once started with baritone-saxophonist Gerry Mulligan and later played with vibraphonist Gary Burton, Jallu joined forces on her last album "Piazzolla 2021" with force-of-nature musician, trumpeter/vocalist Mederic Collignon. Of course the music of the ensemble has a sound and effect different from the sources Jallu dug in simply considering these young musicians were and are exposed to other contemporary musical frequencies. Again Fritz Schmücker in this case kicked off the striker for jazz festivals (outside France).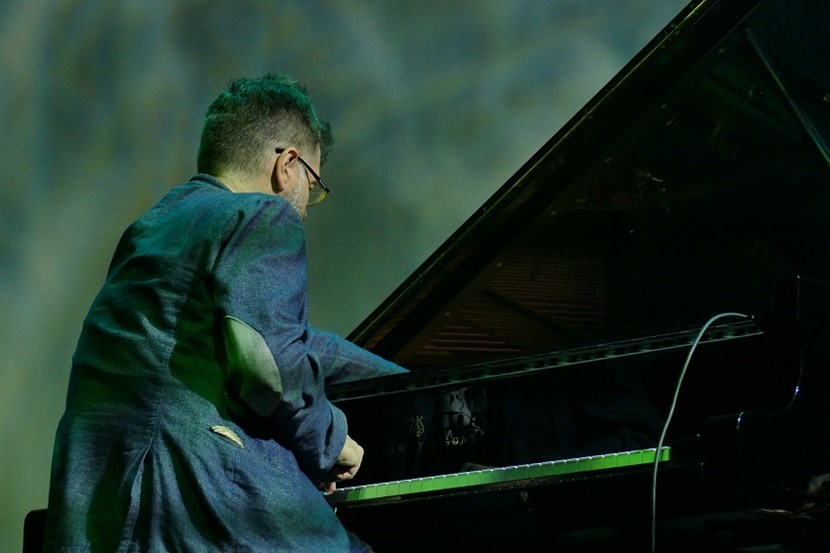 Transylvanian Folksongs by Lucian Ban, John Surman and Mat Maneri was an important part of the folk tradition strand of our Jazzfest Berlin last edition in November (read here). As I was not able to attend the concert then at Kaiser Wilhelm Memory Church, I was glad of getting a second chance in Münster. It was a projective re-creation of the 'retrojective' field recordings and transcriptions of composer Bela Bartók. It couldn't be expected a balkanised form of jazz. It revealed as the unfolding of song lines from a remote past inscribed in an airy layer stretching above the soil of a virtual ground.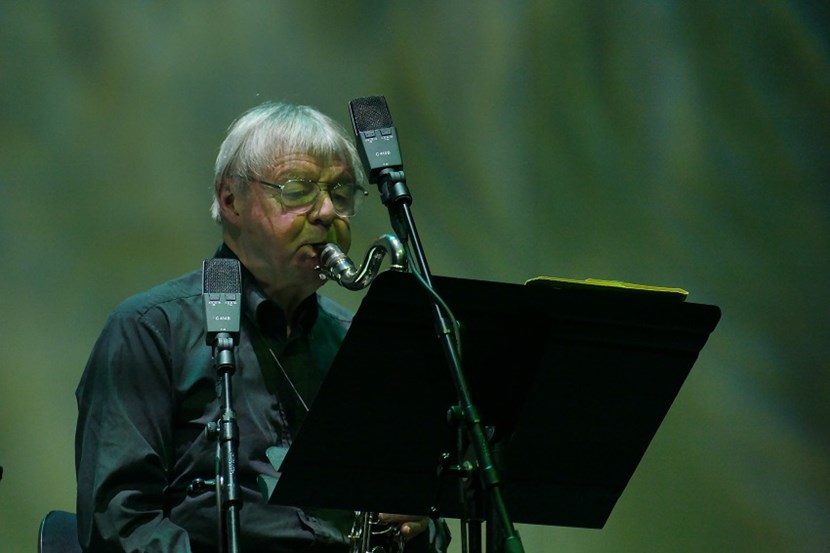 The interplay between John Surman on bass clarinet and soprano sax and Mat Maneri was one of deep mutual understanding and careful meshing and confluence - confluence not in the temperate way, though, but more rubato, in mindful slowness gliding along microtonal fringes and edges. Thus both musicians created an intriguing collaborative working interim between the deep sources and breath of the stage moment, all provided and sustained by Ban's bedding of sparse melodic hints and falling rhythmic impulses. The act of bringing in the distant sources manifested itself prismatically in the musicians' progressively unfolding flow of playing, sharpening and deepening the listening experience as well as the bond with the listeners and their absorption in the music. In it, the music covered a considerable distance of transmission from its oral origins via Bartok's recording and documentation to today's realities of experience, to 'reading' and re-creation in the presence. This procedure created an imaginative space to be acted out, getting enriched and projected into further momentum full of soulfulness and empathy. It transcended simple sentimentality and bathing in nostalgia. Mat Maneri and John Surman were in top form and Lucian Ban made them shine, especially in the touching "Violine Song".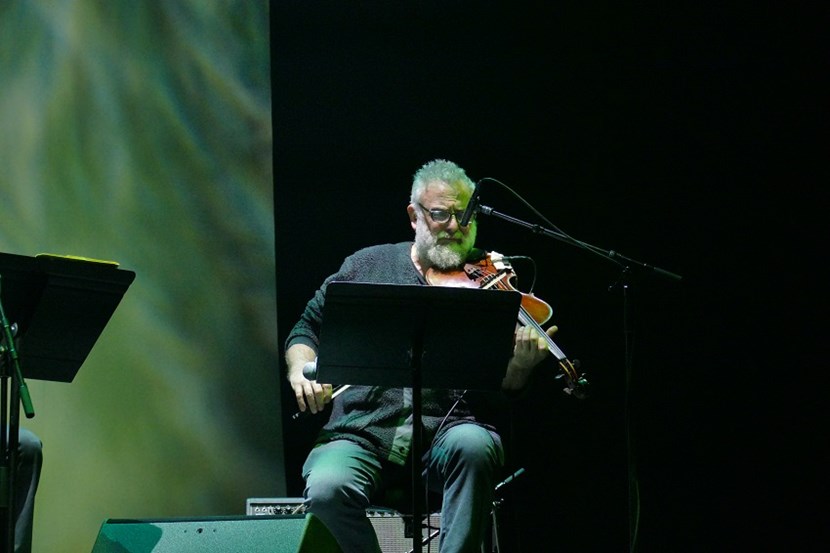 "Splendid close sounds from a remote spangling star … that was the sparkling finish of International Jazz Festival Münster with joyous soulful music we dearly need", I wrote in my spontaneous post on FB about the concert of Swedish-Danish quartet of cornetist Tobias Wiklund (1986).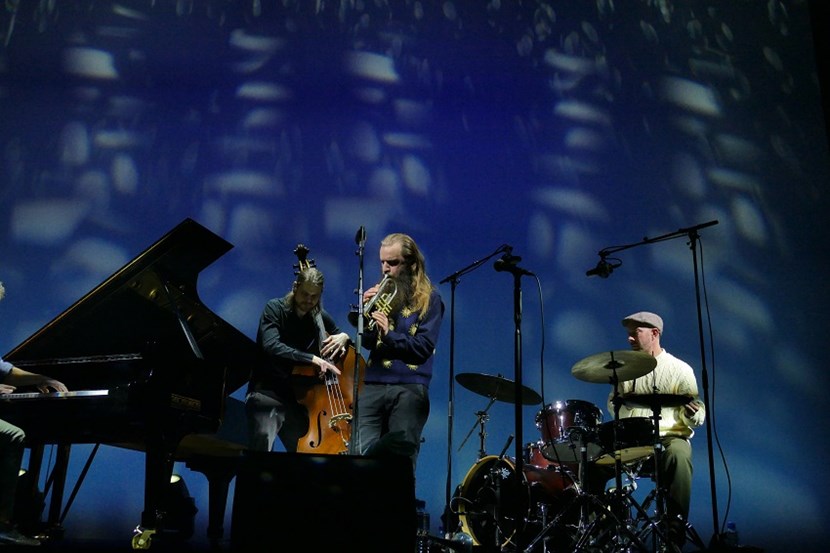 As in the prior Transylvanian Folksongs,  there was also a considerable distance of transmission from origins in the past to finding a lively expressive form for the presence. What if you as a musician are attracted by the sound possibilities of an instrument that had its heyday in the glorious past of jazz 100 years ago especially connected to the brightness of Louis Armstrong? Experiencing Wiklund's playing in Münster, it is clearly the directness and the talkative character of the cornet that attracts this young Swedish musician. It became evident that both found each other for a seizing new chapter.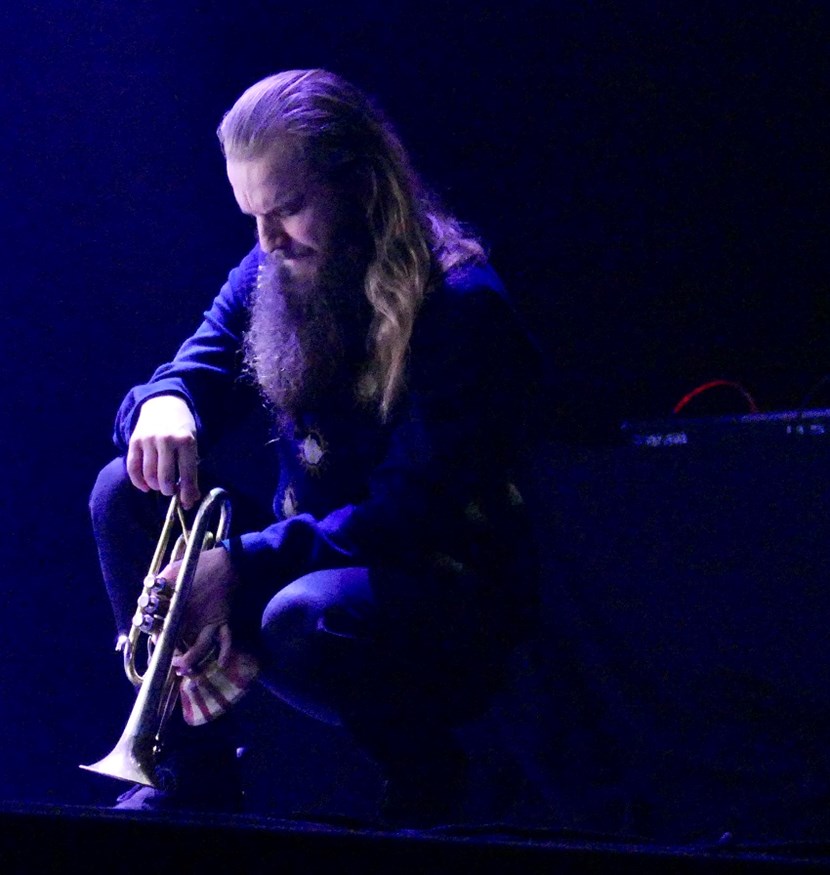 All through, the concert was imbued by his cool Fabulierlust, his love and joy of story telling, kärlek till berättande, hitta på historier, in a fascinating alternation of talking and playing his instrument in wonderfully attuned and corresponding company of his excellent fellow musicians, pianist Simon Toldam, bassist Lasse Mørck and drummer Daniel Frederiksson. Wiklund, who is known for sticking strictly to play acoustically, has an unmistakable talent elevating daily life experiences or putting those in miraculous or perplexing perspective (Wiklund would be a good match with Tom Waits or Steven Bernstein).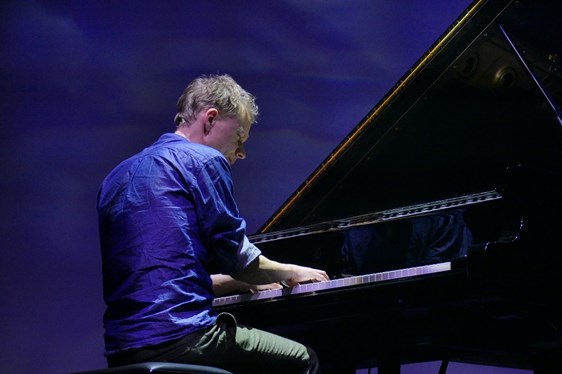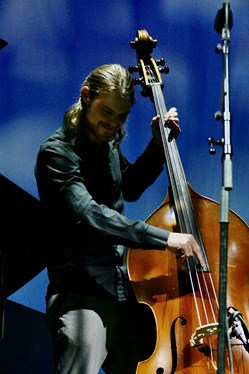 Despite drawing on an old treasure, it doesn't sound 'old', dated nor retro. It fitted to today's expressive needs and at the latest when the great Simon Toldam started his first excursion into letting flourish the richness of the enclosed possibilities, the contemporary perspective of the music became clear. The sophistication is not in first place showcased but finely and functionally used for the expressive needs of the pieces and stories, which makes the circle round and treated us on a new substantial and soulful form -  an ideal festival cracker and final point of the festival. As if we had been waiting for just that!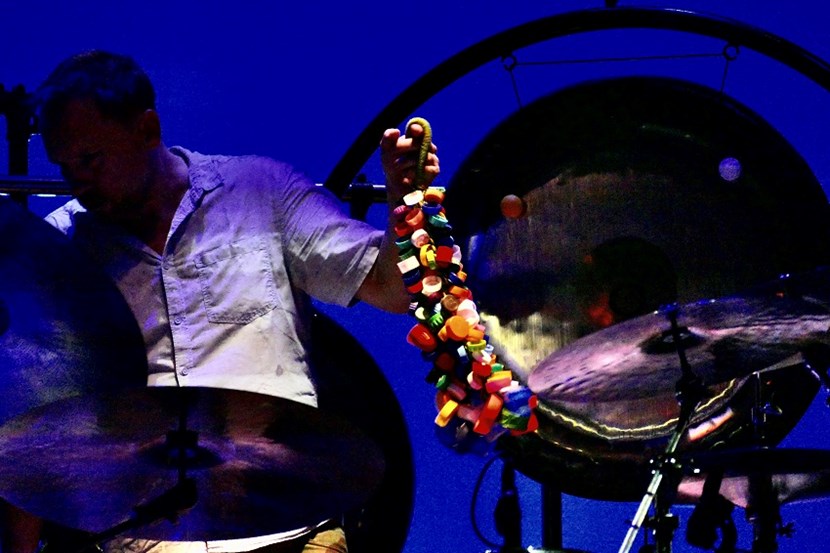 Spectacular as well as well excellent was the 8-piece Circus ensemble of Norwegian drummer Paal Nilssen-Love. PNL's rough style of free playing known from groups as The Thing and Atomic was astonishingly enriched in this new group by operatic vocals, a rich percussive arsenal, Brazilian and other folk instruments in an even interesting line-up - not totally surprising considering his longer passionate cooperation with Brazilian and Ethiopian musicians.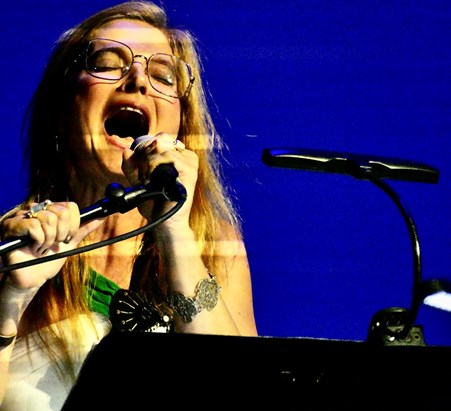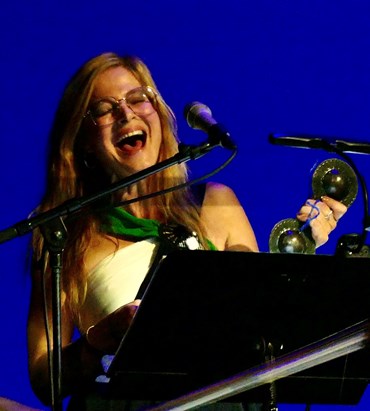 We found there the astonishing vocalist Juliana Venter from South Africa, now living and working in Norway, a musical personality in her own right and career covering an amazingly broad range of vocal styles and disciplines. Guitarist Oddrun Lilja is an evident choice given that she recently released an album uniting traces from a greater number of musical cultures around the world. New is also the accordion (Kalle Moberg) in a group of PNL. Thomas Johansson (tr), Signe Emmeluth (as) and Christian Meaas Svendsen (b) are hard core free improvisers that have a longer cooperation with PNL.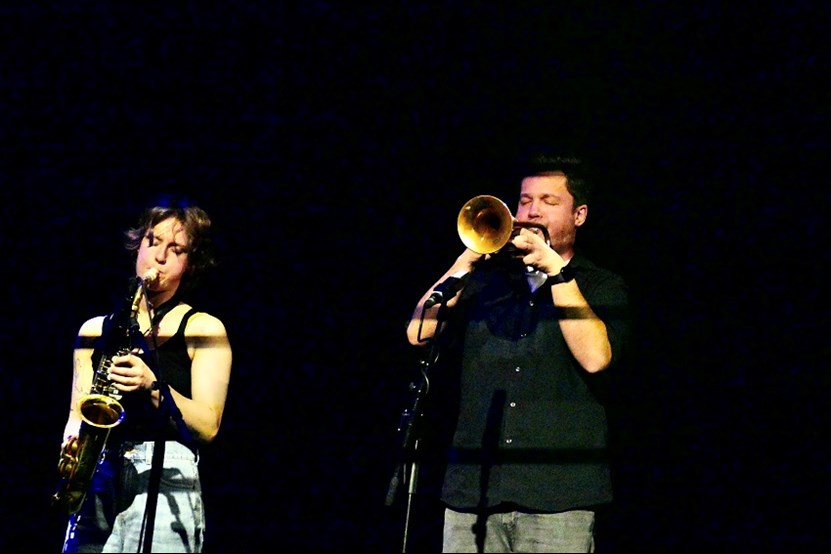 Newly added this time was Norwegian cellist Marianne Baudouin Lie (1974), a cross-over, award-winning chamber-musician from Trondheim (associated to the conservatory there).  It was not sure if guitarist Oddrun Lilja could perform. Finally she came to Münster with her newborn daughter Amalia and managed to play a vibrant concert, a vital facet of the Münster festival too (there were more kids backstage).
The group worked in tensed movements from elongated soughing and rising rustles before everything got absorbed in thundering climax - a trail garnered with and flourishing by flaming interplay, thrilling jumps and around-turns. It proved as a great colourful, gripping show that lived up fully to the group's name.
Paal-Nilssen's Circus is a prime example for musicians and groups who expand and transform their music by placing their strengths in newly shaped musical contexts and and let it merge into something distinguished new. A lot of  extended techniques used in their performances served a natural expressive purpose here primarily. This unit came up with fresh and crazy music that speaks to a broader audience, make it smile and jump.


Valuable approaches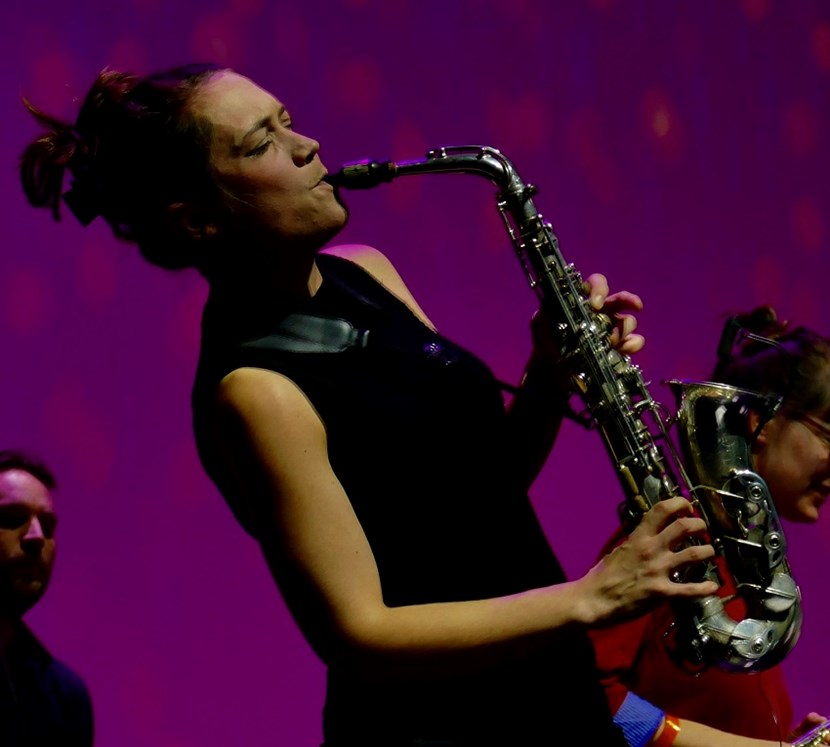 The second category comprises valuable approaches with promising potentials to start with Louise Volkmann's Été Large. Saxophonist Louise Volkmann (1992) is an highly, dynamic, enormously  go-getting and curious personality and highly dynamic organiser. She has been living in Natal, Brazil, Copenhagen, Denmark and during three years worked in Paris. She is now residing in Cologne and is part of the NICA artist development Excellence program related to Stadtgarten. At the festival she received this year's Westphalia Jazz Award and performed at the festival with two small units and her 13-piece Été Large ensemble.
Été Large evokes a violent vortex of cascading run-ups piling in irregular layering. It's a collage technique assembling heterogeneous splinters and fragments (often alluding to the movements in the late 60s of the last century) to new diverging and converging wholes also mirroring the line-up creating it. It happens with high enthusiasm, ping-ponging and jump-cut dynamics. It clearly outperforms the dynamics and confluence in common ensembles: breaking up to find each other in new open and ever changing constellations, no soothing or aesthetic  elevation.



Decoupled agility and multidirectional movement is the primary purpose and has higher priority at this stadium than concentrated elaboration of a limited focus. Usual frames and formats are shook up and at the same time are celebrated without getting stuck in it. Everything according the adagio 'shake it up and make a merry mess of it'  … for the time being. It is also a form of 'Aufbruch-/take- action-music'. It reminded me of the opening scene of Heiner Goebbels' work "When the Mountain Changed Its Clothing", where from a chaotic criss-cross running of young singers all of a sudden in a miraculous way sharp order emerged.
Not only does Volkmann's approach and attack increase commitment and joy of playing IN the ensemble. It inevitably grabs the audience as well. In any case, it roused the Münster audience to a great storm of enthusiasm and here too, proved its unifying power. I am not so sure however about its incisive effect and its cathartic impact that for me personally counts too.


Camille Bertault is a musical whirlwind with a strong stage presence, able and eager to slip into a wider variety of musical attitudes and roles, effortlessly changing from sensuous to pompous vice versa. Nothing is safe from her singing passion (Sangeslust), no matter if it is Bach's "Art of The Fugue" (in Swingl Singer mode), "Giant Steps" or Hermeto Pascoal and Egberto Gismonti pieces. She also nicely can make a game from difficulties she encounters as with electronics what she frankly confessed. She has spunk and an entertaining streak to treat her audience on (well-)known stuff but then in vocal clothes and shoes.
Recently she teamed up with Austrian pianist David Helbock to record an album, "Playground" (on the ACT label), and tour with the music of it. And indeed, both lustfully swirled through common musical grounds giving their own twists and accents to it  own pieces included (as "Lonely Supamen" as pendant to Ornette Coleman's famous "Lonely Woman" piece). The spoilsport became the non-charming pumping up electronics they employed and at the latest it went wrong when they tried to emulate the rampant sprouting of a Björk song electronically. It weakened the straightforward appeal and playfulness.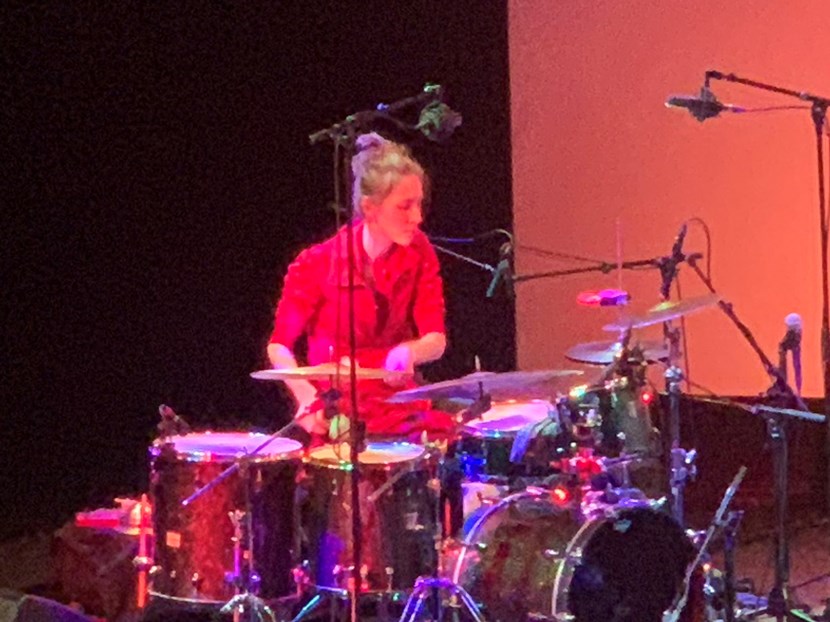 Other:Mother is a new electro-acoustic percussion constellation from Vienna around well-known drummer Judith Schwarz. Her partners are Jul Dillier (both are playing in the known Chuffdrone group) on prepared piano and Arthur Fussy working with modular synthesiser. From their variate backgrounds they explored new territories. From their varied background, they brought together new sound possibilities and sound colors, explored new territory and  captivated their audience on this extending trail.
Drawing from their variate backgrounds, they brought together new sonic possibilities and timbres, explored new territories and captivated their audience on this opening, expanding web of tracks and corridors. It is a constellation that would need a special location, lighting dramaturgy and  longer stretch of time to built up their vibrating percuscapes with returning tensions of iridescent stasis and raise of surging, bursting and blasting forces.


Festival dramaturgy and yield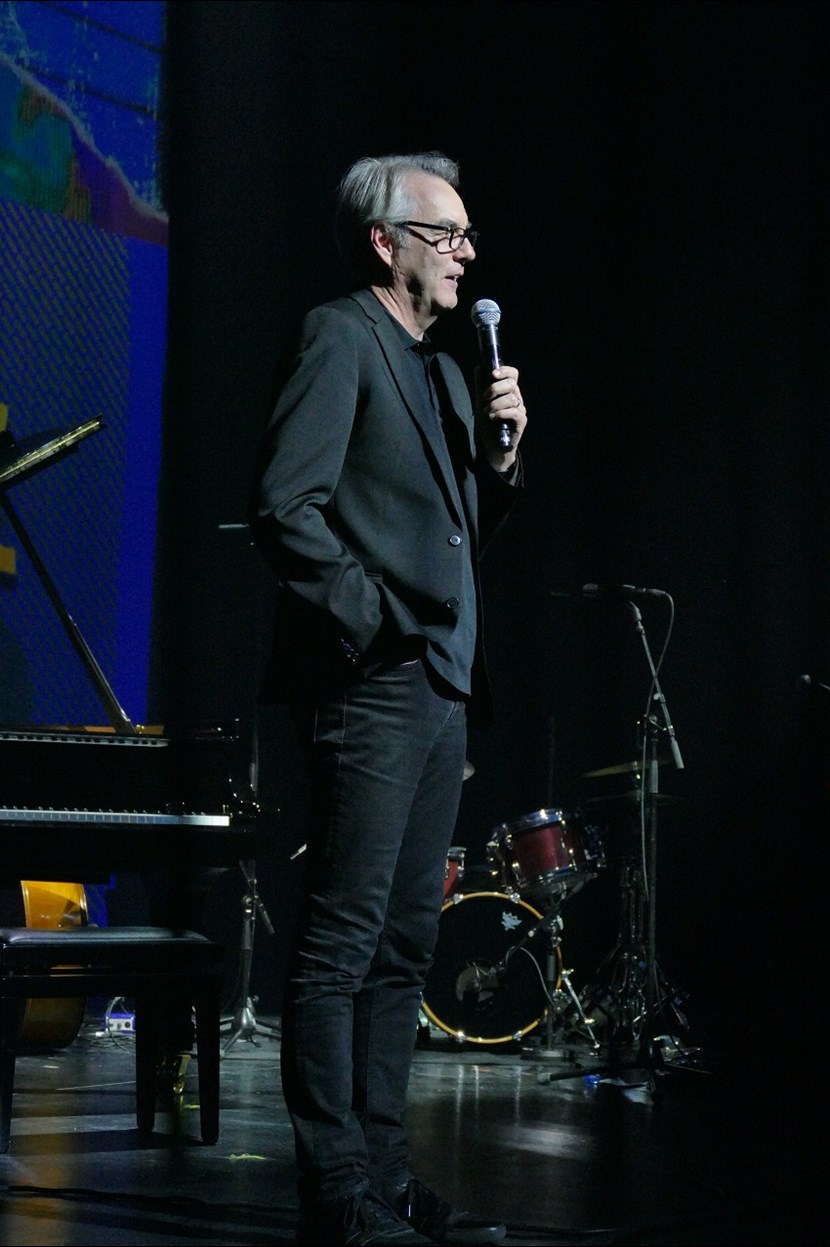 Some words about Fritz Schmücker, the festival director and programmer: in its choices and sequencing the festival had a distinctive dramaturgy embodied by Fritz Schmücker (as is family name already indicates). His announcements voice the happy findings of his individual and very personal musical quest always as a mission for his interested loyal audience. Uniting these two poles in his story telling is an extraordinary profiling and embodiment of the figure of a civil servant as which he functions in daily life. Put shortly in German: BE-STIMMEnd und prägend für das Festival und seine Atmosphäre ist der Fritz-Faktor. This way he could build and maintain mutual trust with his audience. His addresses are none of the usual cheer talk but signals his deeper, serious and knowledgeable connection to the music and the musicians. His choices correspond with that and are at the same time often unconventional, courageous and can turn out as discoveries as in the case of Tobias Wiklund. It is an experiential factor that binds a diversity of musical acts speaking to the audience in different ways and measures. I am happy to have experienced and discovered again deeper new things during two festival days.

Text and photos © Henning Bolte, Amsterdam