Gerstmans-Vaganée-Verbruggen LIVE
L'An Vert Liège, 26 septembre 2020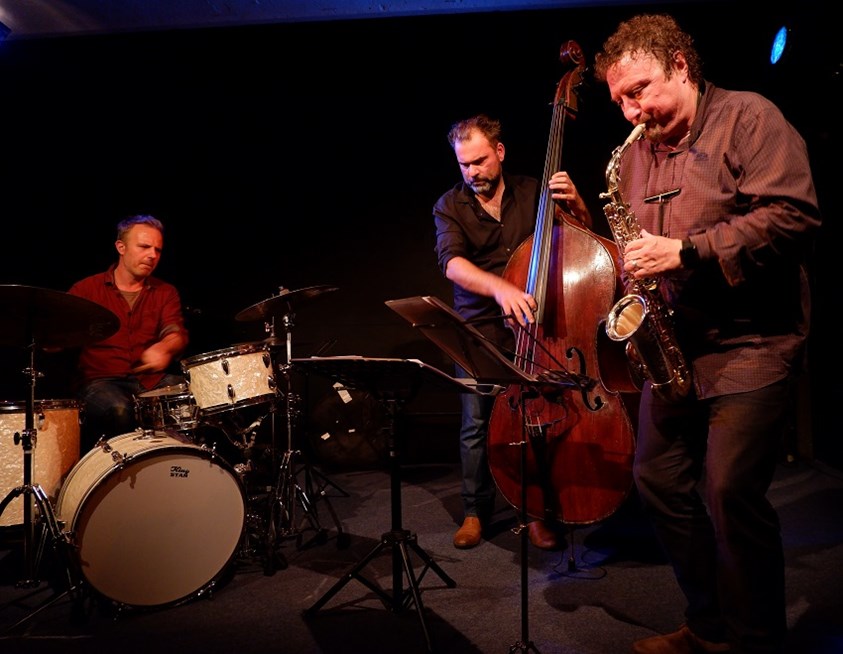 Sur papier, un trio improbable. A la contrebasse, le Liégeois Sam Gerstmans, fondateur, avec Pascal Mohy et Quentin Liégeois des Slow Sessions de l'An Vert. Au saxophone alto, le Malinois Frank Vaganée, le leader du Brussels Jazz Orchestra à la discographie impressionnante. A leurs côtés, l'Anversois Teun Verbruggen, le batteur du Flat Earth Society et leader de The Bureau of Atomic Tourism.
Teun et Sam se sont déjà croisés au sein du premier trio d'Igor Gehenot (album Road Story). C'est Frank qui a eu l'idée du trio pour un concert intime dans sa ville natale. Un alto incisif et flamboyant, notamment dans ces intros en solo absolu. Même si, au sein du BJO, Frank prend de lumineux solos, ici, il s'exprime ad libitum.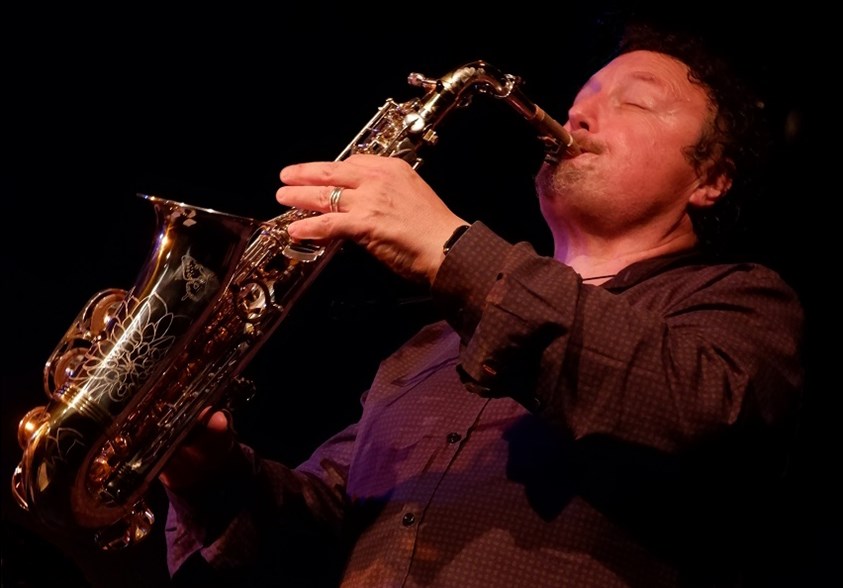 On retrouve le brillant soliste du quartet avec le pianiste Mike Del Ferro ou en compagnie du New York Trio de Steven Delannoye. Que ce soit sur des standards, comme l'inaugural You'd be so nice to come home, au travers de l'univers bariolé de Thelonious Monk (Reflection, Ask me now, Pannonica), un Cherokee enflammé ou des reprises de grands altistes comme Jackie Mc Lean ou Ornette Coleman (Happy Hours), Frank démontre toute sa vélocité de jeu, son enthousiasme communicatif.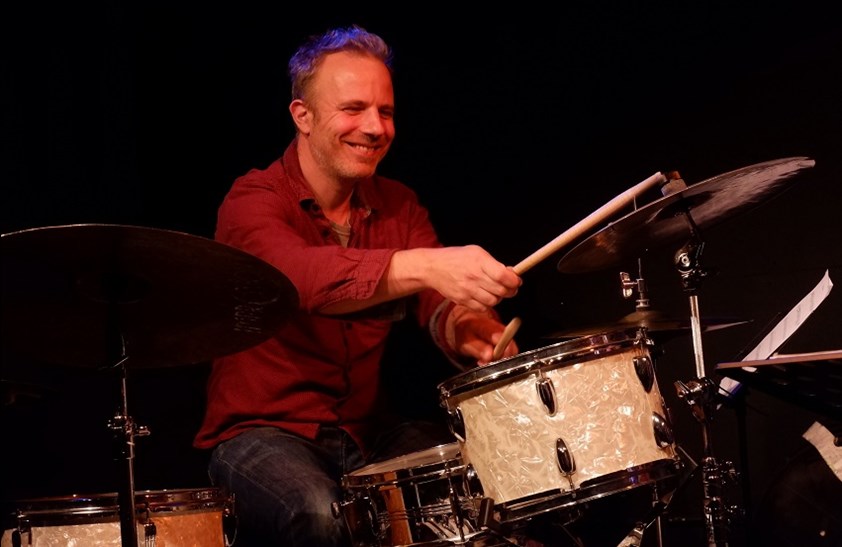 L'accord entre Sam et Teun est parfait: certains regards souriants entre eux rappellent l'entente parfaite affichée entre l'Anversois et Sébastien Boisseau lors d'un concert de l'Orchestra Nazionale della Luna au sein de ce même An Vert. La contrebasse est solide et percutante, Teun démontre toute sa technique: baguettes, balais, mailloches ou jeu à mains nues dans une empathie totale avec l'alto.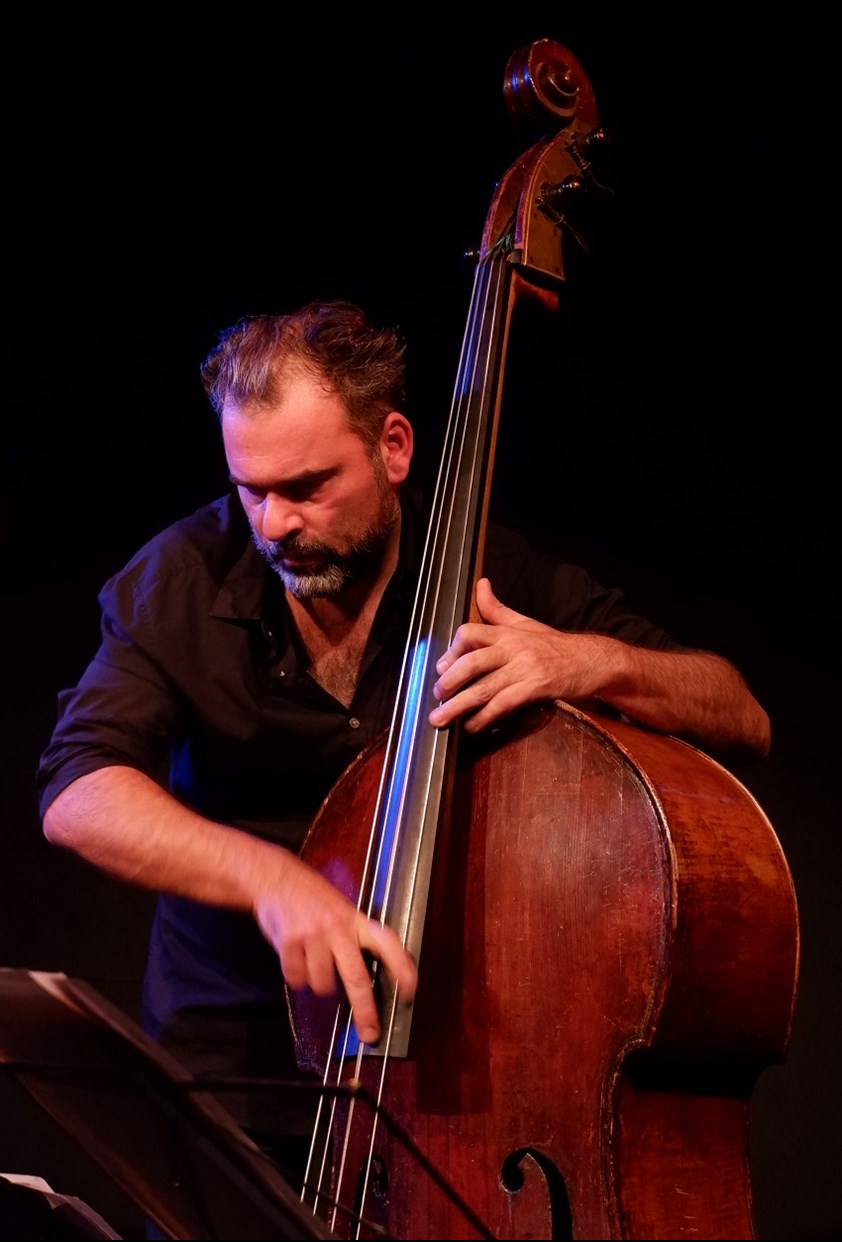 Un public enthousiaste, conscient de sa chance. Un rappel en douceur après deux sets explosifs. On a hâte de revoir ce trio.
Texte © Claude Loxhay  -  photos © Philippe Roegiers