9th Portuguese Jazz Fest at the São Luiz Teatro Municipal Lisbon 2011

The 9th Portuguese Jazz Fest at the São Luiz Teatro Municipal (01/04 > 03/04/2011) is a successful organization by Carlos Martins, Luis Hilário and their team from Sons da Lusofonia. It shows that Lisbon has a heart for jazz.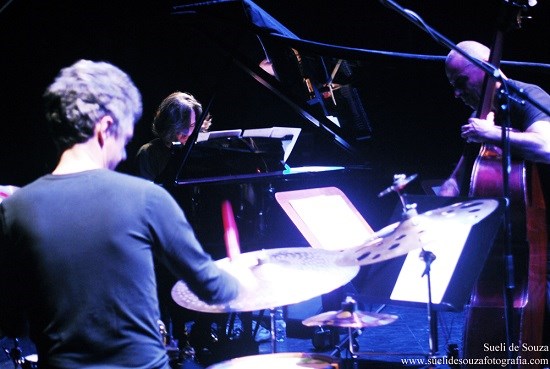 The festival opened with the trio of pianist Bernardo Sassetti, Carlos Barretto, double bass, and drummer Alexandre Frazão. After 14 years joining forces there's a real coherence and alertness to each other which allows the band to concentrate on the essence of compositions and improvisations. The music is sometimes fragile, lyrical and always conscientious for time and space. There are influences of Bill Evans and Keith Jarrett in Bernardo's playing. His music is very filmic and that's not so strange as he wrote the soundtrack for many movies. Barretto and Frazão are an ideal rhythm section lifting the trio on an even higher level. An appealing concert!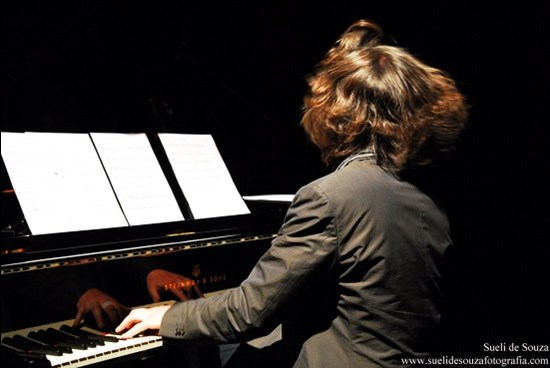 JazzPoll NRW's "Impressionado" is a German/Portuguese musical project consisting of interpretations of the Piano Preludes by Claude Debussy. Saxophonist Wolfgang Schmidtke and drummer Peter Weiss gathered this sextet with the help of the Nord Rhein Westfalen region and the 9th Portuguese Jazz Fest. A pity the Winter Garden was so noisy.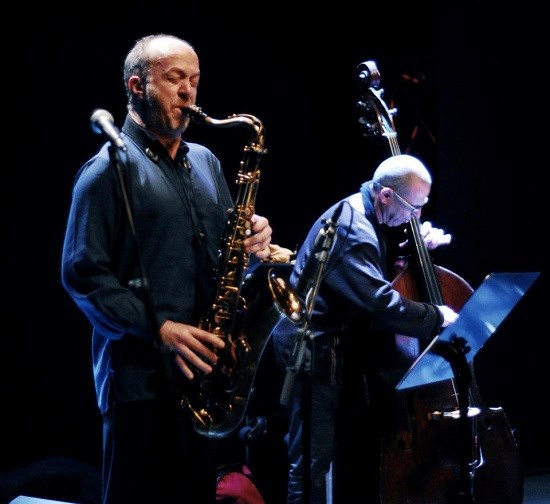 © Sons da Lusofonia
Carlos Martins, also artistic director of the festival, is a remarkable tenor saxophonist with a wonderful tone. For this concert he invited Carlos Barretto, who's probably one of Europe's most talented bass players. His sound is warm and his phrasing subtle. Although a great soloist he's using his skills to serve the bands he's playing with. Alexandre Frazão is one of the most versatile drummers I know. He's a chameleon though he has his proper style. He plays with finesse and has a perfect feel for timing and dynamics. A marvelous trio.
In the Jeffery Davis/Nuno Ferreira Quinteto only vibraphonist Davis could convince. The project lacked maturity.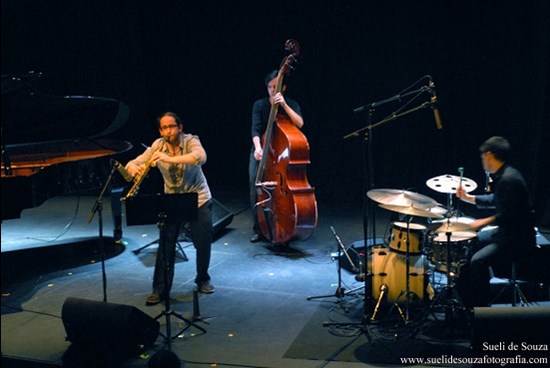 In 2009 contrabassist Hugo Carvalhais, pianist Gabriel Pinto and drummer Mário Costa recorded their "Nebulosa" project with Tim Berne on alto saxophone (for Clean Feed). Now they were joined by French soprano saxophonist Emile Parisien. This was an even better choice. Parisien is a master performer. He combines his own voice with the spirituality and fire of John Coltrane, Dave Liebman and Wayne Shorter. He's an adventurous, expressive improviser who masters all different techniques for the benefit of the composition. Carvalhais is a mature, exquisite double bass player and an outstanding composer. Pianist Pinto also doubled on synthesizer to add some extra colors in a very delicate way . Costa too is an inventive musician. All four musicians sounded so very good and the balance was impeccable. This was one of the highlights of the festival.
Madeira born singer Joana Machado teamed up with Galician pianist Abe Rábade for this "Travessia dos Poetas – Rosapeixe" project, a homage to Portuguese poets. She sounded insecure and had problems to hold the exact tone. A pity because the compositions of Rábade didn't sound that bad at all.
The Miguel Amado Group was disappointing. The drummer was like a thunderstorm that only stopped at the end of the concert. The trumpet didn't convince either.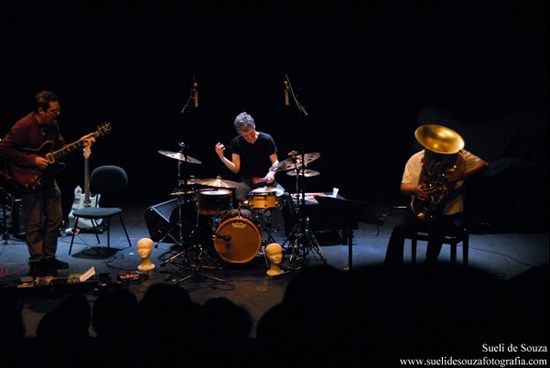 One of the festival's highlights was TGB (Tuba, Guitarra, Bateria), the extraordinary trio with guitarist Mário Delgado, tubaist Sérgio Carolino and drummer Alexandre Frazão. Delgado is one of Europe's most inventive guitarists, combining rock, jazz, country and Mediterranean influences. Whether he's accompanying fado singer Cristina Branco, playing with the ensembles of Carlos Barretto, Carlos Bica or TGB, it's always adventurous and surprising. Carolino is a genius on the tuba. He's an amazing technician and has plenty of refreshing ideas. Frazão once again was brilliant.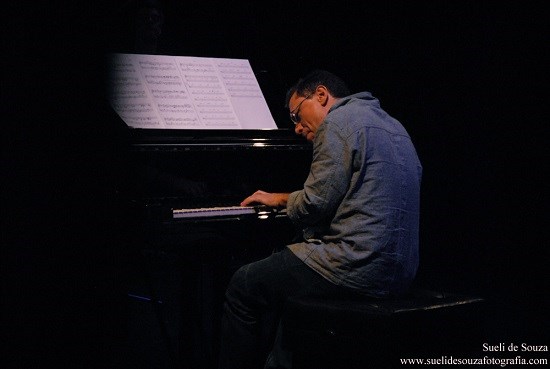 Last September the Mario Laginha Trio (with bassist Bernardo Moreira and the inevitable Frazão on drums) recorded the CD "Mongrel"(ONC). The word 'Mongrel' means melting pot (without the African connotation though). Laginha used parts of the music from Frédéric Chopin and changed tempo, bars and even melodies in an intelligent manner. The themes are recognizable but the music became Laginha's. An enjoyable set and a standing ovation in the beautiful Italian theater hall.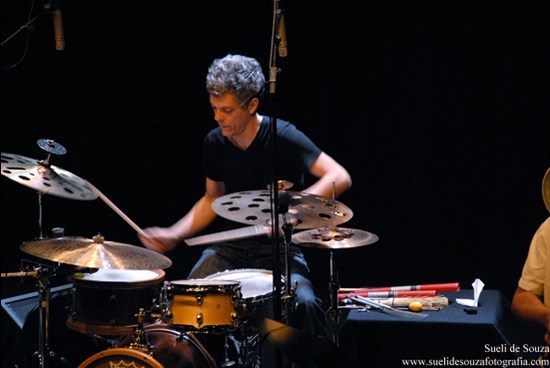 This edition was a wonderful showcase of the Portuguese jazz scene. It was a three day marathon and it was impossible to attend all concerts.
Jos Demol, May 2011
Photos by Sueli Ferreira de Souza