Black Lives, From Generation to Generation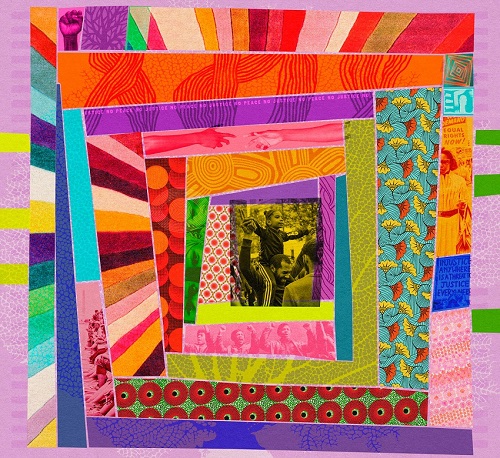 Various
Jammin' colorS
« Black Lives – From Generation To Generation » is een waar muzikale mozaïek die ons laat kennis maken met vijfentwintig artiesten uit Amerika, Afrika en de Caraïben.
Ze worden hier samengebracht om met één stem de ongelijkheden en het racistische geweld aan de kaak te stellen die, ondanks de bijna overal geboekte vooruitgang op het gebied van burgerrechten, al tientallen jaren blijven bestaan als slechte gevolgen van slavernij en segregatie. Zeker, muziek alleen kan de loop van de geschiedenis niet veranderen, maar kan, net als andere kunsten, getuigen en bijdragen aan het smeden aan een sociaal geweten.
Wanneer Oliver Lake, de Amerikaanse componist die samenwerkte met Björk en Lou Reed, in "Pre-Existing Conditions" herinnert aan de recente moord op George Floyd door blanke politieagenten in Minneapolis, is het de gruwel van deze tragedie en, daarbuiten, racisme en de lange turbulente saga, die weer in het geheugen opduikt.
Op strikt muzikaal vlak is "Black Lives" een collectief werk op het kruispunt van verschillende stijlen. Zo is er een schitterende "Sanga Bô" van Cheick Tidiane Seck op de ritmes van moderne Mandinka-muziek.
Bekend in België waar ze optrad met het Brussels Jazz Orchestra, wekt de Zuid-Afrikaanse zangeres Tutu Poane emotie op met haar ballad "From the Outside In".
New Yorker James Falcon bracht "Colored Man Singin' the Blues", dat hij zingt in zijn kenmerkende soul-blues-stijl. Soul en hiphop worden ook opgeroepen via artiesten als zangeres Stephanie McKay en Terence Sub-Z Nicholson, terwijl drummer Sonny Troupé, van oorsprong uit Guadeloupe, een even ongebreidelde als kleurrijke fusie brengt op "Sa Nou Yé / Be Proud" doorspekt met enkele samples van Muhammad Ali.
En er is zelfs een bijdrage van mezzosopraan Alicia Hall Moran in "Walk", een vreemde mix van opera en jazz geproduceerd met medewerking van Reggie Washington en DJ Grazzhoppa.
Ten slotte waarderen we aan de jazzkant de interventies van saxofonist Immanuel Wilkins (nieuwe rijzende ster van het Blue Note-label) op de twee titels "Praying" en "Dancing", de drummer E.J. Strickland op het uitstekende "Language of the Unheard", evenals de formidabele trompettist Jeremy Pelt op "Anthem for a Better Tomorrow".
Saxofonist Marcus Strickland, tweelingbroer van E.J., viert in "Matter" voor de zoveelste keer het huwelijk tussen jazz, soul en hiphop, in het gezelschap van zangeres Christie Dashiell.
Vooraleer deze column af te sluiten, is het de moeite waard om de hoofdrol te benadrukken van de Brusselse producer Stefany Calembert, de vrouw van bassist Reggie Washington, die ook meewerkte aan het maken van dit album. Het samenbrengen van zo'n staalkaart van verschillende sterren zal zeker niet eenvoudig zijn geweest, maar het resultaat is de moeite waard en steekt ver boven de ambities van het project uit.
Dit album, dat zich richt op mannen en vrouwen van diverse origine en generaties, is niet alleen een muzikaal hoogstandje, het is ook een statement dat een kosmopolitische wereld laat zien waarin ieder mens de moeite waard is en elkaar beïnvloedt.

© Pierre Dulieu, 31 maart 2022 (vrije vertaling : Jos Demol)
Een samenwerking JazzMania / Jazz'halo





KOOP DE MUZIEK HIER

In concert:
10 Nov 2022 - Le Botanique Brussels - TICKETS
12 Nov 2022 - Opderschmelz Dudelange (Luxembourg) - TICKETS
17 Nov 2022 - New Morning Paris (France) TBC
18 Nov 2022 - Jazzdor Festival Strasbourg (France)