Steven Kamperman - City Map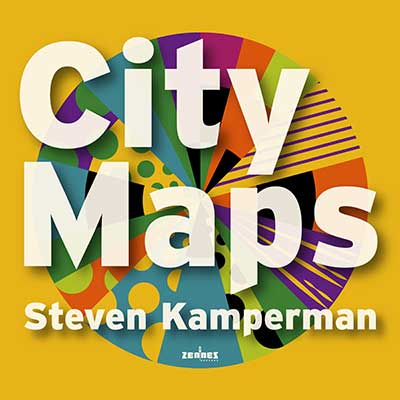 S
ZenneZ Records
Clarinetist/drummer Steven Kamperman wrote a set of pieces that relate to specific locations in cities as market places, dance halls, subways etc.. These pieces are arranged here as a fixed route along 12 of those locations, starting at GRAND BOULEVARD and finishing at DANCE HALL. 'City Music' is a rewarding undertaking with some significant examples from the past. Take "A Foggy Day" of Charles Mingus ("Pithecanthropus Erectus") (1956) or "Summer In the City" by The Lovin' Spoonful (1966) or John Cage's "49 Waltzes For the Five Boroughs" (using 49 multi-colored triangles superimposed on the Hagstrom map of New York City) (1977), and it's a great idea to work with the map-frame.
Audiences/listeners will have certain associations with the locations used by Kamperman in terms of sound/noises and its dynamics. Through working with these references and the 'route'-concept, here called 'trip', Kamperman does not treat audiences/listeners as empty or vaguely filled sheets. He activates their imagination more specifically pointed and confronts these with his own composed sound images and the actual articulation and sounding of his fellow musicians, the Dutch-Belgian equipe of trumpeter Bart Maris, electric guitarist Jorrit Westerhof and bassist Dion Nijland, as a dramaturgical bond. In concert the music is augmented by the live VJing of Henriëtta Müller.
With this framing, Kamperman has created a great playing field in which he and his fellow musicians can play the game by jumping back and forth between matching stylistic elements and weaving in specialties of their own voice. The combination of the horns with Westerhof's angular electric guitar is plainly great. Both Maris and Westerhof go out in a great tricky flow and Kamperman's clarinet goes excellently with each and both of them. All three pull out all the stops and keep on with wonderful playfulness, finesse and ingenuity. They do it briefly pointed, well-dosed and switch to freaking out mode at the right time. In two pieces, "Old Bridge" and "Marktplatz", Kampman takes the drum seat and surprises with his economic, permeating and substantial playing.
The music is seldom directly mimetic (like in train songs) but still close enough to evoke lively imaginary scenes. While "Mall" gets a greatly indicated Manouche Hot Club undertone, the elegiac "Gotteshaus" uncoils with a strong Eastern tinge (almost maqam), and "Kiosque à Musique" unadulteratedly comes as valse musette. The trip finishes in "Dance Hall" with a joyous pushing blend of Lindy Hop, Ska and stumbling tango feel. These infusions are never a forced thing of historical reference or mindless quoting. It always naturally emerges from the dynamics of the different gaits (Gangarten), the type of agility demanded by the imagined locations and fits in as a natural mould.  Talking about gaits and agility, the music of "Subway" would be greatly suitable as music for some Buster Keaton stunts.
Live this music is accompanied/augmented by the VJing of Henriëtta Müller. The live mixed crossfading moving pictures are projected on a round screen at both sides of the stage next to the musicians. To become an integral part of the performance stimulating the audience's senses and draw listeners into a synesthetic experience however more has to happen. The visuals should be projected in a dark enough hall ON the musicians on stage such that the musicians are 'standing IN the moving pictures' and the music is emerging from that scenery. Take light designer Tord Knudsen as an example of sophisticated VJing of that kind of work. It should become a colorful entangled whole of high integration with much higher impact than the two marginal screens with weak contrasts of the moving pictures.
In short, a splendid release that deserves further elaboration and enrichment of its visual media part in live performances.
Text / photos © Henning Bolte
Line-up:
Steven Kamperman clarinets, drums
Bart Maris trumpet
Jorrit Westerhof electric guitar
Dion Nijland double-bass
Henriëtta Müller visuals.

www.stevenkamperman.nl


Seen:



Amsterdam Bimhuis, December 12, 2021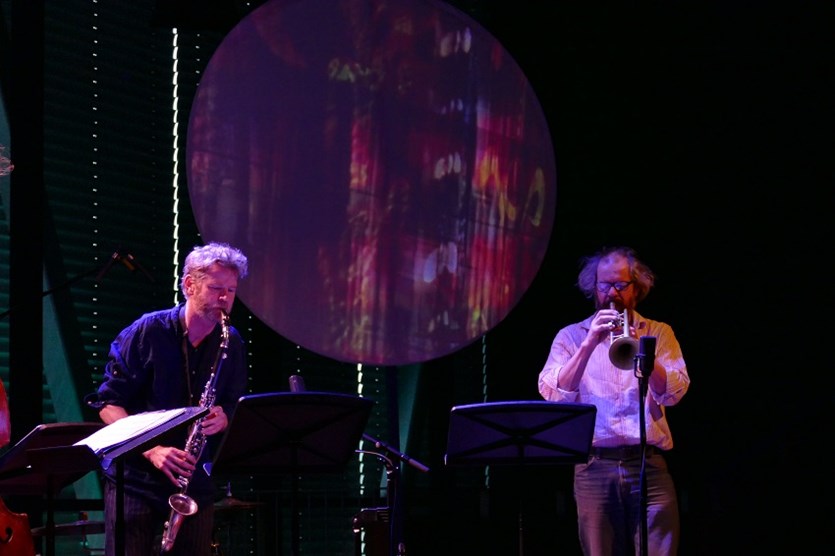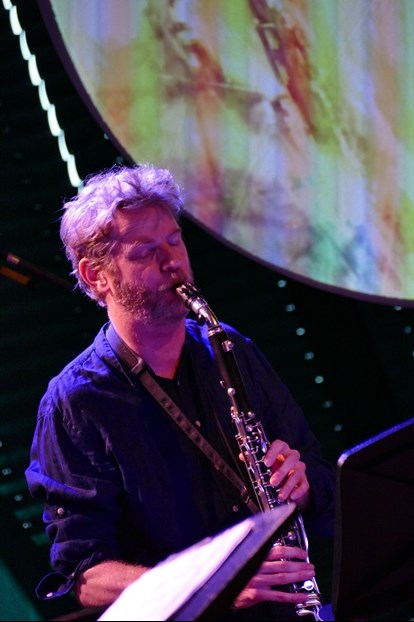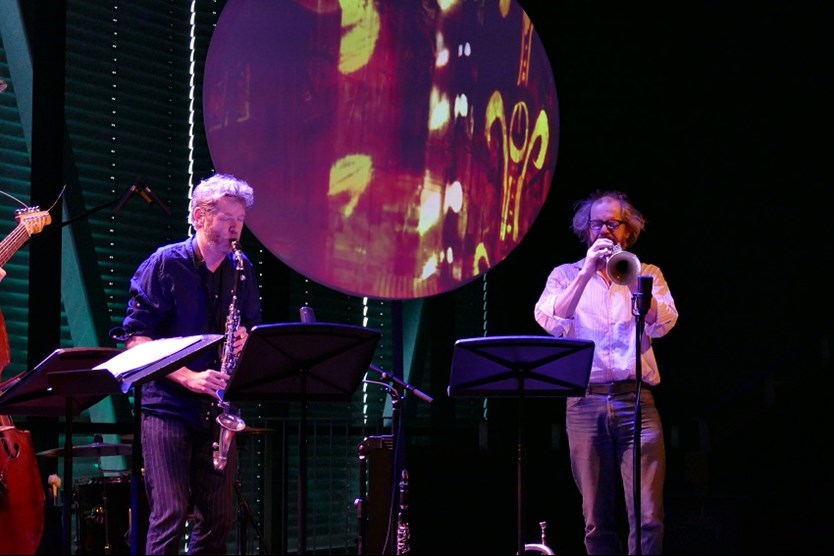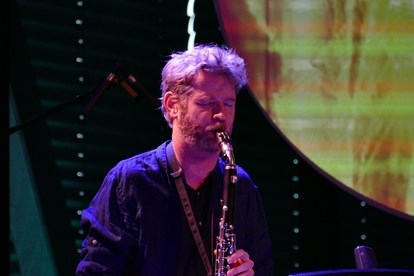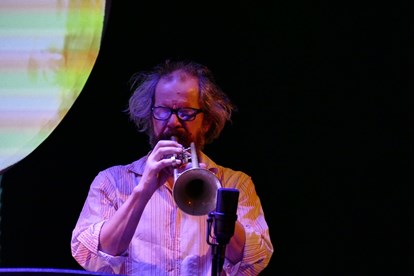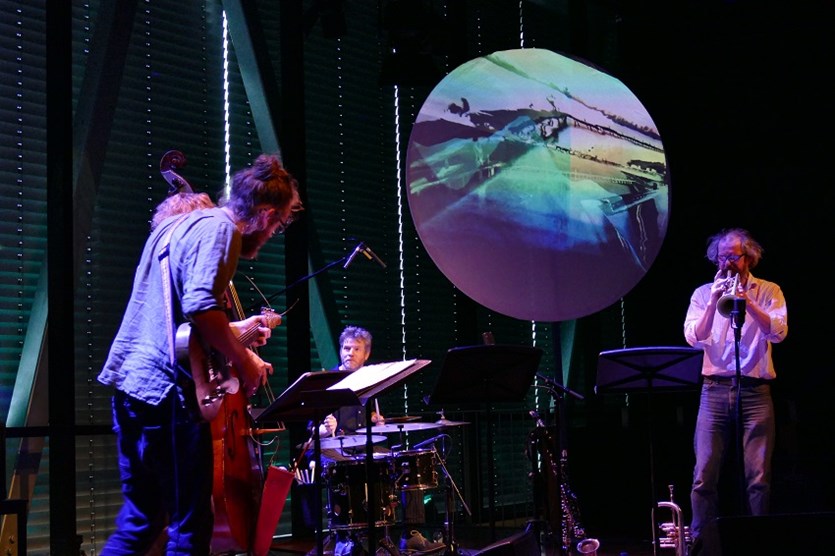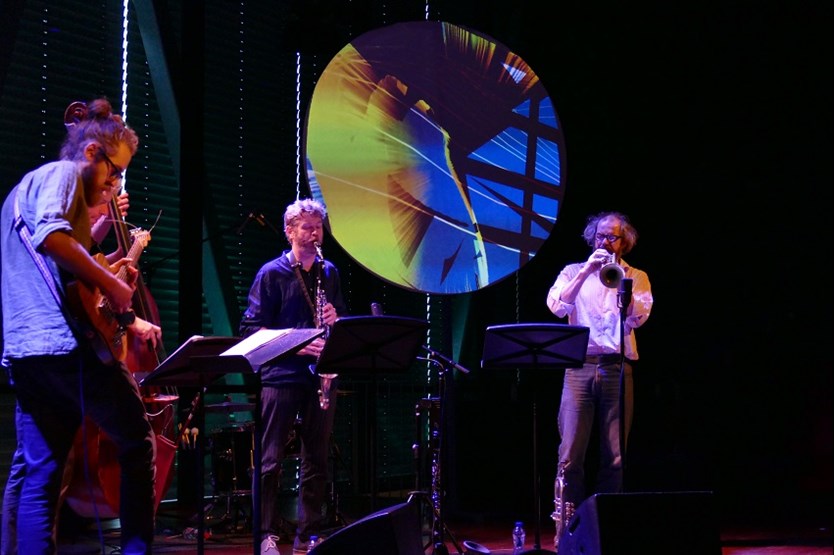 © FoBo