Steiger – Brick Smoke Basement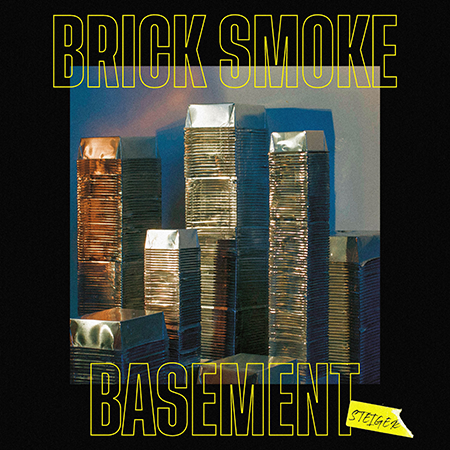 S
Sdban Records
"If And Above All" (2017) und "Give Space" (2018) hießen die vorherigen Veröffentlichung einer  Band, die kontinuierlich an ihrem musikalischen Programm feilt. Steiger das sind Gilles Vandecaveye-Pinoy (keyboards), Kobe Boon (bass) und Simon Raman (drums). Dieses Dreigestirn bewegt sich durchaus auch in Grenzbereichen des aktuellen Jazz, unternimmt Ausflüge in die elektronische Musik, in die Popularmusik und die freie Improvisation. Zu den Meriten der Band zählen im Jahr 2017 der Gent Jazz Festivals' Jazztalent Award, der einen Auftritt beim 12 Points Festival im nachfolgenden Jahr sah. Die aktuelle EP Brick Smoke Basement ist nur ein Zwischenschritt zu einem weiteren Album, das im Frühjahr 2021 das Licht der Welt sehen soll.
Künstlerresidenzen in Vooruit (Ghent), Flagey (Brussels) und deSingel (Antwerp) gaben dem Trio die Gelegenheit, neue musikalische Pfade zu gehen und auch mal Synthesizers und Cembalo in ihren Klangfarben auszulosen. Unterstützt wurde die Band auf dem Weg des Forschens und Probierens durch den australischen Komponisten, Improviser und Producer Joe Talia (Oren Ambarchi, Jim O'Rourke), der in musikalischen Collagen sehr versiert ist. Im Kontext der neuen EP lesen wir: "As such, this new release by Steiger became the next step in a fascinating evolution. Striking is also the increased use of contrasts. The music keeps construction and deconstruction, form and abstraction, in a remarkable balance. The musicians experiment with eerie sounds and atmospheres, but the compositions also remain spontaneous and tight, in the way they use tempo/mood shifts and combine post-industrial soundscapes with playful or elusive melodies. Their authentic and personal approach leads to an organic, hybrid result, a suitable match for this dizzying and demanding 21st century."
Paukenschlag und Donnerhall für Sekundenbruchteil, Fellgewische, kristalline Klangfolgen, dumpfe Bassläufe, präpariertes Piano und Tiefgetöne, Synthesizers oder doch E-Piano, vielleicht auch Rhodes – all das macht "Brick Smoke Basement" aus. Aus dem Off dringen Orgeltöne ans Ohr des Hörers, wenn er "Malinka" lauscht. Schnelle Tastenritte und ein Klickklick vereinen sich. Ist da nicht auch eine singende Säge mit von der Partie? Elektronische Schlieren durchziehen die Komposition. Sphärische Klangbänder sind auszumachen. Und dann gibt es auch noch wiederkehrende Intermezzos, die aus einem Popsong entsprungen sein können. Klangrauschen aus dem Hintergrund hören wir außerdem. Das klingt so, als würde die Band die Szene einer Reise in die Unterwelt der griechischen Antike vertonen oder die Band sei auf der Suche nach einem musikalischen Ausdruck für Arnold Böcklins symbolistisches Gemälde "Die Toteninsel" zu sein.
Ein zarter Klangteppich ist im Hintergrund von "No Blame" auszumachen. Gewitterrauschen brandet kurz auf. Wandernde Sirenenklänge treten hinzu. Die Musik entwickelt nach und nach etwas von einem Orkan, der sich noch nicht total entfaltet hat. Rasseln und Rascheln nehmen wir wahr. Gemorste Klangpassagen stoßen auf getragene Pianosequenzen, die klassische Anlehnungen verraten. Nachfolgend hören wir "Dark Days". Kurz gestrichen sind die Basssaiten. Und welche Saiten werden außerdem zu klingen gebracht, die des präparierten Klaviers oder die eines Cembalos? Sprudelnde Klanggewässer öffnen sich für den Hörer. Schritt für Schritt geleitet uns der Pianist über den ausgebreiteten Klangteppich, energiegeladen und durchaus auch auf seine Basshand vertrauend. Viel Blechgewirr ist dem Ganzen beigegeben, ebenso Elektronisches, sodass wir eine Collage aus Akustischem und Elektronischen hören. Für Dramatik ist im Verlauf des Vortrags auch gesorgt. Mit "Aimé" findet das Album dann seinen Abschluss. Man darf auf das nächste Album des Trios gespannt sein.
© fdp

Informationen
Sdban Records
http://www.sdbanrecords.com
https://sdbanrecords.bandcamp.com/album/steiger-brick-smoke-basement

Steiger
https://www.demorgen.be/nieuws/belgisch-jazztrio-steiger-levert-met-and-above-all-gewaagd-debuut-af~b085d633/?referrer=https%3A%2F%2Fwww.google.com%2F

https://steigerband.com
https://steigerband.com/music