StarkLinnemann - Pictures at an Exhibition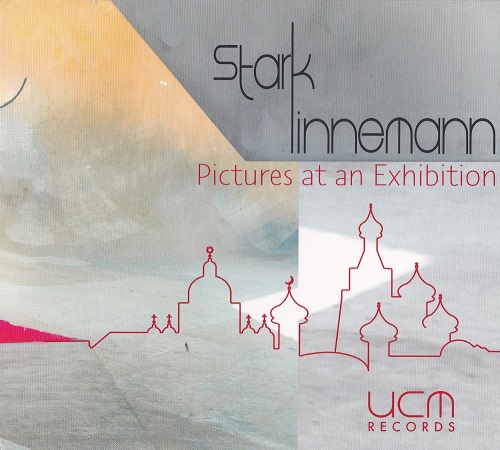 S
UCM Records 2018
Na Chopin (lees hier de recensie) gaat StarkLinnemann op zijn elan verder met het 'hercomponeren' van klassieke meesterwerken. Nu gaan ze de uitdaging aan om het befaamde Pictures at an Exhibition van Modest Moessorgski (1839-1881) in verfrissende, hedendaags swingende jazz om te zetten.
De 16 deeltjes zoals bedoeld in de pianocyclus van Moessorgski krijgen een nauwgezette, creatieve herwerking van StarkLinnemann met expressieve improvisaties die de sfeer en inhoud van de tien schilderijen van Viktor Hartmann (1834-1873) doen herleven naast het terugkerende thema van de Promenade (wandeling langs de schilderijen).
Van de strompelende dwerg, in een kenmerkend haperende ritme en met fraaie klarinetsolo (Gnomus) komen we langs het oude kasteel, met zeer ingetogen piano, basklarinet en gestreken bas bij het treurige lied van de troubadour (Il Vecchio Castello). Een roffelende drumsolo leidt ons naar het park van de Tuileries waar met opwekkende klarinettonen en dartel pianospel een geanimeerde beleving ontstaat van spelende kinderen. In Bydlo breekt saxofonist Spaargaren helemaal los in krachtige freestyle.
Dan is het de beurt aan het ballet van kuikens (Ballet Of The Unhatched Chicks), treffend verklankt door het kwartet met sprankelende percussie. Een geladen en aan joodse muziek ontleende klarinetsolo brengt de discussie op gang bij Goldenberg und Schmuyle, met een onderkoelde, gedreven schwung. Na het levendige Limoges keert de sfeer helemaal om in het duistere Catacombs (Sepulcrum Romanum) en dat werkt nog door in Con Mortuis In Lingua Mortua, wat een ode vormt aan de overleden Hartmann. StarkLinnemann legt in deze intimistische stukjes heel wat emoties.
Er volgt nog Baba Yaga met een stevige groove om dan als kwartet in grootsheid te eindigen met een mijmerend uitgesponnen pianosolo als interval in het langste en indrukwekkende The Bogatyr Gate.
StarkLinnemann heeft zich zowel naar heruitvinden als performance overtroffen in Pictures at an Exhibition, een statement waar Moessorgski alle eer wordt aangedaan.

© Bernard Lefèvre

Musici:
Iman Spaargaren (tenorsax, klarinet, basklarinet)
Paul Stark (piano, recomposition)
Vasilis Stefanopoulos (contrabas)
Jonas Linnemann (drums, percussie)




http://starklinnemann.com/nl/

Concertagenda SL Quartet - Pictures at an Exhibition
(zie verder online – http://starklinnemann.com/nl/events)
16 november 2018: Hall Of Fame, Tilburg, Nederland
17 november 2018: Het Concertgebouw, Amsterdam, Nederland
18 november 2018: Kerk Broek in Waterland, Broek In Waterland, Nederland
24 november 2018: Het Diekhuus, Middelharnis, Nederland