Stan Getz Quartet & Astrud Gilberto - Live at the Berlin Festival 1966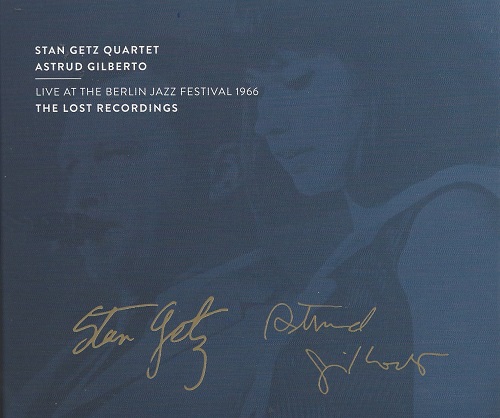 S
The Lost Recordings/Newartsint.
Si la période "bossa" de Stan Getz couvre les années 62 à 65 avec des albums emblématiques, du tout premier « Jazz Samba » au mythique « Getz/Gilberto » sorti en 1964, ce succès du jazz brésilien a dépassé les enregistrements pour, entre autres, des tournées à succès.
Ce « Live at the Berlin Jazz Festival » enregistré le 4 novembre 1966 en est un témoignage unique et intéressant, même si comme le définit Stéphane Olivier dans les liner notes, ce témoignage sonore est un peu « à contretemps » par rapport à l'histoire de la collaboration entre Getz et Gilberto puisque celle-ci avait pris fin en 64. Un autre contretemps qu'on pourrait envisager est celui du décalage entre le jazz qui sort en 1966 et ce soyeux et populaire style jazz d'inspiration latine. Jugeons plutôt : en 1966 sortent « Conquistador » de Cecil Taylor, « Symphony for Improvisers » de Don Cherry, « Globe Unity » d'Alex Schlippenbach, « Strange Strings » de Sun Ra ou encore « Mama Too Tight » d'Archie Shepp... Sûr que la tournée de Getz/Gilberto aura plus rempli les salles que les explorations citées ici.
N'empêche que ce disque est et restera sans doute longtemps un grand moment de bonheur. La première galette est entièrement consacrée au quartet du saxophoniste, celui sans piano où Gary Burton était au vibraphone, Roy Haynes à la batterie (« un des plus grands batteurs au monde », dit Getz en introduction de « Jive Hoot », composition de Bob Brookmeyer, où Haynes est particulièrement en évidence) et Steve Swallow à la basse (mais ici remplacé par Chuck Israels).
Dans cette première partie où le choix du répertoire se veut plus jazzy, on apprécie « On Green Dolphin Street », « The Shadow of Your Smile » (à comparer avec la version vocale du second set), « Blues Walk » de Lou Donaldson, « Once Upon a Summertime » de Michel Legrand et aussi un superbe « featuring » pour un Gary Burton aérien et lyrique à souhait sur « Edelweiss » de Richard Rodgers composé pour la comédie musicale « La Mélodie du Bonheur ».
Antonio Carlos Jobim est déjà présent dans ce premier set avec « O Grande Amor » et « Desafinado » en medley avec « Chega de Saudade » annonçant la deuxième partie et l'arrivée d'Astrud Gilberto qui entraîne le répertoire sur les couleurs brésiliennes qui ont fait le succès de leurs albums communs. « One Note Samba » introduit délicieusement le set avec Getz en contrechant, ça sonne très classe avec cette sonorité inégalée du sax mêlée à la voix fluette et délicate de Gilberto.
Deux autres thèmes de Jobim ravissent le public, « Corcovado » et « The Girl from Ipanema » font craquer le public berlinois comme ils l'ont fait dans le monde entier. Et puis, il y a les quelques commentaires de Stan Getz gardés dans le déroulement du programme, une trace du contact que Getz aimait avoir avec son public (il se lance même dans quelques mots en allemand !).
On ne dira jamais assez la valeur du travail de la collection « The Lost Recordings » qui ressuscite des moments inédits de la carrière d'artistes comme Thelonious Monk, Ella Fitzgerald et d'autres en soignant remarquablement la qualité du son. Chapeau bas.
© Jean-Pierre Goffin
Une collaboration JazzMania / Jazz'halo