Setoladimaiale Unit & Evan Parker – Live At Angelica 2018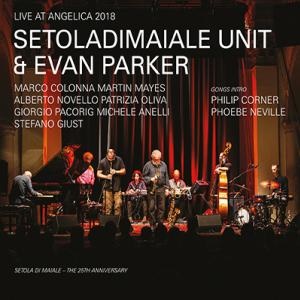 S
Setola Di Maiale
Naar aanleiding van haar vijfentwintigjarig bestaan organiseerde het Italiaanse kwaliteitslabel Setola Di Maiale een uniek concert op 16 mei 2018 in het Teatro San Leonardo (Bologna, Italië). Een wonderlijke cruise door woelige improvisatiewateren met een aantal buitenmaatse aanlegplaatsen.
De aanvangsstilte zorgt voor een haast ondraaglijke spanning omdat je de muzikantenlijst kent en weet tot wat ze in staat zijn. Na een twintigtal seconden horen we de eerste voorzichtige gongklanken. Een introductie uitgevoerd door de befaamde Amerikaanse componist Philip Corner samen met zijn vrouw, choreografe en danser Phoebe Neville. Daarna volgt in vijf hoofdstukken ('First', 'Second', 'Third', 'Fourth', 'Fifth') het echte werk. In totaal net geen tweeënzeventig minuten ronddwalen in het land van improvisatie. Gelukkig zijn de gidsen ervaren. Ze hebben vooral heel wat branie en sterke ideeën. De gelegenheidsgroep bestond uit Marco Colonna, Martin Mayes, Patrizia Oliva, Alberto Novello, Giorgio Pacorig, Michele Anelli, Stefano Giust, Philip Corner en Phoebe Neville met Evan Parker als de eregast.
Deze opname in alle details beschrijven, is onmogelijk omdat alles zo minutieus in elkaar zit en de ene reactie nauwkeurig en vooral organisch volgt op de andere. Een continue maalstroom van kleine verschuivingen die telkens leiden naar nieuwe ideeën. Dergelijke concerten zijn vaak vooral live te appreciëren en verliezen heel wat van hun impact bij latere beluistering op geluidsdrager. Van deze opname kunnen we zeggen dat de genietbaarheidsfactor ook in vertrouwde thuisomgeving meer dan hoog genoeg ligt, zelfs indien je niet aanwezig was op het concert zelf.
Deze opname is vooral een krachtig en overtuigend statement over de visie van het label: "we want to reiterate the continuity of one's enunciated spirit, a continuity with an artistic practice born in the twentieth century…. always determined by an attitude for strong independance and self-determination". Respect voor Stefano Giust en zijn ploeg om in deze tijden van commercieel populisme dergelijke maatstaven nog halsstarrig te handhaven en creatief idealisme voorop te stellen.
© Georges Tonla Briquet


Musici:
Evan Parker: sopraan- en tenorsaxofoon
Marco Colonna: alto en basklarinet
Martin Mayes: hoorn, Alpenhoorn
Patrizia Oliva: stem, electronics
Alberto Novello: electronics
Giorgio Pacorig: piano
Michele Anelli: contrabas
Stefano Giust: drums
Philip Corner: gongs
Phoebe Neville: gongs

www.stefanogiust.it
www.setoladimaiale.net