Serena Spedicato / Nicola Andrioli - The shining of things: dedicated to David Sylvian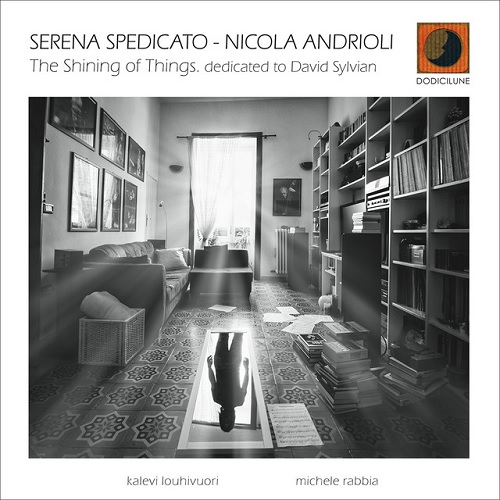 S
Dodicilune Dischi
Depuis son arrivée à Bruxelles en 2009, Nicola Andrioli a été extrêmement sollicité: on peut ainsi découvrir son lyrisme mélodique, comme sa fougue, au sein du quartet de Philip Catherine (album Côté jardin), en duo avec Barbara Wiernik (Complicity), au sein du quartet de Manolo Cabras (Melys avec Jean-Paul Estiévenart), en compagnie de Lorenzo Di Maio (Black Rainbow) ou de Steven Delannoye (Dining in the dark ou Salon d'harmonie). Mais le natif de Brindisi a aussi gardé des attaches en Italie, notamment avec le très intéressant label des Pouilles Dodicilune: Alba en 2007, Pulsar en 2009, Les Mongolfières, avec notamment le clarinettiste sarde Matteo Pastorino, en 2014.
Le voici, de nouveau pour Dodicilune, en quartet avec la chanteuse Serena Spedicato, qui, comme Nicola, a fréquenté le Conservatoire Tito Schipa de Lecce. Par la suite, elle a participé à plusieurs masterclasses, entre autres avec Lucilla Galeazzi (la chanteuse de Il Trillo vu à Oupeye ou d'un duo avec la pianiste Rita Marcotulli). Elle a intégré l'Orchestra Jazz del Conservatorio di Lecce et le quintet Beat Five. A son nom, elle a enregistré My Waits, Tom Waits Songbook et Tribute to Billie Holiday. Elle a aussi mis en place un Omaggio a Gianmaria Testa.
Complètent le quartet le trompettiste finlandais Kalevi Louhivuori et le percussionniste Michele Rabbia, deux musiciens très sollicités.
Le public belge a découvert Kalevi Louhivuori au sein du groupe Motu de Lionel Beuvens (albums Trinité et Earthsong, avec Alexi Tuomarila au piano). Lui qui a croisé la route de Dave Liebman et de Bob Mintzer, a enregistré plusieurs albums personnels, notamment In the dreamworld avec le Sun Trio.
Natif de Turin, Michele Rabbia a étudié les percussions en Italie puis aux Etats Unis, avec Alan Dawson. Apprécié pour sa science des percussions comme des effets électroniques, il a enregistré de nombreux albums avec des compatriotes, comme Stefano Battaglia (p), Maria Pia De Vito (voc), Luciano Biondini (acc) ou Rosario Giuliani (sax), mais aussi avec les Français Marc Ducret, Régis Huby ou Vincent Courtois, avec l'Argentin Javier Girotto ou l'Américaine Marylin  Crispell.



Après son hommage à Tom Waits, voici The shining of things dédié au chanteur britannique de rock David Sylvian qui a fondé le goupe Japan, collaborant avec le trompettiste Jon Hassel et le Japonais Ryuichi Sakamoto, un spécialiste de la musique électronique et acteur qui a joué dans Furyo avec David Bowie.
Au répertoire, huit textes de David Sylvian, certains sur sa musique, d'autres sur des thèmes de Jon Hassel (Weathered wall et Brilliant trees) et de Ryuichi Sakamoto (Forbidden colours, Brilliant trees, The shinig of things).
Serena Spedicato reprend ici des titres d'albums de différentes époques: Forbidden colours de 1983, Weathered wall et Brilliant trees de 84, Laughter and forgetting de l'album Gone on earth de 86, Orpheus de Secrets of the beahive de 87, Heartbeat de 92 et The shining of things de Dead on a cake de 99.
Serena Spedicato porte les textes de David Sylvian d'une voix limpide, des mélodies souvent langoureuses (Forbidden, Brilliant trees, The shining of things), parfois avec des atmosphères plus rugueuses  (Heartbeat propulsé par la batterie de Rabbia et avec une superposition entre paroles et vocalises), le tout toujours magnifiquement orchestré par Nicola Andrioli: "Serena loves acoustic weaves, cherished reverbs, piano tinkings of a refined yet timid musician as Nicola Andrioli" (Roberto Ottaviano, texte de pochette).  Kalevi Louhivuori se révèle un parfait substitut de Jon Hassel: il a une parfaite maîtrise des suraigus et sait multiplier les effets pour créer le climat propre à David Sylvian: effets d'écho, de delay, avec superposition de la trompette tranchante avec le bugle suave. Il sait aussi créer des effets bruitistes en accord avec ceux électroniques de Rabbia pour créer le climat mystérieux de l'intro d'Orpheus. Au piano, Nicola Andrioli fait preuve d'un lyrisme parfaitement assumé et Michele Rabbia mêle batterie et petites percussions pour servir de trame aux solistes.
L'album est une parfaite réussite, ressuscitant les textes de Sylvian dans un contexte totalement jazz. On ne peut qu'acquiescer au commentaire du saxophoniste Roberto Ottaviano: "A song is a place in the heart. It is also a story, a vision, a message that must touch the soul and the mind", c'est totalement le cas.
© Claude Loxhay