Secret Night Gang – Secret Night Gang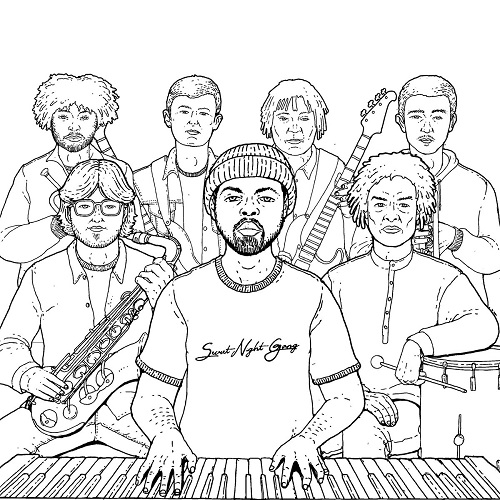 S
Brownswood Recordings
Het debuut van een nieuwe groep uit de stal van het label dat de Britse (acid)jazz een verse boost gaf dankzij het juiste medianetwerk van oprichter Gilles Peterson.
Secret Night Gang komt, net als Happy Mondays, The Stone Roses en The Farm uit Manchester, de stad waar alles drie decennia geleden draaide in en rond The Hacienda. Ondertussen geraakten heel wat andere pillen en goedjes "en vogue" en was er de Black Live Matters beweging. Dat laatste is van groot belang bij Brownswood Recordings. Lees er maar het manifest op na, terug te vinden op de startpagina.
In die context vond Secret Night Gang onderdak bij hen met deze negen tracks die in de eerste plaats klinken alsof het gaat om "lost and found" opnamen uit de archieven van Stevie Wonder. De parallellen zijn overdonderend. Verder zijn er nog kortsluitingen met zowel Prince als Earth, Wind & Fire. Met de gitaarsolo in 'The Sun' helt alles onverbloemd over naar Carlos Santana. De ballads en mid-tempo nummers neigen dan weer richting Thundercat.
We zijn ervan overtuigd dat deze bende live genoeg keet kan schoppen om een feestje te bouwen. Op cd is de opeenvolging van soulballads en funky grooves echter wat te onevenwichtig samengesteld. Uitzonderlijk raden we de shuffle knop aan. Te ontdekken tijdens Eurosonic Noorderslag in Groningen (januari 2022). Ook voor fans van de neo soul waarmee José James de laatste jaren zo graag uitpakt. Vooral hoog tijd om nog eens al dat materiaal van het Acid Jazz label uit de kast te halen.
© Georges Tonla Briquet



https://brownswoodrecordings.com/
https://secretnightgang.com/