Sandro Zerafa - Last night when we were young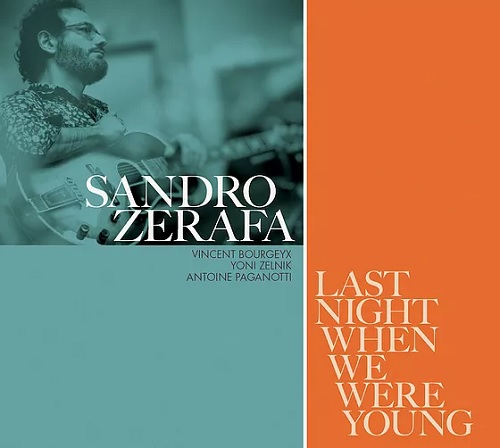 S
Paris Jazz Underground
Un titre qui pourrait symboliser la situation actuelle: last, night, last year, when we were young... sans confinement et avec des concerts.
Né à Malte en 1975, Sandro Zerafa a étudié la guitare dans son île natale avant de gagner Lyon où il a étudié avec le pianiste Mario Stantchev. En 2000, il s'installe à Paris, forme un premier groupe avec le tromboniste Sébastien Llado puis The Jaywalkers avec l'altiste Olivier Zanot et déjà le contrebassiste Yoni Zelnik. Il a enregistré Urban Poetics avec le pianiste Laurent Coq, The bigger picture avec Olivier Zanot, More light avec Yonathan Avishai.



Il propose ici un album dédié à de grands standards dans deux formules différentes.
La première (six plages), en duo avec le pianiste Vincent Bourgeyx. De trois ans son aîné, il a étudié au Berklee College de Boston, a gagné New York pour devenir le sideman régulier du tromboniste Al Grey puis de la saxophoniste Jane Ira Bloom. Il a enregistré Introduction avec Matt Penman et Karl Januska, Un ange qui ricane puis Cosmic Game avec Penman et David Prez au saxophone.
La seconde formule (cinq titres), en trio avec Yoni Zelnik et Antoine Paganotti.
On a vu le talent de Zelnik à différentes reprises: avec le quartet de la saxophoniste virevoltante Géraldine Laurent (Jazz à Liège) et au sein de Lucky Dog, avec Yoann Loustalot et Fred Borey (Pelzer Jazz Club où le quartet a enregistré un album live). Il joue aussi avec le pianiste Avishai Cohen: une pointure.
Antoine Paganotti est le fils du bassiste du groupe Magma, on l'a notamment retrouvé aux côtés de Yoann Loustalot pour Pièces en forme de flocons (chroniqué à l'époque).
Sandro Zerafa, guitariste qui s'inscrit dans la grande tradition de la guitare jazz (de Jim Hall à René Thomas), a choisi ici onze standards, comme ce Last night when we were young, immortalisé par Sinatra, You do something to me du film Fifty Million Frenchmen, deux titres joués en duo intimiste et interactif avec le piano lyrique de Bourgeyx. Mais aussi Love is a many splendored thing ou Secret Love et If I had you, en trio très swing avec Zelnik et Paganotti.
Un album qui s'inscrit dans la tradition mais qui révèle un vrai talent.
© Claude Loxhay