Sam Newbould – Bogus Notus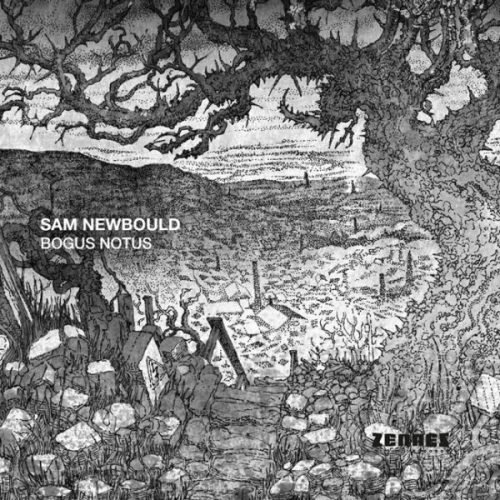 S
Zennez Records
Als een niet al te vriendelijk sprookje, zo begint de Engelse altsaxofonist Sam Newbould zijn tweede kwintetalbum, Bogus Notus. In het openingsnummer Left Side of The Cove wandelen we op het tempo van trage pianolijnen het biografische muzikale verhaal binnen naar het door tenor- en altsax geschetste landschap van (laten we aannemen) de Yorkshire Dales, de geboortegrond van de componist.
De in Amsterdam wonende winnaar van de Keep an Eye Records 2019 heeft de bij deze prijs behorende financiële bijdrage geïnvesteerd in een maatschappijkritisch album. Aan zijn zijde staan o.a. drummer Guy Salomon, die afgelopen online editie een eigen showcase mocht verzorgen op Jazzahead! en (nieuw in Newboulds kwintet) de succesvolle Koreaanse pianist Youngwoo Lee. Een internationaal ensemble bestaande uit in Nederland wonende jonge musici.
Wie wil weten wat de titel precies betekent moet dat aan Newbould zelf vragen, of een kijkje op zijn website nemen. Bogus Notus is namelijk "een verzonnen term van iets dat mooi en intrigerend is, maar gelijktijdig onhandig en ongepast. Op deze wijze omschrijft Sam zijn jeugd en opvoeding in het noorden van Engeland, dat, ondanks al zijn schoonheid, een plek is waar barre weersomstandigheden overstromingen kunnen veroorzaken, moderniteit wordt gezien als een gevaar voor de status quo en het afwijken van de sociale norm kan leiden tot een leven in ballingschap." De tekening op de cover, van de hand van Simon Fowler, verbeeldt een ongekleurd, vrij troosteloos, heuvellandschap. Dat landschap horen we ook terug in het donkere titelnummer waarin stertrompettist Ian Cleaver zich voegt bij het stemmige koper van de saxofonisten om er zich vervolgens tijdens een warme solo aan te onttrekken.
Song for Annie wordt gezongen door Beth Aggett en vocaal/muzikaal begeleid door gitarist Billy Marrows. Een opvallend vrolijke noot tussen de overige weemoedige nummers. Wellicht verklankt het zoete, speelse liedje het nieuwe leven van de componist aan de andere kant van de Noordzee.
Het korte album eindigt met een aanstekelijk thema dat wordt geïntroduceerd door Lee op de Fender Rhodes en vervolgens wordt nagevolgd en herhaald door de saxofonisten. Het nummer heeft de onnavolgbare titel Superfast Fibre Optic Broadband meegekregen, maar het vertolkt uitstekend het onbestemde gevoel dat past bij de ondertitel van het album, The Joy of Home Mixed With The Discomfort Of Being An Outsider. Bogus Notus dus.
© Robin Arends



Tracklist:   
1.    Left Side Of The Cove
2.    Concrete Caterpillar
3.    Do It Yourself
4.    Bogus Notus
5.    Carried To The Common
6.    Right Side Of The Cove
7.    Song For Annie
8.    Superfast Fibre Optic Broadband

Line-up Sam Newbould kwintet:
Sam Newbould - altosaxofoon
Bernard van Rossum - tenorsaxofoon
Youngwoo Lee - piano, Fender Rhodes
Daniel Nagel - contrabas
Guy Salomon - drums, percussie
 
Verder gastbijdragen door:
Ian Cleaver - trompet
Beth Aggett - vocalen
Billy Marrows - gitaar, vocalen
Federico Calcagno - basklarinet

Opgenomen door Joeri Saal, september 2020 in Studio 150 Bethlehemkerk, Amsterdam
Edit door: Alistair Payne
Mix door Mischa de Kanter
Master door: Nate Wood, Kerseboom Mastering

www.samnewbould.com
www.zennezrecords.com