Sam Braysher Trio - Dance Little Lady, Dance Little Man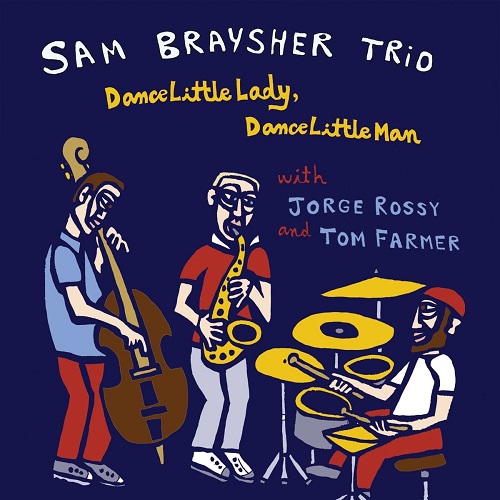 S
Unit Records UTR 4951
The album title is from Ira Gershwin's lyric to "Shall we dance". Half way through listening I realised why it's an effective title; the rhythmic drive of this band literally made me want to dance.
Sam Braysher is a London based alto sax player who works with a range of British and European bands. This is his second album, following 2017 release "Golden earrings" - a duet with NYC pianist Michael Kanan. He has chosen a trio format with Jorge Rossy on drums, vibraphone and marimba; Jorge is known for his work with Brad Meldau, Lee Konitz, Chick Corea and many others. Double bass is provided by Tom Farmer who is part of British quartet "Empirical" and has worked with Anouska Shankar and Ant Law.
The trio format works brilliantly here; the players have built a solid understanding which enables grooves which are both skin-tight and teasingly loose. All the rhythms have a propulsive energy; for instance Hoagy Carmichael's "Heart and soul" begins with a bluebeat feel then settles into a lilting swing which reminded me of Max Roach. Braysher mentions being influenced by the approach of Monk, Sonny Rollins and Ahmad Jamal but I was also reminded of the brilliant way Charlie Parker worked with rhythm sections.
Of the 11 tracks, 6 are from the "great American songbook" - 7 if you count "Reflection", a rather fine song from Disney's film "Mulan". The choice of material is thoughtful, avoiding over-used "standards". There is one new composition by Braysher: "Pintxos" has an interesting melody and bassline based on the chords of Cole Porter's "From this moment on". The album opens with a driving interpretation of Dexter Gordon's "For regulars only" and closes with a Gershwin instrumental, "Walking the dog". The best known tune on the album is from Brazil, Jobim's "One note samba". This benefit's from Jorge Rossy's impressive ability to produce Latin polyrhythms, also heard on Walter Donaldson's "Little white lies" and "The sweetest sounds" by Richard Rogers.
Rossy gives the album plenty of variety with his range of tone colours on drumkit, then lifts things further by switching to marimba for "This nearly was mine" and vibes for "Some other Spring". The latter was written by Irene Kitchengs, an African-American jazz pianist, band leader and song writer who worked with Billie Holiday; it's great to hear some less well-trodden parts of the songbook, particularly a beautiful tune like this. The album includes interesting sleevenotes and Sam Braysher explains that he approaches these pieces by seeking out the original sheet music and also learning the lyrics. This attention to detail pays dividends, as do the careful arrangements. Just once or twice I felt the players could have taken more risks but the quality of invention is consistent and all tracks repay repeated listening.
This album is very much an equal partnership between three fine musicians, playing with a lot of wit and energy. Definitely one I'll return to and highly recommended for anyone in a dancing mood.
© Stephen Godsall