UNESCO INTERNATIONAL JAZZ DAY 30.04.2019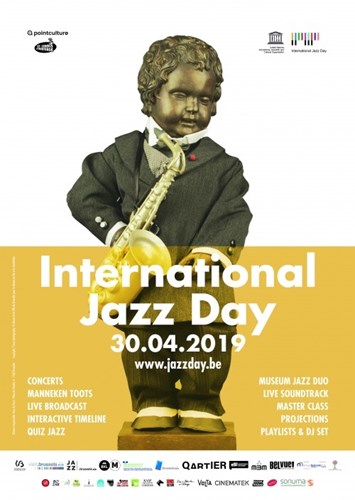 In november 2011 riep UNESCO officieel 30 april uit als Internationale Jazzdag. Daarmee wil UNESCO het belang van jazz en zijn diplomatieke rol in het verenigen van mensen uit alle hoeken van de wereld benadrukken.

Elk jaar op 30 april, brengen we ook in België een eerbetoon aan jazz en haar fundamentele rol in het verenigen van mensen over de hele wereld, het bevorderen van vrede en de dialoog tussen culturen, diversiteit en respect voor de mensenrechten en de menselijke waardigheid.
https://www.jazzday.be/



AVONDCONCERTEN IN BRUSSEL


17:00 - BIG BAND CONSERVATOIRE ROYAL DE BRUXELLES o.l.v. Fabrice Alleman
BRUSSEL @ Jazz4you – Gratis
Place Saint Job/Sint-Jobsplein 1, 1180 BRU
www.jazz4you.be
Op het programma van de Big Band staan dit jaar uitsluitend Belgische componisten-arrangeurs: Francy Boland, Jean Warland, Etienne Verschueren, Bert Joris, Michel Herr, Michel Paré, Pirly Zurstrassen, enz. Composities gespeeld door een big band gevormd door studenten van de jazzafdeling van het Koninklijk Conservatorium van Brussel, een internationale big band sindsdien samengesteld uit Belgische, Franse, Nederlandse, Singaporese, Mexicaanse musici.


18:00 - THE MORNING CALL JAZZ BAND o.l.v. Fabrice Alleman
BRUSSEL @ Jazz4you – Gratis
Place Saint Job/Sint-Jobsplein 1, 1180 BRU
www.jazz4you.be
The Morning Call Jazz Band, opgericht in september 2017 in Brussel, is een New Orleans jazzgroep. Genoemd naar een zeer beroemd café in New Orleans dat bekend staat om zijn heerlijke donuts, haalt "The Morning Call" zijn inspiratie uit enkele van de bekendste bands van de stad, zoals "Shotgun Jazz Band", "The Palmetto Bug Stompers", "The New Orleans Swamp Donkeys Traditional Jass Band", "New Orleans Jazz Vipers", "Aurora Nealand & The Royal Roses", "DinosAurchestra", "Smoking Time Jazz Club"…


20:00 > 22:00 - ENSEMBLES CONSERVATOIRE ROYAL DE BRUXELLES
BRUSSEL @ Halles Saint Géry / Sint Goriks Hallen – Gratis
Place Saint-Géry/Sint-Goriksplein 1, 1000 BRU
www.conservatoire.be
www.hallessaintgery.be


19:00 - BEA TRIZ
BRUSSEL @ Jazz4you – Gratis
Place Saint Job/Sint-Jobsplein 1, 1180 BRU
www.jazz4you.be

Geboren aan het Conservatorium van Brussel in september 2018, vond de groep al snel zijn plaats in de Brusselse scene. Onder leiding van Victor Da Costa vindt de groep inspiratie in Braziliaanse werken en eigen composities
Met : Stéphanie Bertrand, zang & dwarsfluit / Fred Gairard, viool / Téo Crommen, gitaar & mandoline / Arthur Possing, piano / Arnaud Cabay, basgitaar / Marcos Della Rocha, drums


20:00 - MARK GIULIANA BEAT MUSIC
BRUSSEL @ AB – Ancienne Belgique – € 21 / 20
Boulevard Anspach/Anspachlaan 110, 1000 BRU
www.abconcerts.be

Voor wie destijds – of nog steeds – David Bowie's 'Black Star' aan zijn/haar hart drukte, was muzikant Mark Guiliana een absolute ontdekking. Deze meesterlijke drummer had zich ook al laten opmerken aan de zijde van pianist Brad Mehldau én met zijn project Beat Music sloeg hij ons helemaal achterover. Mark? 'Electronic music is a huge inspiration for me. The first time I heard Squarepusher's 'Feed Me Weird Things', it hit me like the first time I heard Tony Williams with Miles. Then hearing Aphex Twin was like hearing Elvin Jones with Coltrane. Experiencing that electronic music – its precision, discipline, timbral imagination – was just as profound for me as hearing those jazz drumming icons. So, marrying the discipline of electronic music with the improvisational sense of jazz is a lot of what the Beat Music is about.'


20:00 - NATACHA WUYTS QUARTET "TRIBUTE TO ANITA O'DAY" + MOHY/LIÉGEOIS/GERSTMANS TRIO
BRUSSEL @ Jazz Station – € 15 / 12
Chaussée de Louvain/Leuvensesteenweg 193, 1210 BRU
Organised by www.jazzstation.be & www.leslundisdhortense.be
Live broadcast on www.rtbf.be/musiq3

Twee concerten om u onder te dompelen in de jazztraditie!

Natacha Wuyts brengt een ode aan de prachtige zangeres van de jaren '40-'50 Anita O'Day. Met overgrote passie en enthousiasme biedt ze aan haar publiek een onbetwistbaar ritmisch gevoel gecombineerd met een feilloze scat techniek. Swing, energie, vrijgevigheid en gevoeligheid zijn de ingrediënten van deze hulde aan de klassieke jazztraditie.
Met : Natacha Wuyts, zang / Sabin Todorov, piano / Victor Foulon, contrabas / Jérôme Baudart, drums

Pascal Mohy, Quentin Liégeois en Sam Gerstmans speelden voor het eerst samen in de lessen op het Franstalige Koninklijk Conservatorium van Brussel. Sindsdien treden ze op in clubs en festivals met verschillende projecten en komen ze regelmatig samen om de muziek van hun hart te delen : de jazzstandards. Dit repertoire, waar ze met geestdrift en vindingrijkheid een nieuwe kleur aan geven, in een drumloze formule, stuurt ons naar de geschiedenis van jazz. Met af en toe ruimte voor stilte, mengt hun muziek de zuiverheid van traditie met de moderniteit van snaren.
Met : Pascal Mohy, piano / Quentin Liégeois, gitaar / Sam Gerstmans, contrabas


20:30 - MUSIC SUN RA ARKESTRA 'SPACE IS THE PLACE' LIVE SCORE
BRUSSEL @ BOZAR, Salle/Zaal M – € 28 / 24
Rue Ravenstein/Ravensteinstraat 23, 1000 BRU
www.bozar.be

The Sun Ra Arkestra dankt zijn bestaan aan de kleurrijke jazzmuzikant en allround prettig gestoord fenomeen Sun Ra. Tijdens de BOZAR Night brengt de band de soundtrack bij de Afro-futuristische sciencefictionfilm Space Is the Place. Met een ticketje voor dit concert krijg je er dus meteen ook alle andere acts van de BOZAR Night bij, gratis en voor niets!
Met : Allen Marshall, regisseur, altsaxofoon & fluit / Wayne Smith, drums / Adrien Davis, trombone / Elson Nascimento, percussie / Tara Middleton, zang & viool / Francis Middleton, zang & gitaar / Stephen Mitchell, bas / Cecil Brooks, trompet / Farid Barron, piano / Noel Scott, saxofoon / Danny-Ray Thompson, bariton sax / James Stewart, tenorsaxofoon


21:00 - JAZZ JAM SESSION
BRUSSEL @ The Music Village – € Gratuit / Gratis / Free
Rue des Pierres/Steenstraat 50, 1000 BRU
www.themusicvillage.com

Jam Sessie geopend door Douglas Jillings (gitaar), Kennan Stanley-Bey (saxofoon), Lies Merck (basgitaar), Fred Guldentops (drums)


21:30 - SOUL'S SPRING
BRUSSEL @ Sounds Jazz Club
Rue de la Tulipe/Tulpstraat 28, 1050 BRU
www.soundsjazzclub.be

Soul's Spring is een hedendaags jazz project onder leiding van drummer en componist Francesca Remigi. Voor dit project heeft ze zich laten inspireren door de huidige jazz scene in New York, waarbij ze zich vooral richt op expirimentatie met ritme, door middel van polyritmiek en metrische modulaties.
Met : Francesca Remigi, drums / Giovanni Di Carlo, gitaar / Simon Groppe, piano / Ramon Van Merkenstein, contrabas



LIVE JAZZ AT THE MUSEUM
10:30 > 16:30
Gratuit / Gratis / Free
Réservation conseillée / Reserveren aangeraden / Reservation recommended
Les Lundis d'Hortense  | info@leslundisdhortense.be | + 32 2 219 58 51
Vijf Brusselse musea openen hun deuren voor jazz door originele duo's te laten spelen in het uitzonderlijk kader van hun zalen. De gelegenheid om de stad en zijn musea op een muzikale manier te ontdekken !


EXPERIENCE BRUSSELS
10:30 > JEAN-PAUL ESTIÉVENART & CEZARIUSZ GADZINA - (Duo trumpet / saxophone)


MUSEUM OF THE NATIONAL BANK OF BELGIUM
12:00 > JEAN-LOUIS RASSINFOSSE & JEANFRANÇOIS PRINS - (Duo double bass / guitar)


JEWISH MUSEUM OF BELGIUM
13:30 > EVE BEUVENS / FRANÇOIS VAIANA - (Duo piano / vocal)


BELGIAN MUSEUM OF FREEMASONRY
16:30 > ALAIN PIERRE & SYLVAIN DEBAISIEUX - (Duo guitar / saxophone)


BELVUE MUSEUM
15:00 > PIERRE DE SURGÈRES & TOM BOURGEOIS - (Duo Keys / Saxophone)



ELSEWHERE IN BELGIUM

19:00 - L'ŒIL KOLLECTIF + MIMI VERDERAME QUARTET
LIÈGE  @ Musée de la Boverie - € 14
Parc de la Boverie 3, 4020 Liège
www.jazz04.be
Jazz04 presenteert zich voor deze gelegenheid in het Musée de la Boverie/Luik. Het bezoek van de expositie wordt begeleid door de improvisaties van L'Oeil Kollectif (Marius Morsomme, percussie / Clément Dechambre, saxofoon / Louis Freres, basgitaar) gevolgd door een walking dinner en afgesloten met het Mimi Verderame Quartet (Mimi Verderame, drums / Nicola Andrioli, piano / Stephan Pougin, percussie / Theo de Jong, bas)


20:30 - ANTOINE PIERRE URBEX QUINTET
Dans le cadre du / In het kader van / As part of the Gaume Jazz De Printemps
ROSSIGNOL-TINTIGNY @ Centre Culturel Rossignol-Tintigny – € 15 / 12 / 7,5 / 6
Rue Camille Joset 1, 6730 Tintigny
www.jeunessesmusicales.be
www.gaume-jazz.com
www.antoinepierremusic.com
Antoine Pierre, een onmisbare figuur in de Belgische jazzscène, is weer helemaal terug met dit tweede hypnotisch album. De kracht van zijn muziek wordt nog extra versterkt door de virtuositeit en inventiviteit van zijn muzikanten die samen zorgen voor momenten van puur creatief genot.
Met : Antoine Pierre, drums / Jean-Paul Estiévenart, trompet / Bert Cools, gitaar / Bram De Looze, piano / Félix Zurstrassen, basgitaar


20:30 - DAN WEISS – STAREBABY
BRUGGE @ KAAP | De Werf - € 18 / 15
Werfstraat 108, 8000 Brugge
www.kaap.be
www.danweiss.net
Met 'Starebaby' stelt drummer Dan Weiss een dreamteam samen met de beste jazzmusici van vandaag (zoals Craig Taborn). Samen brengen een ongehoorde mengvorm van jazz, rock en heavy metal.
Met: Dan Weiss, drums & composities / Ben Monder, gitaar / Trevor Dunn, bas / Matt Mitchell & Craig Taborn, keyboards & piano