RIP Mark Whitecage... (1937-2021)
Harvey Sorgen on Mark Whitcage...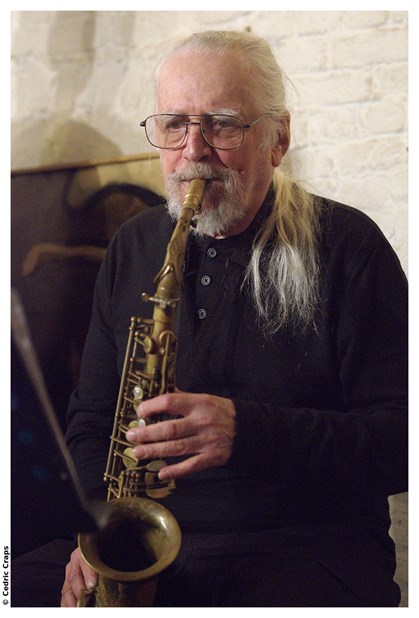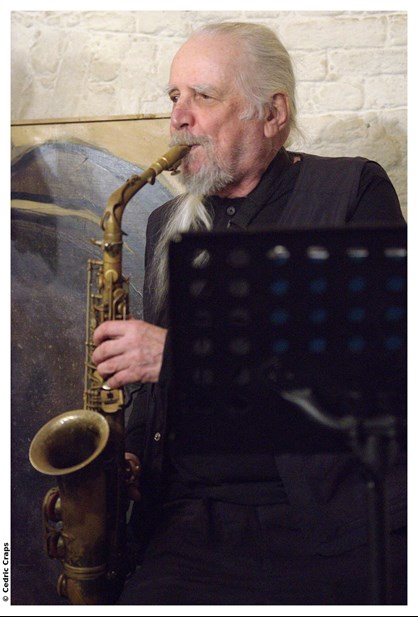 "I had first met Mark Whitecage in the early '70s during the height of the NYC loft scene. As a young teenager at the time, I was seeking out the truth in this new music and what it was about. One of the many lofts at the time that was presenting this music was a place called Environ run by the piano player John Fisher. Upon entering the space I was immediately immersed in the sound coming from the bandstand. Mark was in full flight on the alto with a sound, energy, and commitment that was astounding. I had never heard, nor felt anything like that before. So free, so spirited, so bigger than I could have imagined. His playing almost seemed to defy the air itself. On top of this, his sort of lightness of being in the way he held himself was sort of elfen... like a dancer unencumbered with gravity itself. Being the young lad I was, I felt I was witnessing an effervescent tornado of which I had no idea was possible.. The impression he made on me stayed throughout the evening and long past.
Fast forward many years later when I was asked to join an ensemble put together by Joe Fonda and Michael Jefry Stevens which included the front line of Mark and Herb Robertson. Right from the start Mark's sound and approach not only worked with the two horns, but seemed to lift the band in a direction that no one could have anticipated. Well, perhaps the band leaders did! To be able to be a part of an ensemble and to remain in your own voice is truly a higher calling. Mark had this at all times, no matter what. We subsequently had numerous records and tours. Each new phase of the band brought with it Mark's individuality, always growing. it seemed there was no limit as to what he could play, and where he would go. For myself, it kept me focused as to make sure I too tried to speak the truth through my instrument. Mark never had to try..... He was always there....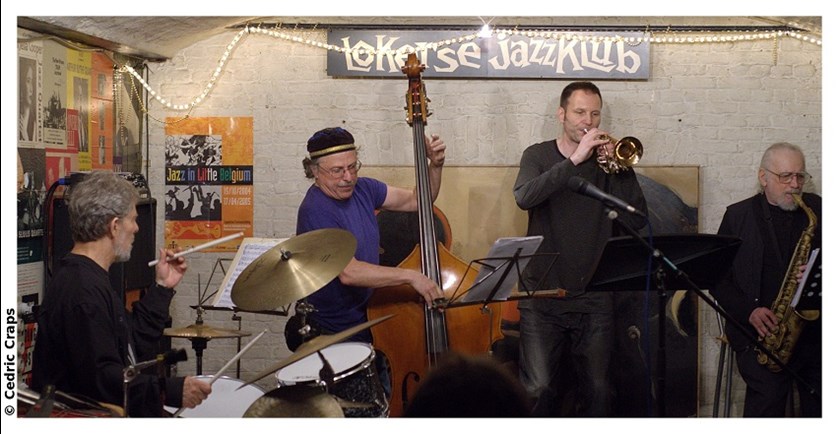 The Nu Band (Lou Grassi/JoeFonda/Thomas Heberer/Mark Whitecage), Lokerse Jazzklub, March 15th, 2014


One quick off the bandstand story just to illustrate Mark's conviction to the music. During one of our days on the train through Germany, we were all in the same cabin on a crowded train. As Mark entered to sit with us, Herbie's trumpet was on the seat. I reached out to put it above in the storage area. About 1/2 an hour later, the train came to a sudden stop and the trumpet fell out of the storage and right on Mark's nose! It hit with quite a thump and we were all very concerned. It seemed his nose may be broken, which gave us all more concern.... EXCEPT Mark! He took it as just another hazard of road life, shrugged it off and never mentioned it again. It was all about the music, and playing like your life depended on it. There were many instances like this, maybe not so painful (!) that Mark exhibited during our many years together where the spirit and joy of making music came before anything else.
It has been a few years since Mark and I have graced the same bandstand. His issues with his health in recent time were enough for him to deal with. He still continued to play concerts and make a few tours for as long as he could. It was about the music. it was always about the music. I'll miss Mark."

© Harvey Sorgen, March 9th, 2021  -  photos © Cedric Craps