Qwest TV: Quincy Jones' new video-streaming service for jazz
The world's first subscription video-on-demand (SVOD) platform dedicated to jazz and beyond, launching this fall. Join the Qwest!



Here is a beautiful project we would like to share with you !

Quincy Jones & Reza Ackbaraly are launching "the Netflix of Jazz" !

QWEST TV needs 1500 co-founding subscribers to make their Kickstarter campaign a success!

What is Qwest TV?
Qwest TV is the new international audiovisual media dedicated to jazz and beyond, co-created by Quincy Jones (USA) and Reza Ackbaraly (France).
Qwest TV is a subscription video-on-demand (SVOD) platform available on tablets, computers, smartphones and, soon, television.
Qwest TV means exclusive and original content – documentaries, concerts, interviews, short features – all available in HD and curated by a dedicated team of professionals.
 
Qwest TV is an innovative, high-quality medium that holds high the values of jazz and hopes to revolutionize access to this century-old music and to all types of music that have been inspired by it.

Would you subscribe?
*** Save 50% on 1 year of Qwest TV Premium ***
Offer ends October 10th!
Pre-subscriptions are now available here : http://bit.ly/qwest-tv


For Quincy Jones, "Qwest TV will celebrate world culture with music. This platform will help preserve and protect our musical heritage. For some, it will be an exciting new way to enjoy music they love. But Qwest TV will also and most importantly be an educational tool that will retrace the history of jazz in all its diversity. Today, with this Kickstarter campaign, anyone who cares about jazz and world culture will have the possibility to join us on our mission of education and heritage and to share in jazz's strength and values."
Adds Reza Ackbaraly: "Above all else, Qwest TV is a community of passionate people whom we wish to unite around a powerful medium. We have chosen to build an innovative organization in cooperation with musicians and industry professionals. With this campaign, we would like to remind the audience that our first objective is to satisfy a demanding and curious public, which is why we want to bring our co-founding subscribers into the fold right from the start of this pre-launch phase while offering them benefits that are on par with this revolutionary adventure."
For more information, please visit: www.qwest.tv
Qwest TV is excited to welcome as many music lovers as possible to the Qwest TV community.
THANK YOU !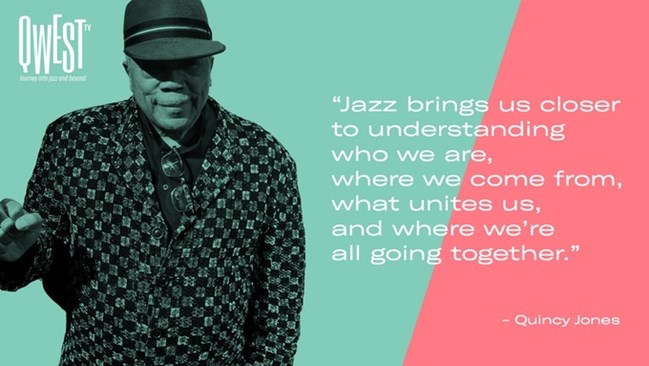 "All that's missing now is you! All of y'all!"

"Hello to my beautiful music lovers out there!

"We've come a long way since I first had the idea, many years ago, of creating a TV channel dedicated to the type of music that literally saved my life: jazz.

"And for the past year, our dedicated Qwest TV team has worked night and day to try and make this crazy, wonderful dream of ours a reality.

"We launched this crowdfunding campaign on Kickstarter in early September, and I'm proud to announce that we're more than halfway to our goal...but now we're in the final stretch, and it's up to y'all to help get Qwest TV to the finish line!

"If you haven't had a chance to make a contribution, now is the time.

"I want to send a special word of thanks to all the beautiful peeps who have already 'joined the Qwest' by contributing to the campaign. You're making our souls smile by having you on board, and we can't thank you enough!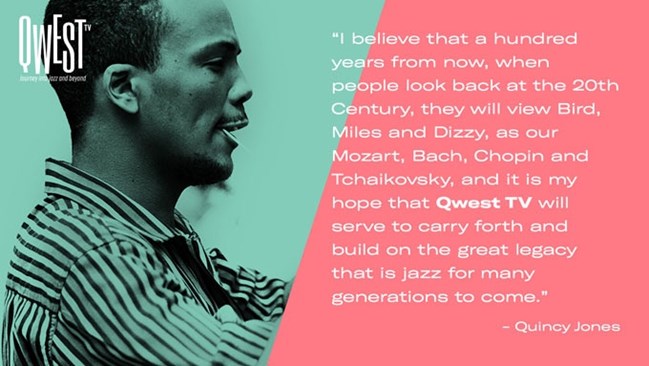 "The dream of Qwest TV is to let jazz and music lovers everywhere experience these incredibly rich and diverse musical traditions in a whole new way.

"At my core, I am a bebopper, and over the course of my seventy-year career in music I have witnessed firsthand the power of jazz – and all of its offspring, from the blues and R&B to pop, rock and hip-hop, to tear down walls and bring the world together.
"The Netflix of jazz..." (Kevin Le Gendre - BBC Radio 3)

"I've been around the block a few times, and have seen my fair share of great ideas and...not so great ideas.

"The honest truth is, after all my years, seeing the power of a medium such as Netflix is absolutely undeniable. And this type of power translates across industries to not only touch audiences of film/TV, but across music, and beyond.

"Now, it's time to give all of you unlimited access to the type of music that helped to shape our cultural foundations: JAZZ!
"To truly 'get' jazz, you have to explore it, to meet it halfway. You have to listen not just with your ears, but with your soul. In order to truly understand jazz, you have to experience jazz.

"And part of experiencing jazz is to watch it unfold before your eyes. Jazz is a form of art that happens in the moment. And to be present at that moment, to watch the artist or group of artists create their art right there in front of you, is essential to experiencing jazz in all its glory."




Journey into jazz ... and beyond

If our Kickstarter campaign is a success, you and other jazz lovers around the world who subscribe will enjoy the ability to watch anytime, anywhere on mobile devices, computers, and connected TVs.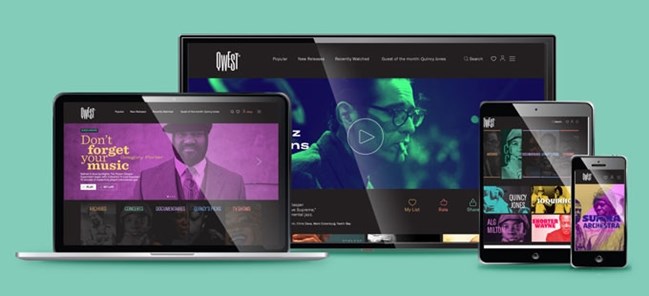 At launch, Qwest TV would feature hundreds of hours of hand-picked concerts, documentaries, interviews, short features—all available in high-resolution video and all without ads.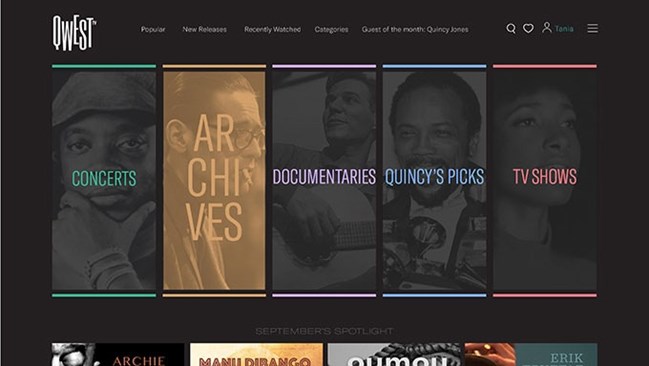 Every program page would provide detailed, insightful liner notes written by professional journalists and jazz experts.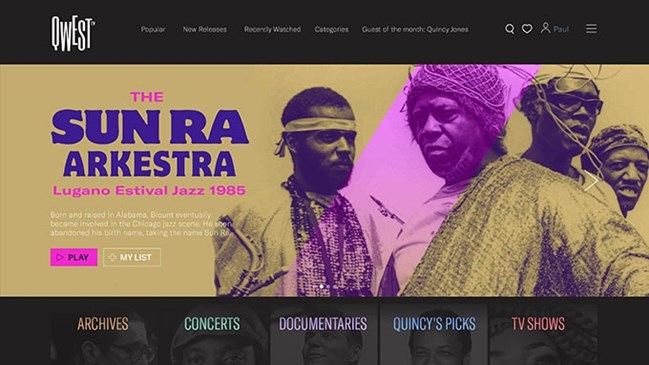 A sampling of upcoming programs:

Documentaries

    Al Jarreau: Bring your life to the stage (2015)
    Gregory Porter: Don't forget your music (2016)
    Letter to Michel Petrucciani (1981)
    Paco de Lucia: Light and Shade (1994)

Concerts

    Quincy Jones & friends feat. George Benson, Dee Dee Bridgewater, Jacob Collier, SWR Big Band (2017)
    Oumou Sangare (2017)
    Cory Henry and the Funk Apostles (2017)
    Lee Konitz & Bill Evans (1967)

TV shows

    Manu Dibango (1983)
    Sonny Rollins, masterclass (1981)
    Milton Nascimento (1981)

Constantly curated content

To guide you toward the very best of the best, Qwest TV would feature monthly playlists created by guest curators: jazz musicians, journalists, scholars, and many more!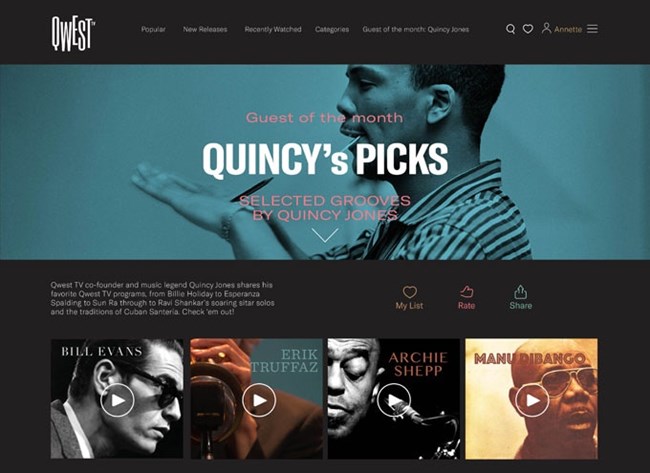 About Quincy Jones:

Named by Time Magazine as one of the most influential jazz musicians of the 20th century, Quincy Jones is an impresario in the broadest and most creative sense of the word. His career has encompassed the roles of composer, record producer, artist, film producer, arranger, conductor, instrumentalist, TV producer, record company executive, television station owner, magazine founder, multi-media entrepreneur, and humanitarian. Among the multitude of awards that he has received for his contributions are an Emmy Award, seven Academy Award nominations, the Academy of Motion Picture Arts and Sciences' Jean Hersholt Humanitarian Award, 27 Grammy Awards, and is the all-time most nominated Grammy artist with a total of 79 nominations. A recipient of the Republic of France's Commandeur de la Légion d'Honneur, in 2001, Jones was named a Kennedy Center Honoree, for his contributions to the cultural fabric of the United States of America. He was recognized by the National Endowment for the Arts as a Jazz Master - the nation's highest jazz honor, and in 2010 was bestowed the National Medal of Arts, our nation's highest artistic honor. In 2016, Jones received a Tony Award for Best Revival of a Musical for the Broadway production of The Color Purple. The award completed the rare EGOT set for Jones, an exclusive club of artists who have received an Emmy, Grammy, Oscar and Tony Award.

About Reza Ackbaraly:

"Whenever I explain to people why my career is based on promoting jazz music, I always end up talking about what one might call the 'values' of jazz: the infinite diversity, openness towards others, mutual respect, cooperation, discipline and hard work, improvisation, and passing down wisdom to younger artists, among others." – Reza Ackbaraly

Beginning in 2003, Qwest TV co-founder Reza Ackbaraly ran the New Jazz & World Music department at the French cable channel MEZZO, where he helped produce more than 800 hours of original content. He is also musical programmer for the prestigious Jazz à Vienne festival in France and La Petite Halle in Paris. Reza Ackbaraly is also one of the youngest members of the Academie Charles Cros. Ackbaraly's insatiable desire to break down barriers between musical genres and promote the power of improvisation associated with jazz led him to meet one of his heroes, Quincy Jones, in 2015. It was during this encounter that Qwest TV was born.


Thanks to your participation in this Kickstarter campaign, Qwest TV will seek to:

    Provide jazz and music lovers around the globe with their own dedicated, 100% legal SVOD platform;
    Promote the "values" of jazz: the infinite diversity, openness towards others, mutual respect, cooperation, discipline and hard work, improvisation, and passing down wisdom to younger artists, among others;
    Enhance and modernize the image of jazz;
    Introduce talented musicians from around the world to a wider audience;
    Help younger generations discover jazz and world music by replacing aging VHS and DVD collections at more than 300 partnering universities within the first 24 months.



Risks and challenges

Qwest TV being the first of its kind in jazz, we are aware that expertise—or lack thereof—is what will make or break such a project.

Thanks to the backing of Quincy Jones, who needs no introduction, and to the input of jazz impresario Reza Ackbaraly, who knows the ins and outs of the jazz scene and TV production, we have no doubt that Qwest TV would thrill jazz aficionados and amateurs alike.

Our dynamic network of musicians, producers and venues guarantees a high-quality and diverse programming that would evolve with, and even help mold, trends in jazz and how jazz is perceived the world over.

However, success does not only lie in the content; we also strive to build a vibrant community around Qwest TV.

Since unveiling the Qwest TV project this past July, we have already obtained almost 20,000 followers on social media. Once followers become subscribers, we pledge to keep the conversation open between Qwesters and our team: one of the perks of our early-bird subscription campaign is direct VIP access to the Qwest TV team with whom subscribers can share feedback and feature requests.

We're excited to welcome as many music lovers as possible to the Qwest TV community.

All that's left is for you to join the adventure!