Programme Presentation for the 52nd Moers Festival 2023
Exploring the Vast Synaptic Space Between COURAGE and HUMILITY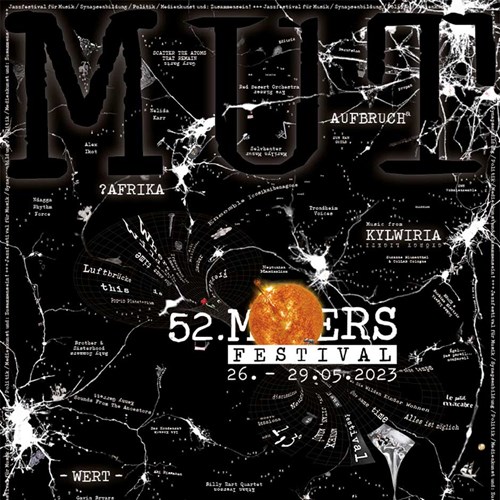 The Moers Festival is launching its 52nd edition and inviting music enthusiasts on a four-day journey through the unconventional sides of jazz, improvised music, and other musical adventures. From May 26th to 29th, 2023, visitors can embark on a trip through the vast synaptic space between courage and humilty, with three main stages set up throughout the city of Moers. Under the artistic direction of Tim Isfort, the festival presents a diverse programme, themed around REVOLUTION, ?AFRICA, KYLWIRIA, VALUE, and LIBERATION. Over 250 artists from 23 nations will perform in Moers.

REVOLUTION As always, Moers aims to be a seismograph for new and groundbreaking developments. Unheard-of music, daring sounds, strong attitudes, and moving melodies underscore the international significance of the Moers Festival. Examples include eddy kwon + SUN HAN GUILD (US), Selventher (DK), or Neptunian Maximalism (BE).

?AFRICA The mere reduction of Africa's multifaceted and rich music cultures to the stereotype of "Africa" challenges us as those responsible for the moers festival. With ?AFRICA, we will now focus annually on different countries. This year, the focus is on Equatorial Guinea, featuring, among others, the voice of Nelida Karr. Additionally, artists from Senegal and Burkina Faso will perform at Moers.

KYLWIRIA Furthermore, the moers festival celebrates the 100th birthday of the legendary Hungarian composer György Ligeti (*May 28th, 1923) with a comprehensive focus on his influential soundscapes and compositions. MUSIC FROM KYLWIRIA is an internationally commissioned piece by the moers festival. Also, Ligeti's son Lukas Ligeti will come with three formations. And even the successor to the youth project moersterclass, le petit macabre (in reference to Ligeti's opera Le Grand Macabre), will explore the musical genius.

VALUE How important is our favorite song to us? What is the (particular) value of art and culture? What is the value of music and culture for a society, for humanity? The moers festival explores these essential questions and presents a range of artists who delve into them, including four companions of the legendary Miles Davis (Kenny Garrett, Billy Hart, Gary Bartz, and Marilyn Mazur), the British Gavin Bryars, and the veteran Günter Baby Sommer, who celebrates his 80th birthday this year.

LIBERATION In 1972, moers stood for liberation. Today, too, it's about freeing from stereotypes, freeing oneself and, just as urgently as back then, taking a political stance. This takes courage. The Iranian Tember Ensemble, the Trio Kruglov - Kozhevnikova - Yudanov, and the Deli Girls or Pharmakon who loudly scream their message to the world, demonstrate this courage.

In addition to further extraordinary musical events such as the silent film concert by organist Wolfgang Seifen (The Cabinet of Dr. Caligari), Eve Risser's Red Desert Orchestra, traditional moers sessions, various moersify guerrilla concerts and traveling Freejazz e-mobiles, or the uncurated ANNEX stage, the festival village, as well as workshops, lectures, and discussions, have now become integral parts of the Moers Festival. On Ligeti's 100th birthday, May 28th, State Minister Claudia Roth, Anke Fischer (Elbphilharmonie), and other interesting guests will discuss the topic of participation.

In addition to the performance venues at the festival grounds and in downtown Moers, the hybrid format @thesametime, which was developed in 2022, will be continued: musicians perform simultaneously on two stages and play together, while the on-site audience only hears what they see. The two concert parts are then edited together and can be experienced as a whole in the virtual reality of the moerslandVR several hours later.

This Whitsun, we will embark on an exciting journey through various regions of the festival's brain, experiencing live how connections are formed in the great synaptic space between COURAGE and HUMILITY.

The 52nd moers festival will, as always, take place on Whitsun, from May 26-29 this year.
For more information (and tickets!) visit www.moers-festival.de.