Play with BJO
Compilatievideo BJO Project "Someday We'll All Be Free"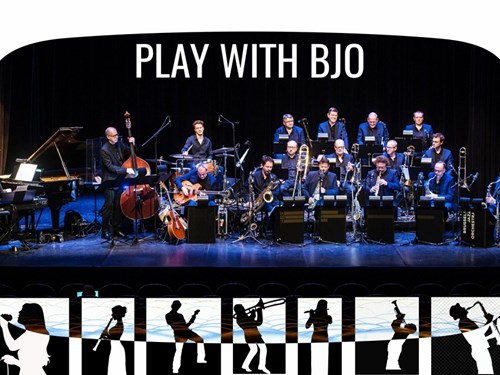 Graag brengen wij je op de hoogte van een bijzonder online initiatief van Brussels Jazz Orchestra.

Play with BJO
Midden april 2020 plaatste BJO een online oproep: 'Play with BJO'. Het orkest nodigde iedereen uit om creatief aan de slag te gaan met de song 'Someday We'll All Be Free'. Muzikanten of zanger(es)s(en) die er altijd van gedroomd hadden om samen met het orkest te spelen of zingen, grepen hun kans.
Iedere creatieveling kreeg de kans om te 'spelen' met de song: een remix te maken, erop te dansen, tekenen of scratchen. BJO spoorde iedereen aan om een video te maken en deze te bezorgen.



Compilatievideo
Door de song 'Someday We'll All Be Free' te downloaden (zonder solo en vocals), kreeg iedereen de kans creatief aan de slag te gaan met het orkest, vanuit hun 'kot'.
Op 2 mei 2020 stuurde BJO een compilatievideo de wereld in, met inzendingen van over de hele wereld.
Deze video kan je bekijken via Facebook, Instagram, YouTube en de BJO website.
Zij die thuis nog aan de slag willen met de song, kunnen het nummer, de lead sheet en de lyrics nog steeds downloaden via de BJO website.




Someday We'll All Be Free
De song 'Someday We'll All Be Free' werd in 1973 uitgebracht door Donny Hathaway, die er zijn mentale strubbelingen mee van zich afschreef. Later werd het nummer in de armen gesloten door de burgerrechtenbeweging, naar aanleiding van de versie van Aretha Franklin in Spike Lee's film 'Malcom X' (1992).
Brussels Jazz Orchestra bracht het lied vanaf 2018 naar internationale podia met het project 'We Have A Dream' met Tutu Puoane (dat je hier kan beluisteren). Vandaag zouden we de song kunnen toepassen op deze ongewone tijden van thuisblijven, telewerken en musiceren via allerlei online tools.


Benieuwd naar de orginele versie? Bestel de cd hier!

Brussels Jazz Orchestra wil mensen aanmoedigen om sociaal verbonden te blijven via de kracht van muziek. Bewaar de nodige 'physical distance', maar hou de sociale verbondenheid levend.
Hopefully, we'll soon be free!