Jazz On The Sofa 2019
Zondagmiddag 3 november in Zeist (NL) van 15.00-18.00 uur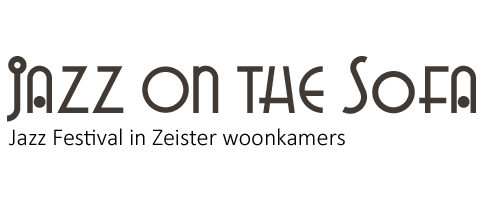 Een fascinered festival met kamermuziek in woonkamers georganiseerd door de Duitse multi-fluitist Mark Alban Lotz.
Deze vierde editie ziet alweer een cast van internationale artiesten van topklasse. Headliners zijn het Sloveense pianofenomeen Kaja Draksler, de kersverse Boy Edgar Prijs winnaar van 2019 Jasper Blom en de super bassist Nelson Cascais uit Lissabon.
Andere artiesten zijn de Braziliaanse diva Lilian Viera met gitarist Tato Morales, bassist Marius Beets met Martien Oster, trompettist Bert Lochs met pianist Dirk Balthaus en drummer Felix Schlarmann met zijn trio Wonderyears.



PROGRAMMA
De concerten beginnen om 15.00, 16.00 en 17.00 uur en duren 30 minuten. Daarna is er voldoende tijd voor het publiek om lopend van huiskamer te wisselen. U bepaald zelf uw eigen route. Bij teveel publiek in een woonkamer moet men naar een andere locatie uitwijken.


KAJA DRAKSLER

Kaja Draksler released her first solo album 'The Lives of Many Others' in October 2013 at Clean Feed Records

Press on the CD:
"The Lives Of Many Others is a diverse, challenging, at times stunning and  constantly fascinating record to discover."
(Guy Peters, Enola, December 2013)
"The result isn't a chaos, but a divine order that no one could  think of, except Draksler."
(Jan Jasper Tamboer, Jazzenzo, November 2013)
"This young jazz pianist and composer from Slovenia is a striking appearance in  the Amsterdam jazz and improvisation scene. Her talent explodes through her  musical fibers. Supple playing, beautiful timing and a subtle touch form the  ideal tools for her free improvisations, where she can suddenly create a  multilayered composition from a single, simple melody."
(Annette den Heijer, Muziek van Nu, December 2013)
"But at the end of the seven solo piano tracks, what emerges is a unique voice."
(Bernardo Álvares, Jazz.pt, November 2013)
"She delivered an impressive patchwork of classical and folk-infused miniatures, alternating with Cecil Taylor-esque percussive accelerations, competing left hand/right hand lines, and beautifully creative inside the piano passages, finishing with Thelonious Monk-like improvisation and a brief Bach encore."
(Henning Bolte, All About Jazz, 2012)
"Draksler brings austerity, subtlety and poignancy with her fluid piano playing and rings through in bright, rich textures."  
(Irish Times, Dublin, May 2011)

Kaja Draksler, piano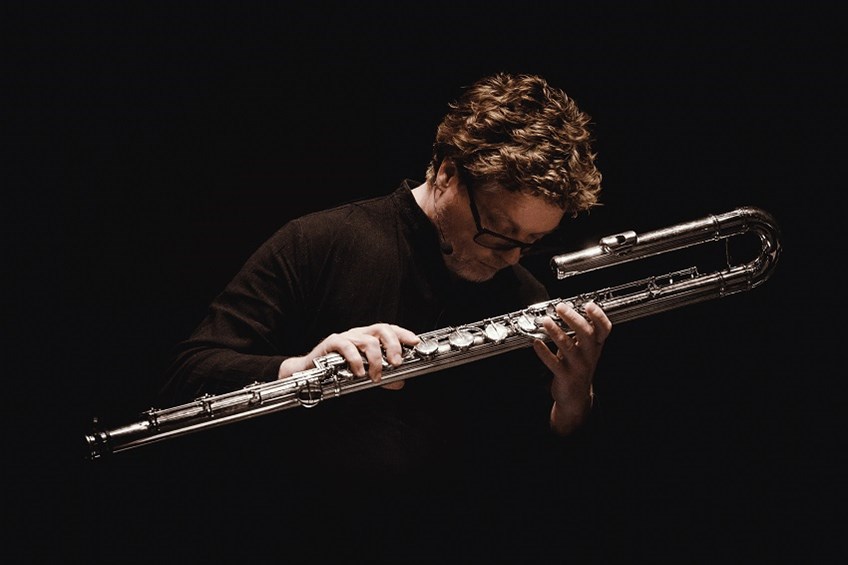 Mark Alban Lotz © J.W. Bullee

NELSON CASCAIS & MARK ALBAN LOTZ
A meeting of two outstanding improvisers and composers. Nelson is an exciting performer from Portugal both as soloist and a composer. Mark Lotz is a legendary multi flautist who works with Nelson in the ensemble 'Møde'. Expect a concert on the cutting edge of jazz of now.
The bass meeting the family of the flutes deliver an intriguing sound that combines a great depth of tone as well as exploration of the outer registers. Both incorporate a deep understanding of lyricism with an advanced sense of post-bop creativity. Their innate sense of swing creates a wonderful momentum that harks back to the earliest days of jazz even when exploring free musical fields. Paired with a passionate love for music their joy of playing embarks for an electrifying trip into a world of infectious jazz and world music.
Nelson Cascais is regarded as the face of the new Portugese Jazz. A performer and composer with an exciting sound. Collaborations in studio and live with a.o. John Ellis, Maria Schneider, Aaron Goldberg, Perico Sambeat, Ricardo Toscano, Maria João, Rick Margitza, Libert Fortuny, André Fernandes, Jorge Reis, Ivan Padduart, Antonio Faraó, Kari Ikonen, Jorge Pardo, Jarmo Savolainen, Stefanno D' Anna. Designated Jazz Musician of the Year 2001 by Jazz Portugal.
Mark Alban Lotz is a veracious improviser and composer who combines esthetics of contemporary classical music with the virility of jazz. Even when stripped to the essence Lotz conveys a joyful catchiness. Mark delivers a unique sound, giving his instrument pioneering dimension and depth. At times, his flutes grazes a noise timbre; at other, it plumbs the depths of a bass.'  A player of such technical command that his explosions of creativity are particularly startling. Vibrant personality on the international scene.
Nelson Cascais, double bass
Mark Alban Lotz, flutes


"Mark Alban Lotz is bringing sexy back into jazz."
All About Jazz (USA)
 
"Mark Alban Lotz – a German-Dutch genius and flute master."
WRUV, T.Basanta (USA)
 
"Pure Genius."
Flute Focus (UK)
 
"Sound architect of a different kind!"
Jazz (Portugal)
 
"One of the most outstanding virtuosos on the flute."
Concerto Magazine (Austria)
 
"The word of the 'new worlds of sound' usually picked up in the context of contemporary music is quite worn out, but with Lotz it is entitled."
Neue Zeitschrift für Musik (Germany)


BERT LOCHS & DIRK BALTHAUS
Composities als miniatuurvertellingen. Kleine en grote verhalen verklankt in muziek, met veel ruimte voor improvisatie.
Pianist Dirk Balthaus en trompettist Bert Lochs vieren dit jaar hun dertigjarig jubileum. Ze leerden elkaar kennen op het Hilversums Conservatorium en ontdekten al gauw hun beider voorliefde voor het Europese element in de jazz en geïmproviseerde muziek. Energie, virtuositeit, pure improvisatie en swing, maar ook melancholie en een diepe liefde voor melodie kenmerken de jarenlange samenwerking tussen deze twee markante muzikanten.
Hun samenwerking heeft geleid tot diverse ensembles waarmee de (inter)nationale podia bespeeld werden en nog steeds worden. Het trio Lochs/Balthaus/Herskedal speelde net als opvolger Braskiri o.a. op het North Sea Jazz Festival, en ze brachten tot nog toe 6 cd's uit met diverse gezelschappen. Binnenkort volgt een zevende -dit keer live- album, het derde van Braskiri, dat zal worden uitgebracht als High Definition stream op het label Soundliaison van technicus Frans de Rond en bassist Peter Björnild.
Ook als duo is dit tweetal geliefd. Naast vele concerten in de loop der jaren waren ze in maart in Co Live op de radio te horen en onlangs nog op Urban & Nature te Venray.
Naast trompet en bugel zal Lochs ook te horen zijn op de EVI, een elektronische trompet waarmee hele nieuwe geluidslandschappen kunnen worden ontgonnen.
Dirk Balthaus, piano
Bert Lochs, trompet


"Organic interplay beyond compare'"
Thomas Haak, NDR Play Jazz!
 
"These musicians really understand their melodies"
Kenny Wheeler, jazz trumpet giant


MARIUS BEETS & MARTIEN OSTER
Martien Oster en Marius Beets zijn specialisten in het improviseren op werk uit het "American Songbook", het reperoire waarmee de jazz groot is geworden en dat een grote maatschappelijke relevantie had in de eerste helft van de 20e eeuw. Zij spelen repertoire van o.a. de Big Five:
Gershwin, Kern, Berlin, Rodgers, Porter.
In de (speciaal voor deze gelegenheid) unieke duo-bezetting laten zij de traditionele rolverdeling van akkoordspeler versus "walking bass"  speler los om elkaar op gelijkwaardig niveau melodisch, harmonisch en ritmisch elkaar te beinvloeden en uit te dagen. Deze musici zijn pas tevreden als de luisteraars worden meegenomen in het muzikale avontuur dat ter plekke ontstaat  en op het puntje van hun stoel  zittend onderdeel worden van de unieke huiskamersfeer die "Jazz on the sofa" biedt.
Martien Oster, gitaar
Marius Beets, contrabas


LILIAN VIERRA & TATO MORALES
Lilian en Tato vertellen het verhaal van de MPB (Musica Popular Brasileira). Deze muziek stroming is tijdens de song festivals en sinds het begin van de televisie tijdperk vanaf 1965 zeer populair geworden. 1 jaar nadat de dictatuur een feit werd in de Braziliaanse geschiedenis.
MPB bracht prachtige artiesten naar voren zoals o.a  Milton Nascimento, Caetano Veloso, Gilberto Gil, Gal Costa , Maria Bethania en Elis Regina.
"In de jaren 1960 tot 1980 was het de rol van de MPB de problemen van de samenleving te bezingen; een oproep doen, de onderdrukking tonen, de censuur aan de kaak te stellen, de angst voor het dagelijks leven tonen, een boodschap doorgeven, een bericht opsturen, of gewoon de liefde verklaren. Dat is de personage van de MPB".
(Eliete Vicentin Filipini)
Lilian Vieira, zang
Tato Morales, gitaar


WONDERYEARS
met de kersverse Boy Edgar winnaar van 2019 Jasper Blom!
Stevie Wonder veroorzaakte een muzikale aardbeving toen hij in de zeventiger jaren in relatief korte tijd een aantal legendarische platen uitbracht. Bijna alle composities uit die tijd groeiden uit tot hits en behoren sindsdien tot ons collectieve geheugen.
Maar Stevie's mix van grooves en aanstekelijke melodieën gecombineerd met jazz invloeden is niet alleen geschikt om op feestjes te draaien of keihard in de auto. Veel van zijn stukken blijken ook een perfecte uitnodiging te zijn voor jazz improvisaties.
Jasper Blom, Sean Fasciani en Felix Schlarmann spelen in een jazzbezetting met sax, bas en drums uitsluitend composities van Stevie Wonder en brengen met hun programma WonderYears een ode aan een van de meest creatieve songwriters van de twintigste eeuw.
Jasper Blom, saxofoon
Sean Fasciani, contrabas
Felix Schlarmann, drums


EEN LANS BREKEN VOOR Live JAZZ MUZIEK

Jazz On The Sofa is een Jazz Festival dat zich richt op kwalitatief hoogwaardige jazz en wereld muziek. Dit in kleine bezettingen in solo en duo formaties. Op de eerste zondag van november worden woonkamers in Zeist (rond het slot) omgetoverd tot podia waar u samen met de artiesten kunt beleven hoe puur de muziek tot u komt.
Als in een woonkamer muziek wordt gemaakt, dan communiceert muziek tussen maker en toehoorder. Heel direct. Het zoveel mogelijk akoestisch spelen, zonder tussenkomst van technische snufjes, versterkt dat gevoel. Dat is waarom 'Jazz on the Sofa' is begonnen. Nieuwsgierig naar concerten met een meerwaarde?
Wat is er leuker voor jou als concertbezoeker dat je niet weet wie je zult ontmoeten en waar je terecht zal komen? 'Jazz on the Sofa' is een middag met verrassingen. 'Jazz On The Sofa' staat voor: intieme setting, persoonlijke betrokkenheid en kwaliteit. De organisatie kiest voor een combinatie van (inter-)nationale artiesten in combinatie met de fantastische musici uit de eigen regio en nieuwe talenten.

'Jazz On The Sofa' is een initiatief van de Stichting Lotz Of Music. Georganisserd door Marco van Schoonhoven (Dag vd muziek) en Mark Alban Lotz (Lotz Of Music). Mogelijk gemaakt door sponsoring van de Sena en Smaakwinkel De Witte Os, Gemeente Zeist, K.F.Heinfonds.


TICKETS
Passe-partout voor alle concerten kost € 22
Passe-partout voor studenten en kinderen tot 18 jaar kost € 15
Er geldt een limiet van 20-30 personen per woonkamer. Er is ook losse ticketverkoop. Vooraf betaalde kaarten hebben voorrang.