Brussels Jazz Orchestra gaat opnieuw live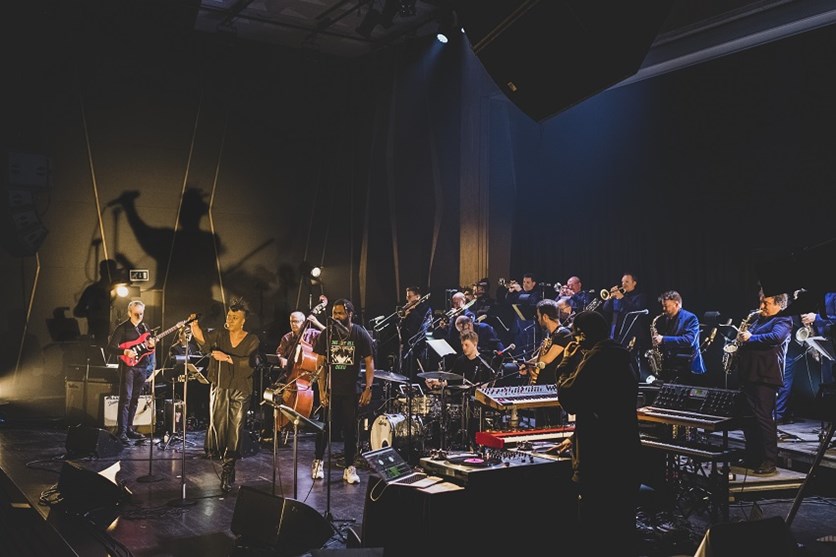 © Gregory Vlieghe



Na 1,5 jaar van digitale projecten, livestreams en virtueel contact met het publiek, is BJO verheugd om opnieuw live te spelen. Samen met o.a. Osama Abdulrasol (Night 352), Kommil Foo, Zediam, Monique Harcum en DJ Grazzhoppa (Two Places), zet het orkest voluit in op ontmoetingen tussen jazz en andere genres.
"Na meer dan 19 maanden digitaal werken, zijn we heel blij om de draad terug op te pikken en onze muziek opnieuw met een live publiek te kunnen delen. We kijken reikhalzend uit naar een nieuw seizoen van uitdagende en verrassende projecten. Onze musici trappelen van ongeduld, klaar om het speelplezier dat BJO kenmerkt opnieuw te ervaren", vertelt artistiek leider Frank Vaganée.


Vers van de pers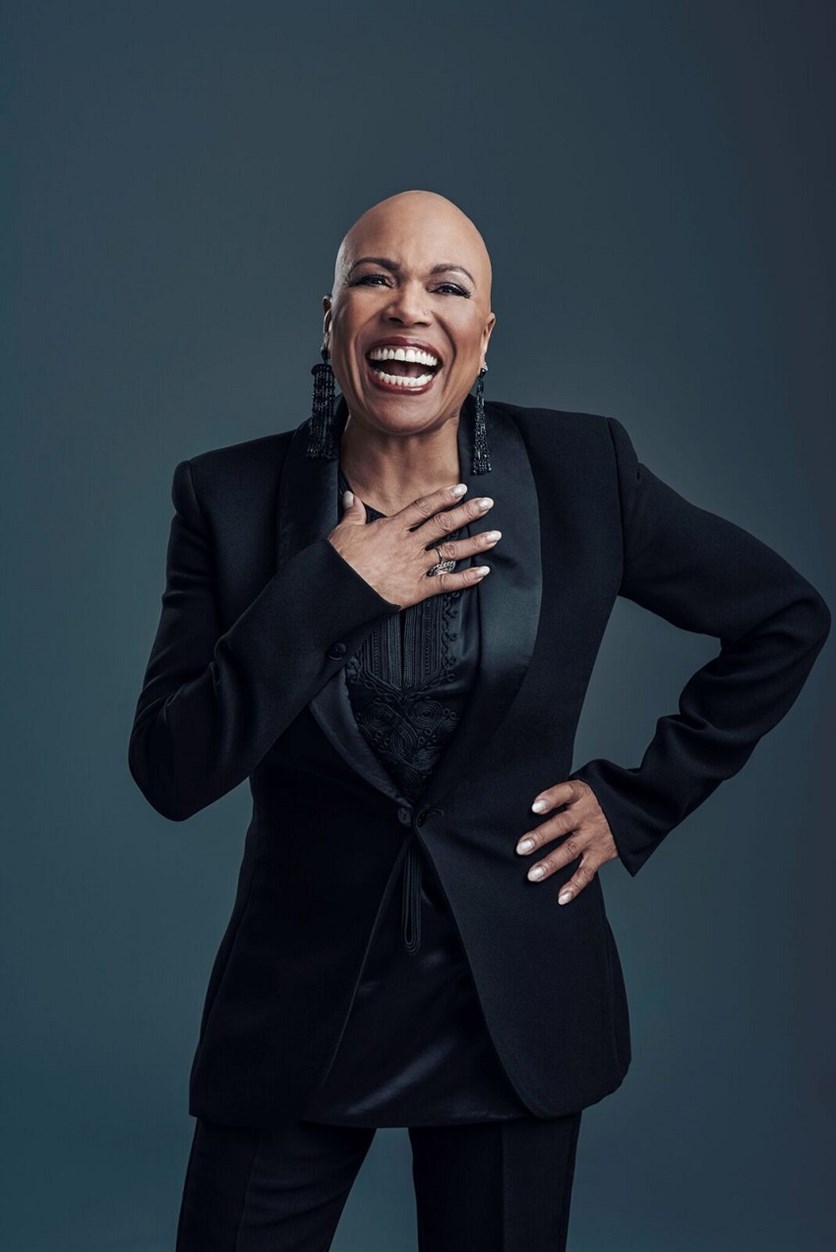 Dee Dee Bridgewater © Joe Martinez
Brussels Jazz Orchestra bundelt voor het eerst de krachten met Dee Dee Bridgewater, de wereldberoemde Amerikaanse zangeres en veelvoudig Grammy-winnares. Componist en qanunspeler Osama Abdulrasol en zangeres Jahida Wehbe vervoegen het orkest voor Night 352, een hedendaagse benadering van 1001 nacht, waarin thema's als moderne slavernij en mensenhandel aan bod komen. Daarnaast wordt de energie van Raf en Mich Walschaerts gecombineerd met de dynamische sound van BJO. De vertrouwde lach en traan van Kommil Foo baadt in de geluiden, muziek en sfeer van een broeierige jazzclub.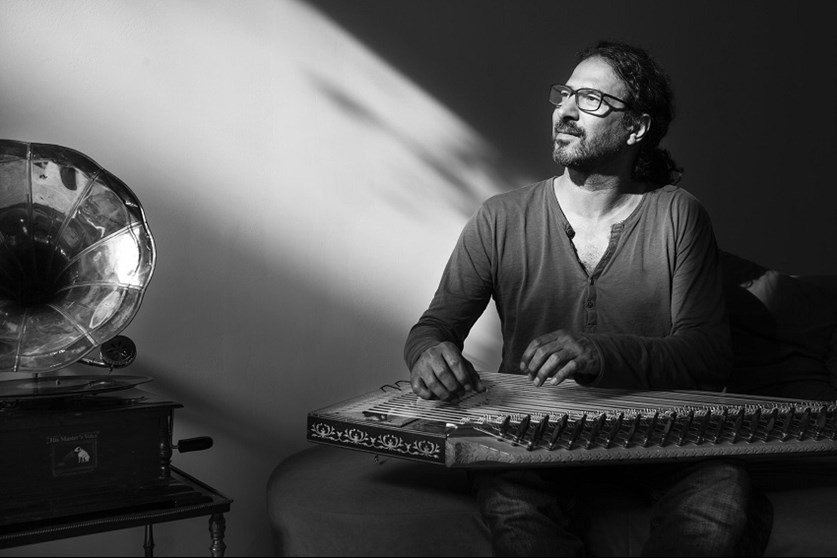 Osama Abdulrasol © Johannes De Bruycker

Tot slot is er de hommage aan Toots Thielemans. Brussels Jazz Orchestra brengt in 2022 hulde aan de Brusselse legende waar de wereld in 2016 afscheid van moest nemen.


Van hiphop tot graphic novel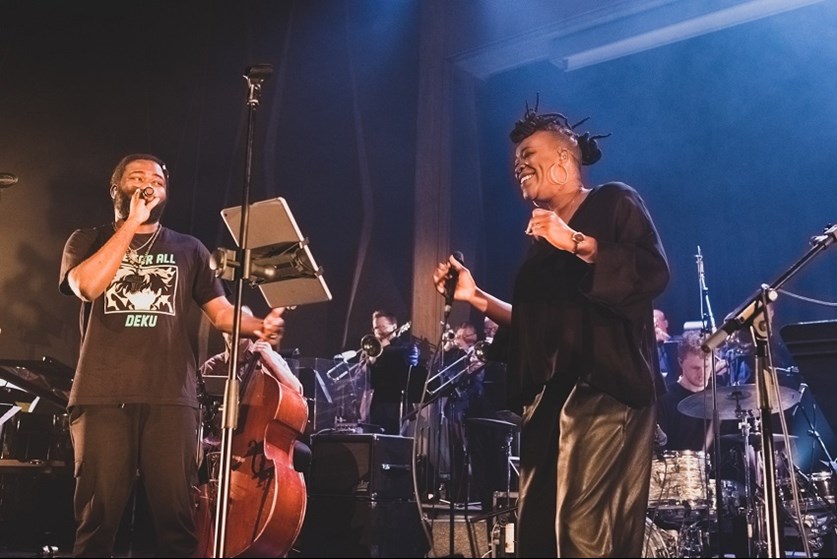 Two Places © Gregory Vlieghe

Naast de nieuwe initiatieven, worden ook een aantal projecten hernomen. Er is de cocktail van jazz, soul, hiphop en rap met Two Places, een samenwerking met Zediam, Monique Harcum en DJ Grazzhoppa, waarvan het album en (BJO's allereerste) vinyl dit jaar werden gereleaset. Met In The Pines duiken Lynn Cassiers en het orkest opnieuw in de gelijknamige graphic novel van Erik Kriek en voor We Have a Dream deelt BJO het podium andermaal met Tutu Puoane. Met Footprint focust BJO op haar rijke repertoire: een representatieve selectie van originele composities die de footprint van het orkest in het jazzlandschap representeert.
Lees meer over elk project: https://www.brusselsjazzorchestra.com/projecten/lopende

Interview:
OKTOBER
WE HAVE A DREAM WITH TUTU PUOANE
 28 okt 2021  20:00
CC Belgica, Dendermonde (B)

NOVEMBER
TWO PLACES WITH ZEDIAM, MONIQUE HARCUM & DJ GRAZZHOPPA
 13 nov 2021  20:30
CC Het Bolwerk, Vilvoorde (B)

IN THE PINES WITH LYNN CASSIERS
 16 nov 2021  20:15
Concertgebouw Amsterdam (NL)

DEE DEE BRIDGEWATER & BJO
 23 nov 2021  20:00
Bozar, Brussel (B)

DEE DEE BRIDGEWATER & BJO
 25 nov 2021  21:00
de Singel, Antwerpen (B)

DECEMBER
TWO PLACES WITH ZEDIAM, MONIQUE HARCUM & DJ GRAZZHOPPA
 28 dec 2021  20:15
Stranger Than Paranoia, Schouwburg Concertzaal Tilburg (NL)

JANUARI
NIGHT 352 WITH OSAMA ABDULRASOL AND JAHIDA WEHBE
 22 jan 2022  20:00
Handelsbeurs, Gent (B)

FEBRUARI
TWO PLACES WITH ZEDIAM, MONIQUE HARCUM & DJ GRAZZHOPPA
 11 feb 2022  20:00
Cultuurcentrum Evergem (B)

APRIL
TOOTS 100
 29 apr 2022  20:00
Bozar, Brussel (B)

MEI
BRUSSELS JAZZ ORCHESTRA & KOMMIL FOO
 04 mei 2022  20:30
GC De Bosuil, Jezus-Eik (B)

BRUSSELS JAZZ ORCHESTRA & KOMMIL FOO
 05 mei 2022  20:15
Spikkerelle, Avelgem (B)

BRUSSELS JAZZ ORCHESTRA & KOMMIL FOO
 06 mei 2022  20:30
Westrand, Cultuurcentrum Dilbeek (B)

BRUSSELS JAZZ ORCHESTRA & KOMMIL FOO
 07 mei 2022  20:15
CC De Kern, Wilrijk (B)

BRUSSELS JAZZ ORCHESTRA & KOMMIL FOO
 11 mei 2022  20:00
CC De Werf, Aalst (B)

BRUSSELS JAZZ ORCHESTRA & KOMMIL FOO
 18 mei 2022  20:00
CC Sint-Niklaas

BRUSSELS JAZZ ORCHESTRA & KOMMIL FOO
 25 mei 2022  20:15
Cultuurhuis de Warande, Turnhout (B)

JUNI
BRUSSELS JAZZ ORCHESTRA & KOMMIL FOO
 03 jun 2022  20:15
CC De Adelberg, Lommel (B)

BRUSSELS JAZZ ORCHESTRA & KOMMIL FOO
 04 jun 2022  20:15
Cultuurcentrum Mechelen (B)

BRUSSELS JAZZ ORCHESTRA & KOMMIL FOO
 07 jun 2022  20:00
CCHA, Hasselt (B)

BRUSSELS JAZZ ORCHESTRA & KOMMIL FOO
 09 jun 2022  20:00
Stadscchouwburg, Cultuurcentrum Brugge (B)

BRUSSELS JAZZ ORCHESTRA & KOMMIL FOO
 10 jun 2022  20:00
Stadscchouwburg, Cultuurcentrum Brugge (B)

BRUSSELS JAZZ ORCHESTRA & KOMMIL FOO
 11 jun 2022  20:15
CC Muze, Heusden-Zolder (B)

BRUSSELS JAZZ ORCHESTRA & KOMMIL FOO
 12 jun 2022  15:00
De Roma, Borgerhout (B)