Bram Weijters & Chad McCullough: Feather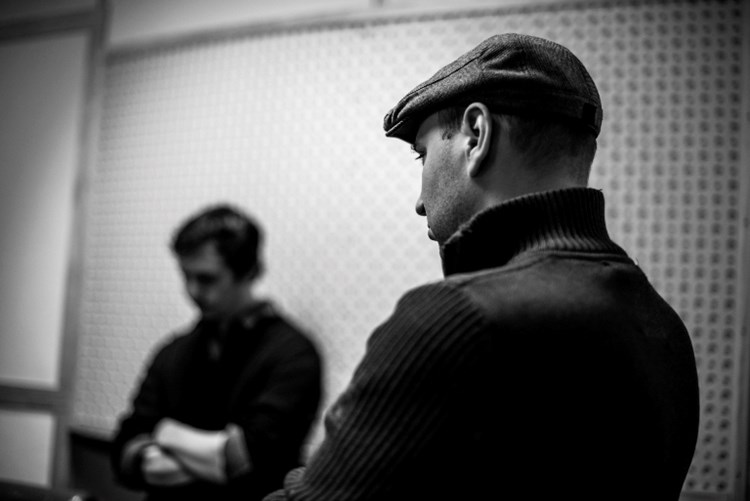 © Bram Goots

Official Belgian Release Tour:
18 march       Appeltuin Jazz/Leuven Jazz  - Leuven
21 march       Jazz in Thals - Herentals (also feat. the quartet)
23 march       Le caveau du max  - Brussels (also feat. the quartet)
24 march       CC De Velinx - Tongeren
25 march       Rataplan - Antwerp
26 march       Lo-Pétillante - Broechem (also feat. the quartet)
(afternoon)  
26 march       Roskam Café - Brussels (also feat. the quartet)
(evening)  
29 march       Theatercafé  - Tienen (also feat. the quartet)
30 march       't Bruggenhuis  - Geraardsbergen
31 march       eNR shop - Ghent
1 april            Jazz Station - Brussels
2 april            GC Den Egger – Scherpenheuvel
(morning)  
2 april            CC De Schakel – Waregem
(evening)   
3 april            Houtum jazz club - Kasterlee (also feat. the quartet)
4 april            De Loft - Herent (also feat. the quartet)
5 april            Blues Sphere - Liège
6 april            GC Felix Sophie - Hoeilaart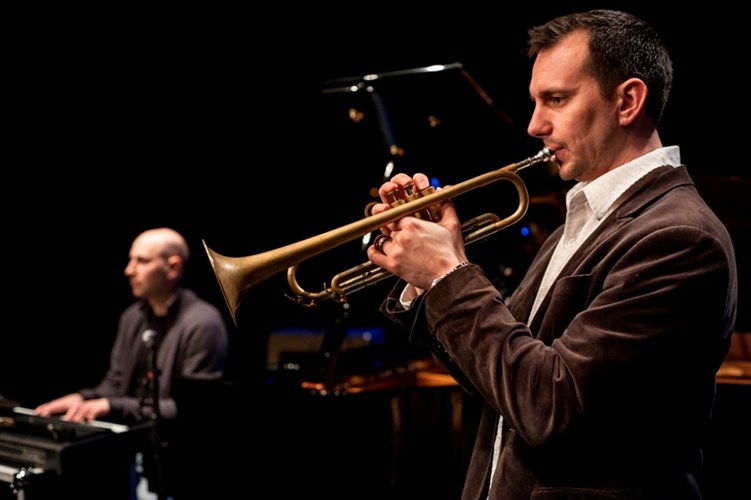 © Eric Malfait
After nearly 100 concerts around the globe with their powerhouse quartet, Bram Weijters and Chad McCullough pair down to the essentials, in their own unique way yielding a moody, melancholic soundtrack to a delicate and often macabre world.
Distance has done little to hamper the creative output of Weijters and McCullough. Though separated by nearly 5,000 Km, they have produced three international releases  with their quartet (Imaginary Sketches, Urban Nightingale, and Abstract Quantities - all on the Origin Record Label) and now bring to light a uniquely intimate project, a contrasting piece, that showcases both musician's subtleties.
Tracklist:

1. Fluid  (2:00)
2. Solid  (4:13)
3. Ether (2:35)
4. Different Prelude  (3:54)
5. Different But The Same (2:03)
6. The Same Twelve Notes  (2:43)
7. Endless Waiting  (4:36)
8. Around and Around  (2:09)
9. Endless Lamento  (3:57)
10. conclusion (5:54)

Bram Weijters  -  Piano, Wurlitzer, Moog Synth, Rhodes
Chad McCullough - Trumpet
Feather is a 10-track album (Labels: Monks and Thieves MAT001 / ears&eyes Records ee:17-o66) of original music written by Bram Weijters. Based in Antwerp, Belgium, Weijters is quickly making a name for himself on the international scene as a composer and pianist, and further drives home the point here. His vintage keyboards, synth sounds, and electronic processing provide depth to the unique trumpet-keys duo, and his unwavering sense of time and harmony is the foundation that this music stands so firmly on.
Function for all intents and purposes as a score to a black and white art-film not yet made, Feather is light, and often extremely delicate - yet somehow this music holds immense depth and dark beauty.
Watch the bubbles on top of the lake. The surface tension holds it together with grace, and yet the murky waters hold secrets in the depths below...
The breathy tone that McCullough gets from his trumpet is at times reminiscent of Norwegian ECM artist Arve Henriksen, and is the perfect timbre to realize Weijters' twisting and turning - often Bach-like in their voice-leading - compositions. It's a brittle, almost frail sound, and it immediately draws attention for standing out in a world of cookie-cutter trumpet tones.
There is a wide array of sounds available throughout the album - and the two weave through the combinations seamlessly. With the colors at Weijters' fingertips, (vintage wurlitzers, and Fender Rhodes abound contrasting with modern analog synths) the complexity of tunes like "Different Prelude" contrast sonically with the simplistic duo of "Conclusion" and "Fluid." Feather serves as a concise trip down several lonely back alleys of two musicians' overlapping brains.
McCullough and Weijters first met in Canada at the Banff Centre in Alberta in 2009. Since that time they've performed in festivals in Krasnodar (Russia), Seattle, Chicago, Detroit, Portland, Antwerp, and Brussels. Teaming with drummer John Bishop and bassist Piet Verbist they have a powerful quartet and tour annually. Their live shows have increasingly featured the duo as a contrast in the sets, and Feather was a logical outgrowth of that.
Biographies: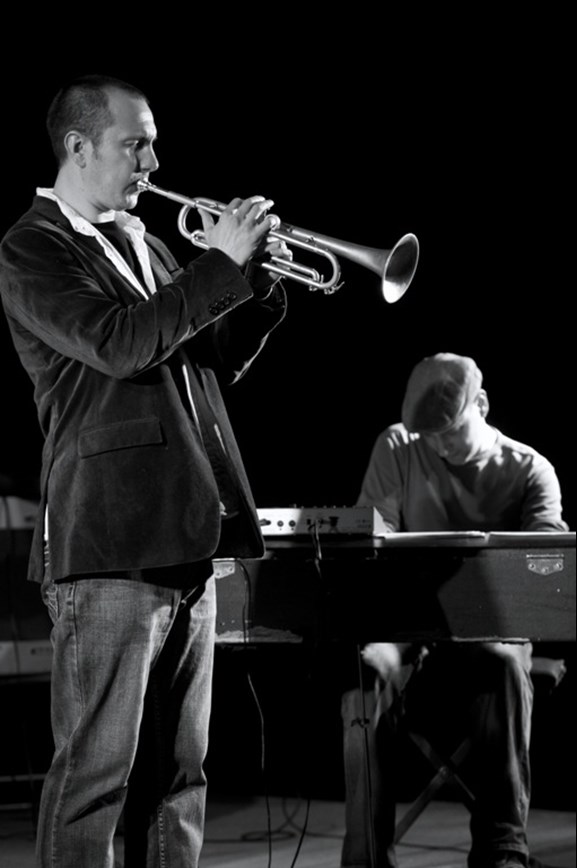 © Eric Malfait
Bram Weijters & Chad McCullough Duo
An American trumpeter and a Belgian piano player. Their collaboration began in 2009 in Canada, at the International Workshop in Jazz and Creative Music at the Banff Centre, an inspiring meeting place for young and promising musicians from all over the world.
A year later they were touring together. The two co-leaders were joined by veteran, and seasoned musicians: Bassist Piet Verbist, one of the top-call players and teachers in Belgium, and drummer John Bishop, a legendary figure not only for his record label (400+ releases), but as a Grammy-nominated, top-tier drummer in American Jazz for over 30 years. After tours in Belgium and the US, they released their first album as a quartet: Imaginary Sketches (Origin Record, De WERF Records). Critics described the project as "lyrical," "uncomplicated," and "warm."
Yearly touring resulted in the band growth, and their second quartet album, Urban Nightingale, was hailed by All About Jazz as "what could be a breakout effort for both players." The group's lyrical style, and modern-thinking esthetic continued to evolve and fresh off of the bandstands in Russia, the US, and Belgium - the quartet released its third album 'Abstract Quantities' in February, 2015.
During those tours and during the preparation of their third quartet record, the two leaders started playing more and more as a duo.  You can already hear a couple of duo tunes recorded on Abstract Quantities At first these pieces served rather as little introductions or interludes in between quartet pieces, but they s gradually became a whole repertoire of full grown compositions on its own.  That's when the two leaders decided it was time for their first release as a duo, which focuses on its most atmospheric side, clouds of keyboard sounds, acoustic piano and Fender Rhodes are combined with lyrical, subtle trumpet playing.
Bram Weijters
"Weijters' music is just a joy to listen to." (All about Jazz).  
'A special mention goes to Bram Weijters' extraordinary piano playing' (De Morgen)
'marvelous interactions from pianist Bram Weijters' (Jazzmozaiek)
These are just a couple of quotes about Bram Weijters, a belgian, antwerp based pianist and composer who focuses mainly on jazz, improvisational and alternative music.
Eight years old, Bram started music courses at the music school in his birth town, attending piano and percussion classes. Besides this classical training, he played drums in several alternative rock bands as a teenager and was experimenting with  tape recorders and electronic circuits. This is how he picked up classical, rock ànd electronic influences, which still form the basis of his open approach to music.
Eighteen years old, he was admitted to the  Antwerp Conservatory and after graduating for jazz piano in Antwerp he went to the Brussels Conservatory, where he graduated in 2005 for jazz composition and arranging.
Besides the faculty at those conservatories Bram took lessons and attended masterclasses a.o. from Kenny Werner, Anthony Braxton, Gary Peacock,  Mark Turner, Dave Liebman, Bill Carrotters and plenty of others.
During the years Bram participated in a wide range of projects.  He played in several jazz formations but has a wide scope. He performed as well with people from the Belgian hip hop scene , singer-songwriters and alternative bands.  But most of his time and dedication go to a lot of different jazz/impro-projects:  his own Bram Weijters trio and Quartet , Hamster Axis of the One-Click Panther, Mazzle, Zygomatik, Jelle Van Giel Group, …
With these different projects he performed in clubs, on festivals as well as in concert halls in belgium as well as abroad. He also composes and writes arrangements for a lot of these bands.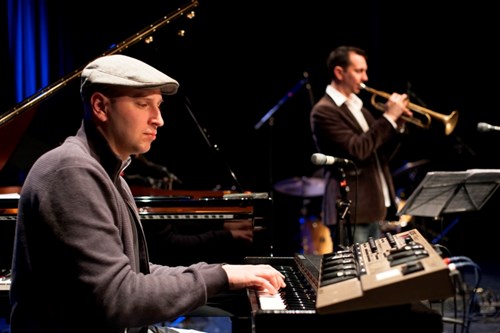 © Eric Malfait
Chad McCullough
Heralded for his "solos of mercurial poetry and high craft." (Chicago Tribune), Chad McCullough has matured into an integral part of the international jazz scene with his playing, composing, and vast knowledge of the music business. His albums regularly receive wide critical-acclaim, and he collaborates with a diverse collection of musicians, each addition speaking to the depth of his musical palette.
Chad has performed with several of his own groups across the globe, including the Festival of New Trumpet Music (New York), the GG Jazz Festival (Krasnodar, Russia), Earshot Jazz Festival (Seattle), Appeltuin Jazz Festival (Belgium), and the Chicago Jazz Festival. Many of his albums have been released internationally, and several have reached the top 100 for jazz airplay in the US.
When not leading his own projects, McCullough busies himself as a vital member of other ensembles. One such group, the West African-inspired The Kora Band were awarded a Chamber Music America New Jazz Works grant for their record New Cities.  He also tours with the sextet Tunnel Six, which has been awarded five Canada Council of the Arts grants.  And his all-star group The Spin Quartet's debut album In Circles, was heralded as one of the top chordless releases of the year.
As a composer, McCullough has scored for film, written for various large ensembles, dancers, string and chamber groups- in both classical and jazz idioms. Many of his pieces have been featured music spots on NPR. As an educator Chad is currently a member of the Jazz Studies faculty at DePaul University in Chicago.



© Jos L. Knaepen