1st Brussels Trombone Weekend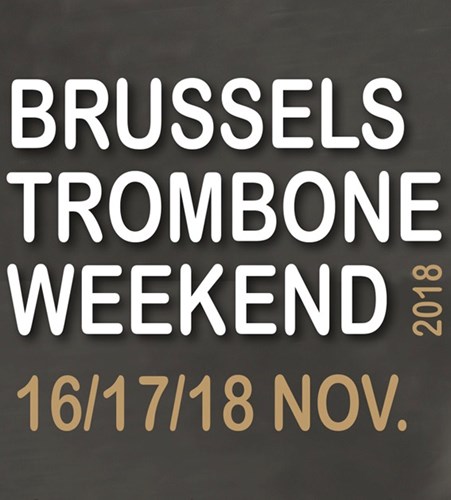 From 16 to 18 November 2018 SceneOff asbl/vzw organizes the 'Brussels Trombone Weekend', with on the program workshops of classic and jazz trombone by Joseph ALESSI, Marc GODFROID, Lode SMEETS and Phil ABRAHAM in Crowne Plaza Brussels Center ****Hotel, Rue Ginestestraat, 3 at 1210 Brussels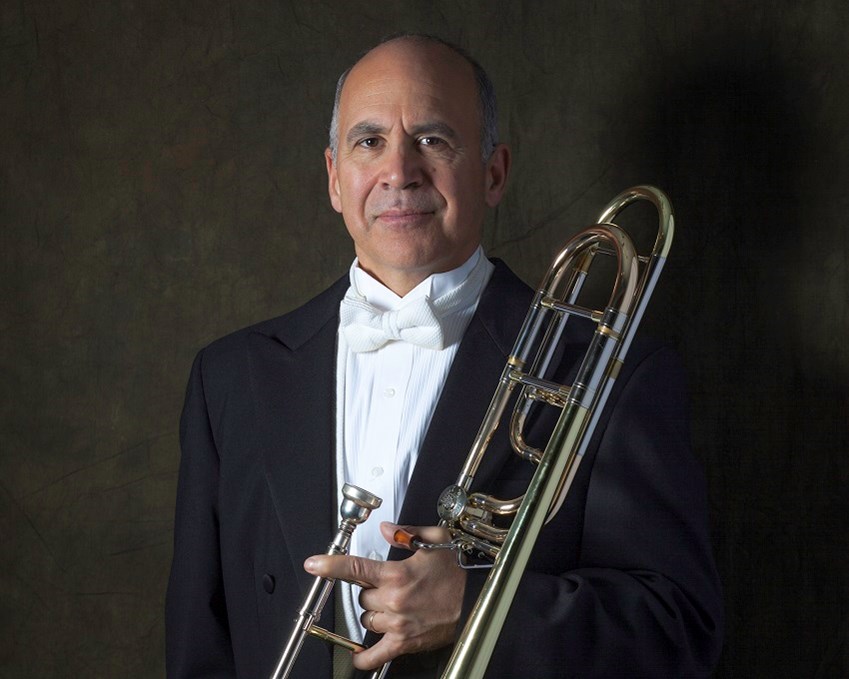 © photo courtesy Mr Alessi
Joseph Alessi was appointed Principal Trombone of the New York Philharmonic in the spring of 1985. He began musical studies in his native California with his father, Joseph Alessi, Sr. As a high school student in San Rafael, California, he was a soloist with the San Francisco Symphony before continuing his musical training at Philadelphia's Curtis Institute of Music. Prior to joining the Philharmonic, Mr. Alessi was second trombone of The Philadelphia Orchestra for four seasons, and principal trombone of l'Orchestre symphonique de Montreal for one season. In addition, he has performed as guest principal trombonist with the London Symphony Orchestra in Carnegie Hall led by Pierre Boulez.

Mr. Alessi is an active soloist, recitalist, and chamber music performer. In April 1990 he made his solo debut with the New York Philharmonic, performing Creston's Fantasy for Trombone, and in 1992 premiered Christopher Rouse's Pulitzer Prize-winning Trombone Concerto with the Philharmonic, which commissioned the work for its 150th anniversary celebration. His most recent appearance with the Philharmonic as soloist was in world premiere performances of William Bolcom's Trombone Concerto in the summer of 2016.

Joseph Alessi has recorded and performed extensively with four prominent trombone quartets; The New York Trombone Quartet resulting in the only recording of Bartok's 4th String Quartet. Four of a Kind Trombone Quartet, the World Trombone Quartet, and Slide Monsters Trombone Quartet.

Other solo engagements have included the New Japan Philharmonic, Nagoya Philharmonic, Orchestra of Teatro Bellini, Mannheim National Theater Orchestra, The Hague Philharmonic, Helsinki Philharmonic, and the Colorado, Alabama, Santa Barbara, Syracuse, and Puerto Rico symphony orchestras.  Mr. Alessi has also participated in numerous festivals, including the Festivale Musica di Camera in Protogruaro, Italy; Cabrillo Music Festival; Swiss Brass Week; and Lieksa Brass Week in Finland. He was featured in the 1997 International Trombone Festival in Feldkirch, Austria, and the International Meeting of Brass Instruments in Lille, France. In 2002 Mr. Alessi was awarded an International Trombone Association Award for his contributions to the world of trombone music and trombone playing, and in 2014, was elected President of that association.

Mr. Alessi is currently on the faculty of The Juilliard School; his students now occupy posts with many major symphony orchestras in the U.S. and internationally. As a clinician for the Edwards Instrument Co., he has also given master classes throughout the world and has toured Europe extensively as a master teacher and recitalist. He has performed as soloist with several leading concert bands, including the U.S. Military Academy Band at West Point, U.S. Army Band (Pershing's Own), and the U.S. Marine Band (President's Own). In addition, he has performed with the Maria Schneider Orchestra, the Village Vanguard Orchestra, and has recorded with jazz greats, J.J. Johnson and Steve Turre.

Mr. Alessi's discography includes many releases on the Summit record label, including the recent Trombonastics, and a disc with New York Philharmonic Principal Trumpet Philip Smith entitled Fandango; he also recorded New York Legends on the Cala label. His live recording of the Rouse Concerto with the New York Philharmonic can be heard on Volume II of the recent release, An American Celebration, on New York Philharmonic Special Editions, the Orchestra's own recording label. In addition, conductor/composer Bramwell Tovey recently recorded a piece composed especially for Mr. Alessi, entitled Urban Cabaret with Mr. Alessi as soloist.

Mr. Alessi was invited by the International Trombone Association to record a solo disc of newly composed works, which was distributed to the Association's membership of 5,000 trombonists. in early 1999 and is now available as Beyond the End of the Century through Summit Records. Recently, his recording of George Crumb's Starchild on the Bridge record label, featuring Mr. Alessi as soloist, won a Grammy Award for 1999–2000. Other recordings featuring Mr. Alessi are with the Canadian Brass (Sony Classical and Philips Records).

Further information about Mr. Alessi can be found on his website, www.slidearea.com.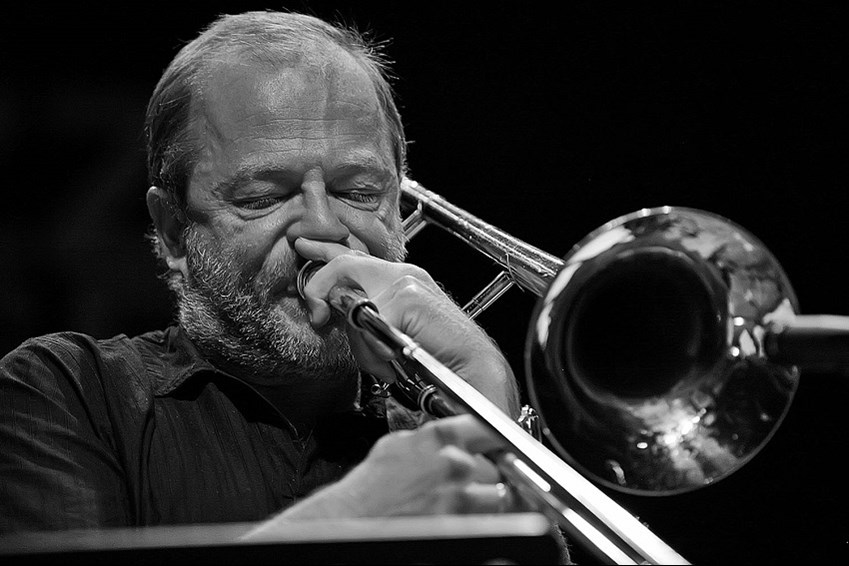 © Cees van de Ven

Marc GODFROID started his musical career in 1981 with the BRT Jazz Orchestra. In 1986 he was appointed as professor Trombone with the Ghent Conservatory, and also as the conductor of his Big Band 86 and the brass orchestra St.-Cecilia in his hometown Geraardsbergen. Since 1993 he coordinates the Jazz section of the Ghent conservatory. In 1996, he started teaching at the Amsterdam conservatory. In 1996, he started teaching at the Amsterdam conservatory and became a permanent trombonist of the SWR Big Band (Stuttgart). With this band, he performed on stage and recorded many CDs with Frank Foster, Slide Hampton, Clark Terry and many others.
Marc Godfroid is one of the co-founders of the Brussels Jazz Orchestra (BJO).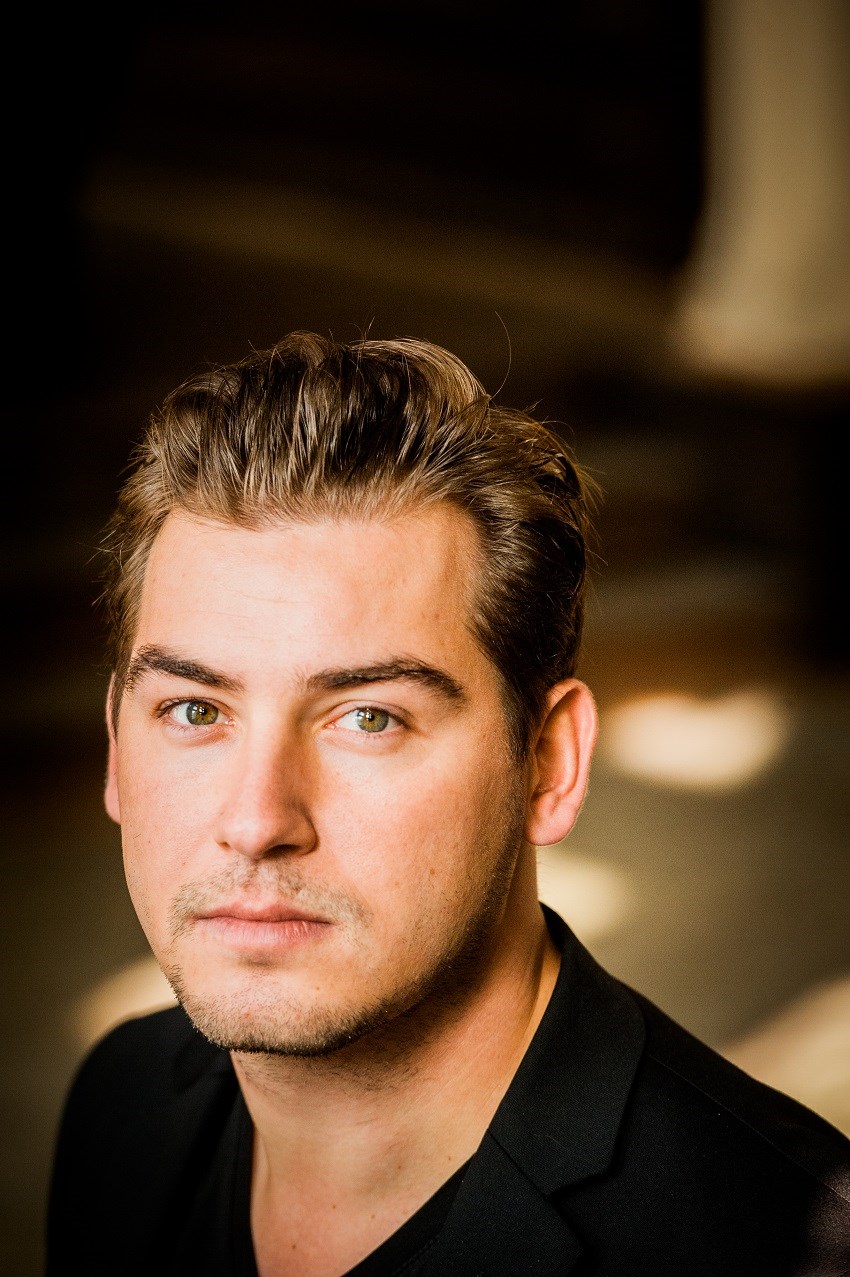 Lode Smeets © Wouter Van Vaerenbergh
Lode SMEETS started his studies for trombone in 2009 at the Amsterdam Conservatory. In 2013, he earned there his Bachelor's of Music. During his studies, he got an internship trombonist with the Dutch Philharmonic (Amsterdam). In 2014, he continued his studies at the Royal Conservatory of Antwerp with professor Jan Smets.
In 2016, Lode earned his Master's of Music. He also followed barok trombone lessons with Wim Becu. Lode joined the Belgian trombone ensemble 'The Bone Society' in 2010. Currently, he is soloist with the South Netherlands Philharmonic. As freelance trombonist, Lode is a well-appreciated guest with orchestras like the Belgian National, the Flemish Symphonic, the Federal Opera House and the Antwerp Philharmonic.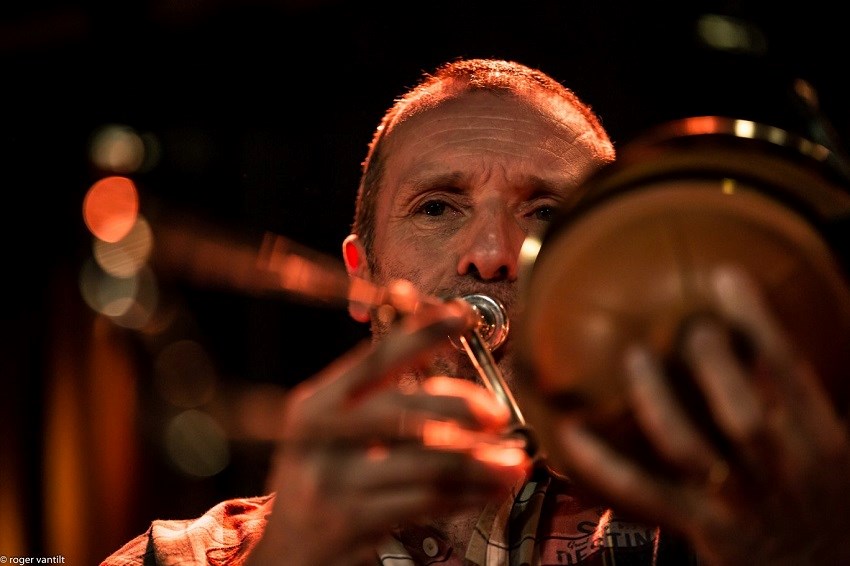 © Roger Vantilt
After studying the classical piano, the guitar and harmony, Phil ABRAHAM was seduced by jazz and the trombone, on which he is self-taught. Phil has taken part in more than sixty albums, eleven with his own group, with which he won many prizes. He is now a jazz and trombone teacher at the Brussels Royal Conservatory and at the National Conservatory in Douai (France).
He participated (1998) in the album "Jazznavour" of the French singer Charles AZNAVOUR, in which he played all the trombone parts. Phil was invited in Seattle in May 2013 for concerts and master-classes, recorded a new album in New York in February 2014, won an award in Los Angeles in 2017 and went there for master classes.




Participation fees : 150 €
Including :
- Participation to the workshops (3 days)
- Participation to the closing concert, on November 18
- Free entrance to the concert of The Rathpack, on November 16
- Invitation to an exclusive reception by Brussels City, at the Town Hall, on the Grand'Place
- Guided city-tour, on November 17
- Lunch on November 17 and 18
Options :
- Overnight at strongly reduce rate at the ****hotel : 75 €/1 person/night - 85 €/2 persons/night
A unique opportunity to learn from these great trombone players !
REGISTER HERE BEFORE November 1st !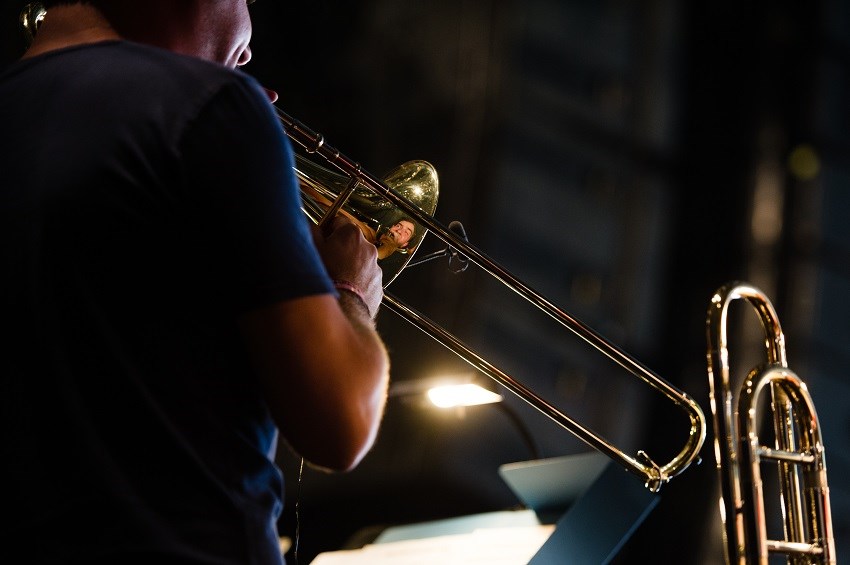 © Lode Smeets

But there are also concerts :

16/11 – 20:00 – The Rathpack @ Jazz Station – http://jazzstation.be/ – Ticket : 12 €
Mark Nightingale, Bert Boeren, Marc Godfroid (trombones)
Johan Clement (piano)
Bart De Nolf (double bass)
Bruno Castellucci (drums)


18/11 – 19:30 – Phil Abraham Quarter @ Klimt (Crowne Plaza Brussels Center ****Hotel) + seminar teachers and participants – Ticket : 12 €
Fabien Degryse (guitar)
Phil Abraham (trombone)
Sal La Rocca (double bass)
Thomas Grimmonprez (drums)

Reservations: : info@sceneoff.com