Yves Peeters Gumbo - The Big Easy revisited (Claude Loxhay)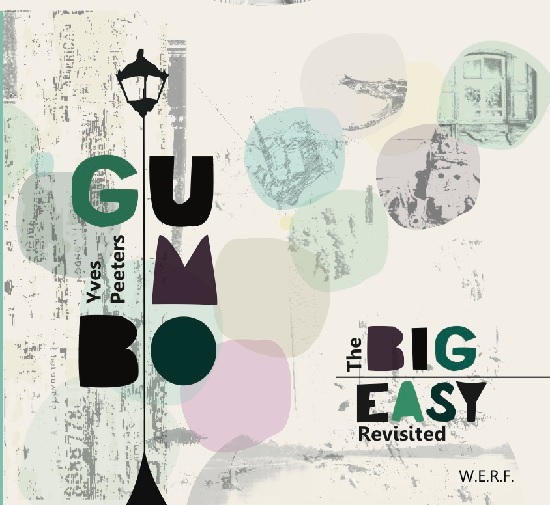 Y
W.E.R.F. records
Après Sound Tracks en 2009 et All you see en 2012, voici le troisième album personnel du batteur anversois Yves Peeters. Au sein de la formation réunie pour ce The Big Easy revisited, on retrouve Nicolas Kummert au saxophone ténor et Nicolas Thys à la basse. Complètent le sextet, François Vaiana, du Brussels Vocal Project, au chant; l'Américain Bruce James, que l'on a pu entendre aux côtés de Dr John, Jimmy Smith, Fred Wesley ou The Last Poets, au piano et au chant et, enfin, au trombone, Dree Peremans, membre du Tuesday Night Orchestra, du Vansina Orchestra, du Rebirth Collective et compagnon de route d'Yves Peeters au sein de aNoo, le groupe de la chanteuse Anu Junnonen.
Dans les deux précédents albums, Yves Peeters avait déjà marqué son intérêt pour le chant avec, comme sur Bamako, des interventions vocales de Nicolas Kummert et Nic Thys. Ici, pour célébrer la ville de La Nouvelle Orléans, The Big Easy, avec ses "parade bands", ses rythmes vaudous et sa musique groovy à souhait, la voix devient essentielle. A l'exception de Force of Nature, part 1, seule plage totalement instrumentale, toutes les autres compositions originales laissent une large place à la voix éraillée de Bruce James (This Time, New Orleans by dawn, True love pie) ou celle plus fluide de François Vaiana (les autres plages). Tous prennent part à la concrétisation du projet: les musiques sont signées Yves Peeters (Force of Nature, 24 Hours later, Masquerade, No Hero), Nic Thys (My Gumbo's Free, Street Parade), Bruce James (This time, New orleans by dawn, True Love pie), Nicolas Kummert (Lighthouse); les lyrics ont été écrits par François Vaiana ou Bruce James, à l'exception du poème de Phyllis Montana-Leblanc récité sur Lighthouse et Dree Peremans signe le "horn arrangement" de No Hero.
Tout au long de l'album, on passe d'atmosphères bluesy avec piano stride et voix éraillée de Bruce James (on l'a parfois comparé à Otis Reding) à des tempos survoltés avec le son gras du trombone de Dree Peremans et le ténor rageur de Nicolas Kummert (My Gumbo's Free, 24 Hours later, Masquerade, Street Parade) mais aussi des climats plus lancinants (Lighthouse, No Hero). Une manière de se replonger dans les racines de The Big Easy.
Claude Loxhay