Viktor Tóth & Mahasimbadavi Players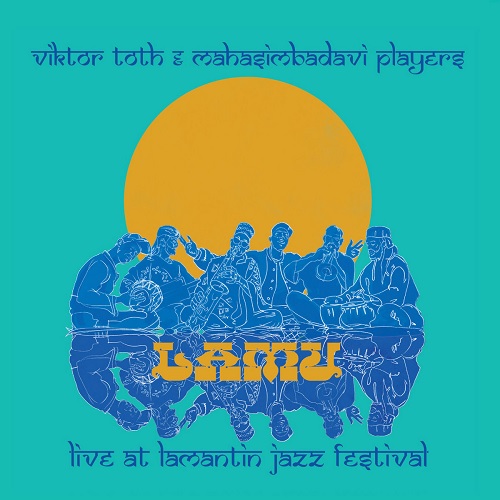 V
El Negocito
Né en 1977, Viktor Tóth est un saxophoniste hongrois à la carrière éclectique: trio Arura tout en intimisme, avec Miklos Luckás au cymbalum, l'instrument à cordes typiquement hongrois (album The Present, chroniqué par le passé) ou quartet incisif avec Tercet (But inside). Il a côtoyé son compatriote Mihaly Dresch, le contrebassiste américain William Parker et a auparavant enregistré Popping Bopping avec Bart Maris et Climbing with mountains avec la paire Mátyas Szandai (cb) et Hamid Drake (dm) présente ici.
A la trompette, Bart Maris, leader d'un duo avec Lode Verkamp, membre du Flat Earth Society comme de MikMâäk, ainsi que de Moker avec le guitariste Mathias Van De Wiele.
A la contrebasse, Mátyas Szandai qui a étudié la contrebasse classique à Budapest avant de se tourner vers le jazz, côtoyant Archie Shepp, David Murray ou Chris Potter.
A la batterie et frame drums, l'Américain Hamid Drake, l'un des piliers de la free music: Don Cherry, Pharoah Sanders, William Parker ou Assif Tsahar. Il a enregistré avec Dave Liebman et  William Parker mais aussi avec des free jazzmen européens comme Peter Brötzmann (Song sentimentale) ou Mihaly Dresch (Sharing the shed). Pour El Negocito, il a déjà enregistré Live at la Resistenza, avec le saxophoniste John Dikeman.
A la batterie aussi, David Hodek, jeune prodige hongrois (il a commencé à jouer à trois ans) qui a étudié à Budapest.
Enfin, spoken words et rap, Simple One qui a notamment enregistré Vice and virtues.
L'album a été enregistré live au Lamantin Jazz Festival et au Mu Theater de Budapest. Dès le départ, démarrage sur les chapeaux de roue sur tempo échevelé, très tendance Ornette Coleman-Don Cherry, avec ce Rabbit's Race qui porte si bien son nom: éructation de saxophone alto, avec contrepoint de trompette flamboyante sur une rythmique ébouriffée. Après quelques minutes (effet de mode oblige?), le rap de Simple One: "It's not a free jazz festival, it's a rap festival".
Sur Melone Song, un tempo plus apaisé, avec un bel équilibre entre alto, trompette et spoken words. Rocky revient à un rythme plus élevé, avec Simple One qui annonce la météo: prévision de vents violents comme ceux des souffleurs. Sur D run, intro à la flûte, puis Toth passe rapidement à l'alto, avec passage vocal de Simple One.
Sur Yes you can, intro au clavier de Toth avant de passer à l'alto avec partie de spoken words, comme sur D & Ac, Popzene, Ablak et rap sur Triumph sur un rythme de marche solennelle.
Personnellement, question de génération, je préfère les plages sans partie vocale: Afro Kutir ou cette très belle intro de Popzene, jouée en duo alto-trompette, une merveilleuse complicité.
Un compromis entre texte au relent revendicatif et quintet à double rythmique marqué par la musique d'Ornette.
© Claude Loxhay