Vijay Iyer & Craig Taborn – The Transitory Poems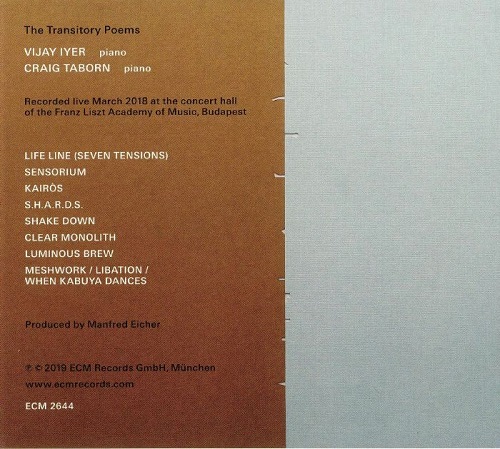 V
ECM
Vijay Iyer en Craig Taborn kennen elkaar al jaren en hebben afzonderlijk cd's opgenomen voor ECM.
Andere gemeenschappelijke punten zijn Roscoe Mitchell's Note Factory ensemble (waarin beiden speelden begin van deze eeuw) en daarnaast nog hun respect voor Cecil Taylor, Muhal Richard Abrams en Geri Allen (wiens 'When Kabuya Dances' ze hier hernemen). Eindelijk lukte het om beide pianisten bij elkaar te krijgen voor een duo-opname. Niet in een studio, wel op het podium van de Franz Liszt Academy of Music in Boedapest.
Vijfenzeventig minuten lang musiceren ze op eenzelfde lijn of dagen ze elkaar uit zonder dat het tot een aanvaring komt. Zoals te verwachten is dit geen vrijblijvend luisterspel maar een programma boordevol ontwrichtende kronkels maar met ook heel wat ingetogen en toegankelijke passages. Titels als 'Life Line (Seven Tensions)', 'Clear Monolith' en 'Luminous Brew' weerspiegelen het highbrow ideeëngoed dat ze van achter hun piano etaleren. Dit is echter geen echte handleiding bij hun soms wel cryptische verhaallijnen. De korte speelsere intermezzo's verlichten de spanningsbogen. Soms is het alsof ze hun instrument omzichtig behandelen als klankschalen om even later aan te tonen dat een versnelde aaneenschakeling van noten eveneens tot de mogelijkheden behoort. Echt vurig en grillig wordt het nooit, de cd-titel 'The Transitory Poems' indachtig. Het is vooral de verstilde intensiteit die imponeert.
Voor wie hen recent aan het werk zag tijdens Leuven Jazz is dit gepast materiaal om verder te filosoferen over de denkpatronen van deze improvisators. Anderen kunnen hopen op een zo snel mogelijke terugkeer van dit buitenmaats duo.
© Georges Tonla Briquet






Musici:
Vijay Iyer: piano
Craig Taborn: piano