Stéphane Huchard Cultisongs Trio - Off-off Broadway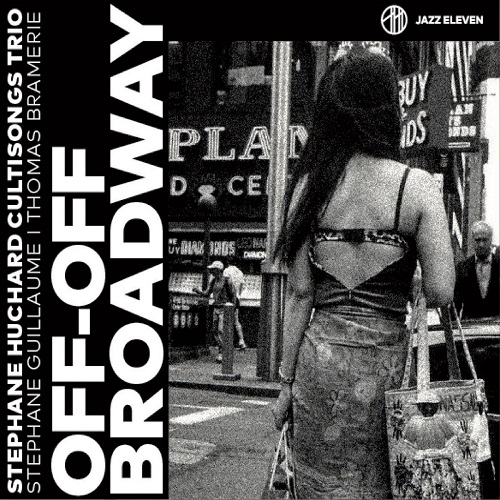 S
Jazz Eleven
Ancien élève de l'Ecole Nationale Supérieure Dante Agostini (une école fondée en 1965, par le batteur d'origine italienne avec l'aide de Kenny Clarke), Stéphane Huchard a participé à l'Orchestre National de Jazz sous la direction de Laurent Cugny, côtoyant ainsi Stéphane Guillaume, Stefano Di Battista, Flavio Boltro et Phil Abraham, mais a aussi succédé à André Ceccarelli au sein du Paris Jazz Big Band. Il a enregistré avec David Linx (One heart three voices) et gravé plusieurs albums personnels: Tribal Traquenard, déjà avec Stéphane Guillaume mais aussi Pierre de Bethmann (p) et Stefano Di Battista en invité; Bouchabouches avec Eric Legnini et AlexandreTassel (flh); African Tribute to Art Blakey avec Sylvain Beuf et Tranches de tronches, encore avec Stéphane Guillaume.
Pour ce Cultisongs Trio, il a convié Stéphane Guillaume, saxophoniste de l'ONJ de Cugny, du Jazz Ensemble du contrebassiste Patrice Caratini, du Big Band Lumière ou du Paris Jazz Big Band. Ancien accompagnateur de Claude Nougaro, à son nom, il a enregistré Miage, en quartet, avec Phil Abraham en invité.
Pour la contrebasse, il a fait confiance à Thomas Bramerie, qui a accompagné les frères Belmondo, Barney Willen ou Eric Legnini. Installé à New-York en 197, il a notamment enregistré avec Dee Dee Bridgewater et, à son retour en France, a côtoyé Bojan Z et Pierrick Pedron.



Pour cet album Off-off Broadway, le batteur leader a rassemblé 14 standards "cultes": de Just in time à My foolish heart, de grands classiques signé Greschwin (How long has this been going on) à Cole Porter (5 titres dont My heart belongs to daddy chanté jadis par Marilyn Monroe).
L'intérêt de l'album, outre de retrouver des mélodies qu'on peut soi-même fredonner, c'est de découvrir de quelle façon Stéphane Huchard a décidé de les revisiter, au travers notamment d'une recherche rythmique originale, comme ce rythme chamarré de Just in time, ou cette alternance entre tempo vif (The way you look tonight avec belle intro de batterie ou I concentrate on you de Cole Porter) et ballades langoureuses (Every time we say Goodbye ou So in love, tous deux de Cole Porter).
Par ailleurs, Stéphane Guillaume, en parfait poly-instrumentiste, passe allègrement du ténor (Darn that dream), au soprano (Without a song, I love you) ou à l'alto (Just in time) et Thomas Bramerie est omniprésent (belle intro sur So in love).
Un album qui ravira les passionnés de la grande tradition.
Texte © Claude Loxhay