Quartet Ajaton - Early Music In The Latest Way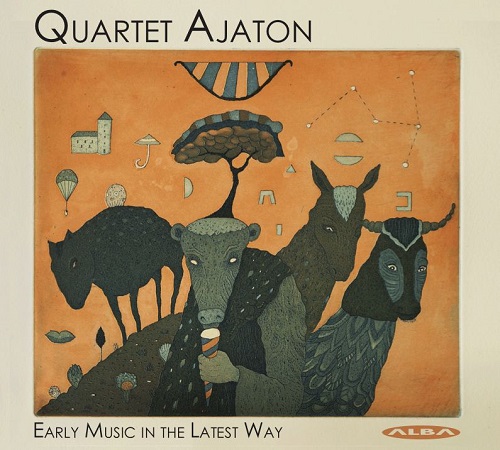 Q
Alba Records
De Finse zangeres Mia Simanainen (°1970) combineert met haar Quartet Ajaton barokmuziek met jazz en folk. Het gaat overwegend om 16-17de eeuwse muziek van vooral Henry Purcell en John Dowland, herwerkt tot fijnzinnige vocale improvisaties versterkt met Moog toetsen, bandoneon en viola da gamba. Ze laat de poëzie meedrijven op de improvisaties. Ze gebruikt daarbij de teksten van Janet Frame 'I Must Go Down To The Seas Again' en Nahum Tate in 'When I am Laid in Earth', Edmund Waller in 'The Self Banished' (John Blow).
De opener 'Mignonne, allons voir si la rose' (Jehan Chardavoine) zet meteen de toon voor de intens lieflijk dromerige stem van Mia Simanainen. De wat bevreemdende Moog synthesizer verhoogt al solerend in de meeste stukken de vocale intensiteit in de meeste stukken maar heel bijzonder in 'Improvisation on Les Voix Humaines' (Marin Marais), 'When I am Laid in Earth' (Henry Purcell) en 'Awake, Sweet Love' (John Dowland).
De sfeer blijft ingetogen, vol verlangen in 'In Darkness Let Me Dwell' (John Dowland). Mia's stem gaat mooi op in de kleurrijke klanken van de bandoneon met extra treurnis in 'The Self Banished' (John Blow). En al klinkt het als een vrolijk deuntje, het blijft een thema van liefde en verlies dat zich doorzet in 'Now, O Now, I Needs Much Part' (John Dowland).
De Finse traditional 'Waka Wanha Väinämöinen' krijgt een intimistische vertolking, alsof je je waant rond het kampvuur bij een midzomeravond.
Mia Simanainen vormde Quartet Ajaton in 2014 en bracht eerder als debuut 'Elexir' (Eclipse Music) uit in 2016. Ze was nog betrokken bij cross-over projecten, o.a.  Karl Jenkins' Adiemus.
Mikko Perkola (°1978) kende internationale bijval met het 'Gramophone Award' winnende 'Phantasm' (The Best Early Music Recording 2016). Hij schitterende met Bach Sonates en Couperin Gamba Series op het label Naxos.
Pianist/componist en Moog wizard Kari Ikonen (°1973) werd onderscheiden met de Yrjö Award als 'Beste Finse muzikant van het jaar 2013'. Naast zijn eigen trio maakt hij deel uit van het Orchestra Nazionale Della Luna (Kari Ikonen met Manuel Hermia, Sébastien Boisseau en Teun Verbruggen). Hij speelde met toppers zoals Lee Konitz, Bob Moses, Tony Malaby, Louis Sclavis, Ingrid Jensen en Vincent Courtois.
De 'tango nuevo'-virtuoos Henrik Sandås (°1981) vinden we terug in het orkest van de Finse National Opera,  Aachen Opera, Solti Chamber Orchestra en Tapiola Sinfonietta.
Quartet Ajaton mag zich terecht als een buitenbeentje in de muzikale wereld profileren en valt moeilijk te catalogeren. Het klassieke versmelt zich moeiteloos met de mix van avontuurlijke toetsen en fraaie vocalize en stem, de warme klanken van de viola da gamba en melancholische groove van de bandoneon.
Tijdloze muziek.
© Bernard Lefèvre



Musici:
Mia Simanainen (zang)
Henrik Sandås (bandoneon)
Kari Ikonen (Moog synthesizer)
Mikko Perkola (Viola da gamba)
+ Abdissa Assefa (percussie) [2]