Pol Belardi's Force – Organic Machines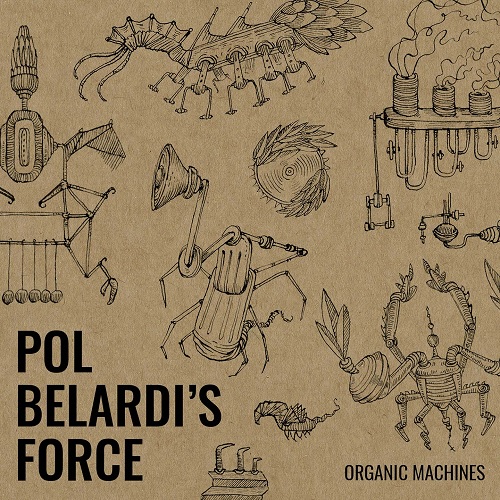 P
Cristal Records
Er beweegt duidelijk een en ander in de Luxemburgse jazzscene. Het Franse kwaliteitslabel Cristal Records merkte het alleszins op en bood Pol Belardi's Force de kans hun nieuwste cd bij hen uit te brengen.
De vorige opname van Pol Belardis Force ('Creation/Evolution' - Challenge Records) was opgebouwd rond een heus concept, meer bepaald het ontstaan en de ontwikkeling van een planeet.'Organic Machines' kan beschouwd worden als een soort vervolg met nu de focus op de industriële revolutie maar met een hoek af. De aangepaste hoestekeningen op de uitklapbare digipack en in het bijgeleverde boekje zijn een eerste aanduiding terwijl titels als 'Melancholic Mechanical Mind', 'Miniature 2 – Slow Motion Clockwork' en 'Recalibration' in eenzelfde richting wijzen.
Muzikaal lijkt het viertal aanvankelijk vooral het erfgoed van The Bad Plus en E.S.T. te recycleren, zij het op een originele en eigenwijze manier. We horen eenzelfde drive gebaseerd op doorgedreven drumbeats. Tot de saxofonist zich overal doorslingert terwijl ook de pianist mee het tempo opdrijft. Dit alles leidt er toe dat zich een steeds broeieriger verhaal ontspint met af en toe een snuifje progrock. Er is tevens aansluiting bij wat Phronesis en Portico Quartet zoal doen. Een aantal contemplatieve passages, soms met ingebouwde climax ('Heartbeat Pulse/Sync'!) of een hedendaags klassiek tintje, zorgen regelmatig voor een inhaaloefening en totaal overzicht van wat voorafging. In nummers als 'January 5th' en 'Alone' wordt dit alles kernachtig samengevat.
Pol Belardi (die op een uitzondering na alle composities leverde) was ook al de smaakmaker op Pascal Schumacher zijn 'Left Tokyo Right'. 'Organic Machines' is een cd met een heel sterk live potentieel zoals dat heet. Check it out tijdens de Luxemburg Jazz Night in Werkplaats Walter volgend weekend met ook Michel Reis en Dock In Absolute op de affiche.
© Georges Tonla Briquet



Musici:
Pol Belardi: basgitaar, piano
David Fettmann: altsaxofoon
Jérôme Klein: piano, Fender Rhodes
Niels Engel: drums

www.cristalrecords.com
www.polbelardi.com

Live
17.11.2019, 20u00: Werkplaats Walter (Brussel)