Piet Verbist Quartet - Suite Réunion (BL)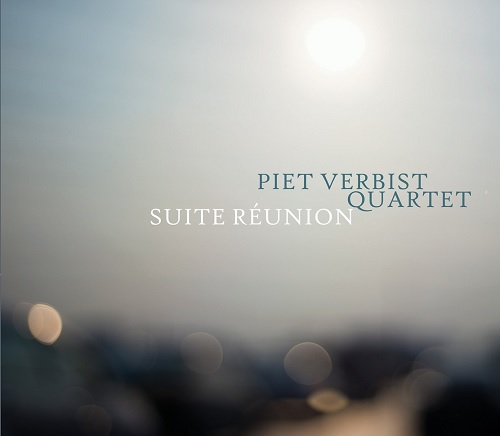 P
Origin Records
Piet Verbist is een bevlogen contrabassist die bruist van energie en inspiratie bij wat hij uitschrijft in een authentiek rijkelijk gevarieerde stijl van elektrische grooves (Zygomatic) tot moderne jazz (Mamutrio).
Voor zijn nieuw project Suite Réunion met volledig eigen werk koos hij voor een andere samengestelde akoestische formatie. Dit Piet Verbist Quartet (PVQ) was de vorige jaren al op vele podia te beleven en werd telkens enthousiast onthaald. In februari 2018 trok de band de studio in. In dit kwartet betrok Piet Verbist de 'most wanted' drummer Dré Pallemaerts waarmee hij al in zijn tienerjaren jamde. Doordat Dré Pallemaerts niet altijd beschikbaar was, voorzag Verbist een andere vaste waarde op de drums: Wim Eggermont. En zo zijn beiden wisselend te horen op de plaat.
Bram Weijters is de vertrouwde pianist. Nieuw is tenorsaxofonist Bart Borremans, die Verbist leerde kennen en waarderen tijdens optredens in het Antwerpse Jazz Café Hopper.
Met Suite Réunion verwijst Piet Verbist niet alleen naar het elkaar vinden als muzikant maar ook naar de mensen die migreren, andere horizonten opzoeken en een andere thuis vinden…
De titels liegen er niet om: Mygratum, Asylum, Hope in Despair, Devious Ways om enkele te noemen.
Piet Verbist opent het album met een korte bassolo (Mygratum) die overvloeit in een oriëntaalse drive met fraai uitgesponnen interactie van tenorsax, piano en ritmesectie (Asylum). Bright Minor, opgedragen aan zoon-pianist Milan Verbist, vervolgt stevig swingend met heel wat soloruimte.
Suite Réunion is een vat vol dynamische improvisaties, wat zich ook voortzet in de ballad Hope and Despair, waarin Wim Eggermont mag schitteren.
The Beauty in the Beast klinkt nu al als een klassieker met naast fijne soli van Bram Weijters, Bart Borremans, de immer stuwende baskracht van Piet Verbist en een altijd impressionante zo rake Dré Pallemaerts. Devious Ways is tekenend voor Piet Verbists' meesterlijke hand in het schrijven van beklijvende ballads. Het album sluit af met Blues Excuse als een finaal statement.
Suite Réunion van het Piet Verbist Quartet zal je live nog meer verbluffen door de aanstekelijke interactie en de imposante improvisaties vol spelplezier.  

© Bernard Lefèvre

Musici:
Piet Verbist (contrabas)
Bart Borremans (tenorsax)
Bram Weijters (piano)
Dré Pallemaerts (drums: track 2,3,4,6,7))
Wim Eggermont (drums: track 5,8)

Agenda Piet Verbist Quartet:
21/1/19: 12th Floor Jazz en Wijn club – Antwerpen – 20u (*)
26/1/19: Sjruur – Maaseik – 20u (*)
22/2/19: La Conserve – Leuven – 20u (#)
10/3/19: Hopper – Antwerpen – 16u (#)
22/3/19: JazzZolder – Mechelen (#)
24/3/19: Leuven Jazz (place & time tba) (#)
24/4/19: Pelzer Jazz Club – Liège – 20:30u (#)
Wim Eggermont (*) of Dré Pallemaerts (#) op drums