Peter Hertmans / Benoît Sourisse / André Charlier - Akasha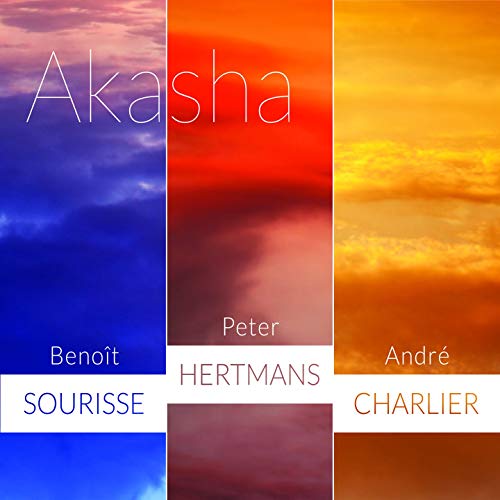 P
Gemini
Le public du festival Jazz au Château (Oupeye) avait pu découvrir la paire Charlier - Sourisse, dès 1989, au sein du sextet du vibraphoniste Guy Cabay.
Par la suite, le batteur belge et le claviériste français ont longuement côtoyé Didier Lockwood et rejoint l'équipe professorale du Centre des Musiques Didier Lockwood, à Dammarie-les-Lys, en Ile de France.
En 2009, les deux compères ont fondé leur propre label, Gemini, pour lequel ils ont enregistré de nombreux disques, dont plusieurs gravés avec un guitariste: Pierre Perchaud pour Multiquarium et, dernièrement, Louis Winsberg pour Tales from Michael, un projet dédié à Michael Brecker.
Mais ils n'avaient pas encore croisé la route de Peter Hertmans. La discographie bien fournie du guitariste gantois - une douzaine d'albums personnels, une vingtaine en tant que sideman - l'avait vu surtout rencontrer des saxophonistes: John Ruocco, Jeroen Van Herzeele, Erwin Vann, Daniel Stockart, Stéphane Mercier et toute la phalange des anches au sein du BJO. Mais jamais d'organiste, une formule qui avait séduit plusieurs guitaristes belges: René Thomas avec Lou Bennett puis Eddy Louiss, Philip Catherine avec Emmanuel Bex.
Une formule qui met bien en valeur la sonorité éclatante de Peter.



Pour Akasha, Peter a écrit sept compositions originales, de 5 à 7 minutes et repris, d'une part, Just in Tune de John Abercrombie, d'autre part, le classique I should care.
Peter se montre aussi à l'aise dans les ballades (After the pain, 1310, Akasha, Just in tune, One for Richie, I should care) qui démontrent tout son lyrisme lumineux que sur tempo rapide (Something you said, What is, The piano room) pour illustrer son attaque nerveuse, bien soutenue par le groove constant d'André Charlier (l'intro de The piano room).
Avec l'orgue de Benoît Sourisse, qui rappelle l'aisance d'Eddy Louiss, le dialogue et l'interaction stimulante sont constants: Sourisse allie vélocité de jeu et sens aigu de la fluidité mélodique.
Le trio franco-belge s'est notamment produit au Sunside de Paris, en présence de son directeur Stéphane Portet, aime à raconter Peter: preuve de la qualité musicale de ce projet et de l'attrait qu'il exerce.
Akasha est un album parfaitement abouti.
© Claude Loxhay