Paul Van Gysegem/Chris Joris/Patrick De Groote - Boundless (C. Loxhay)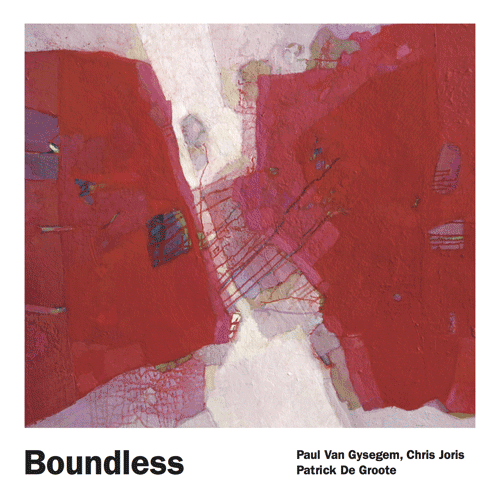 P
El Negocito
Boundless scelle les retrouvailles de trois figures marquantes du jazz libertaire flamand.
A la contrebasse, Paul Van Gysegem qui est connu aussi en tant qu'artiste peintre et sculpteur. Dès les années '60, il se passionne pour l'avant-garde américaine (Cecil Taylor, Ornette Coleman, Don Cherry) mais aussi pour le free jazz européen. A partir de 1965, il forme différents groupes de free-jazz, notamment un sextet avec le pianiste hollandais Jasper van't Hoff, le trompettiste Patrick De Groote et le batteur Pierre Courbois. En 1971, le groupe enregistre le LP Aorta, qui sera réédité en cédé en 2011. Il a aussi formé le quartet CO 2, avec une autre figure du free flamand, le saxophoniste Cel Overberghe.
A la trompette et au bugle, Patrick De Groote qui a débuté sa carrière au sein d'une formation comprenant le saxophoniste alto André Goudbeek. Plus tard, il fera partie du sextet de Paul van Gysegem et jouera avec la vocaliste Jeanne Lee.
A la batterie, aux percussions et au piano sur une plage, Chris Joris, très attiré par la musique africaine, du quartet Bihogo, avec Pierre Vaïana (ss) et Cameron Brown (cb) au Chris Joris Experience, avec Jeroen Van Herzeele (ts, ss) et Sam Versweyveld (tp) pour L'album Live, Pierre Vaïana (ss) et Fré Desmyter (p) pour Out of the Night, Frank Vaganée (as) et Nico Schepers (tp) pour Marie's Momentum, en passant par la formation Rainbow Country, avec les Américains Bob Stewart (tuba) et Eric Person (as, ss) mais aussi le percussionniste africain Baba Sissoko.
Les neuf plages de l'album sont issues de pures séances d'improvisation libre, sans arrangements écrits ou structures préétablies: quatre pièces en trio et cinq en duo.
Boundless, la plage initiale, est gravée en trio (trompette bouchée en intro, puis trompette, contrebasse et batterie),
Flash réunit bugle, contrebasse et batterie, dans une atmosphère très free, No Comment rassemble bugle, contrebasse jouée à l'archet et batterie enfin,  Frinket est joué au piano par Chris Joris, avec trompette et contrebasse.
Les duos Hakketak, Windward, Talking et Celectics réunissent trompette ou bugle et contrebasse dans un climat intimiste et Leaflet est un dialogue entre contrebasse et ngoma (un tambour à main dont joue Sissoko).
Une musique hors des sentiers battus qu'on a pu découvrir aussi au festival Citadelic à Gand, début du mois.
Claude Loxhay