Nadine Nix: Asempa & Mwanga de brumes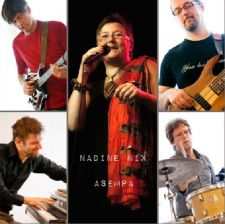 N
Mons Records & autoproduction
Nadine Nix: Asempa (Mons Records)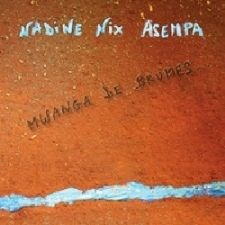 Nadine Nix Asempa: Mwanga de brumes (autoproduction)
www.nadinenix.com
Nadine Nix a étudié le chant au Conservatoire de Maastricht. Après avoir participé à différents groupes de rock, elle a constitué sa propre formation "Asempa", un mot originaire du Ghana qui signifie message: celui de faire se côtoyer différentes langues et différentes façons de penser (Different way of thinking est le premier titre de son CD).
A ses côtés, on retrouve trois musiciens hollandais: le pianiste Mike Roelofs formé, comme elle à Maastricht; le guitariste Frank Peeters, qui a poursuivi ses études à Hilversum et a enregistré un album solo "Little paintings"; le batteur Ron van Stratum, qui est diplômé lui aussi du Conservatoire de Maastricht, après être passé par Tilburg et qui a déjà enregistré trois albums personnels dont "Swinging in the swamp". Enfin, à la basse électrique à 6 cordes Roman Korolik, un musicien né à Genk, que l'on a déjà entendu aux côtés de Mimi Verderame (album "Game over" avec Eric Legnini).
Nadine Nix a d'abord enregistré un CD, en 2010, pour le label Mons Records; puis vient de sortir un EP de 5 titres en autoproduction.
Dans le CD, on retrouve cette volonté de marier les cultures: rythmes chaloupés de l'Afrique avec Timboye, Asempa, Lo Bobio et C'Ki; textes en anglais (Different way of thinking, Parfume de noche) et en français (Mémoire, Helabah). Elle use pour cela des sonorités électriques de la guitare, du Fender Rhodes (qui alterne avec le piano) et le gros son de la basse, sur des rythmes dansants. Mais elle sait aussi vous emporter dans des ballades (Silence Tells me secrets).
L'album autoproduit, avec la même équipe, propose, de son côté, 4 titres (Mamadou, Angel Elise, Août 14 où, C'Koa) et une alternate take de Mamadou. La chanteuse, toujours attirée par les rythmes dansants de l'Afrique (Mamadou, C'Koa), marie toujours langue anglaise (Angel Elise) et française (Août 14 où), tempo chaloupé et ballade (Août 14 où). Une musique résolument optimiste.
Claude Loxhay