Myriad3 – Vera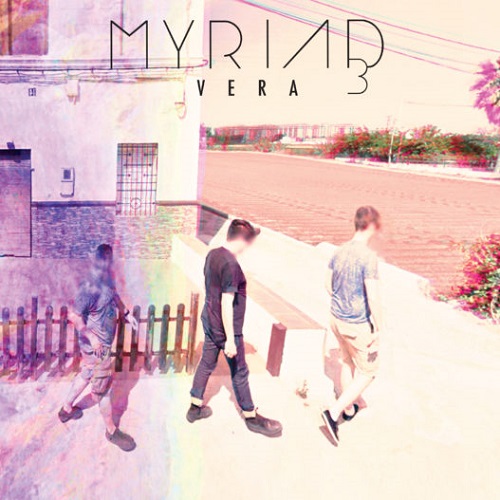 M
Alma Records
"The future of modern jazz" is wat hoog gegrepen als omschrijving zoals te lezen staat in de bijgevoegde bio voor deze vierde cd van het Canadese Myriad3. Het trio weet wel wat hip en modern is in hedendaagse jazzkringen.
Aanvankelijk denk je dat dit het zoveelste trio is in het spoor van The Bad Plus en GoGo Penguin. Na een paar minuten moet die mening herzien worden. Op heel doordachte wijze brengen pianist Chris Donnelly, bassist Dan Fortin en multi-instrumentalist Ernesto Cervini lichte verschuivingen teweeg in ritme en volume en creëren zo een eigen sound. De onderliggende epische krachtstroom houden ze meesterlijk onder controle. Een intrigerende introductie die aanzet om verder te luisteren.
'Tamboa' steunt op een repetitief patroon gecreëerd met een soort marimba, gesierd door de bas die een melodielijn aanlevert. Geleidelijk aan versnelt het tempo van de piano terwijl drums en cymbalen voor de nodige uitroeptekens zorgen. 'Ward Lock' leunt dan weer heel dicht aan bij wat er momenteel reilt en zeilt in de Britse new wave van de jazz, speels en repetitief met een abrupt einde. Het start-stop principe van 'Piano-Rag-Music' lijkt ontleend uit een soundtrack die Charlie Chaplin componeerde met links naar Scott Joplin, de titel indachtig. Al deze modi vinden we onder een of andere vorm terug in al wat nog volgt.
Niet de toekomst van de jazz, wel een frisse kijk op de actuele akoestische evolutie met daarbij het nodige live potentieel.
© Georges Tonla Briquet




Musici:
Chris Donnely: piano, Fender Rhodes, synthesizer
Dan Fortin: bas
Ernesto Cervini: drums, clarinet, fluit, altsaxofoon, percussive

www.almarecords.com