Michel Herr - Positive: Music for sextet and string quartet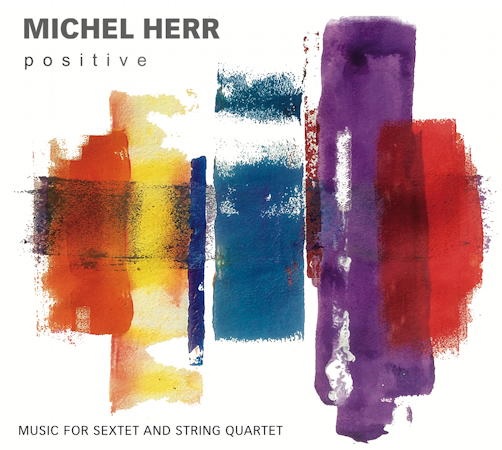 M
Igloo
Michel Herr est un musicien complet: pianiste, compositeur et arrangeur. Voici, chez Igloo, son album Positive, trente ans après Intuitions de 1989, enregistré en trio, suivi de Notes of life en 98, enregistré en quintet, avec Bert Joris,  Wolfgang Engsfeld, Ricardo Del Fra et Dré Pallemaerts.
Mais la carrière du pianiste né à Bruxelles avait commencé bien plus tôt, avec le LP Ouverture éclair en 1977, enregistré en trio avec Freddie Deronde et Félix Simtaine, dans le studio improbable de Michel Dickenscheid à Ougrée. Par la suite, il allait enregistrer plusieurs disques avec le saxophoniste allemand Wolfgang Engsfeld: Perspective en 1978, Continuous Flow en 80, avec Palle Danielsson à la contrebasse et Leroy Lowe à la batterie ou encore Short Stories en 83.
En 1978, il avait aussi croisé la route de Bill Frisell pour Good Buddies et, dans la foulée, il allait rejoindre l'Act Big Band de Félix Simtaine, au sein duquel se trouvait un certain Bert Joris. Toujours en tant que pianiste, il a enregistré avec John Ruocco (Soon Spring), Philip Catherine et Tom Harrell (Moods), Archie Shepp (pour le film Just Friends) et Joe Lovano (Solid Steps en 2003, avec Bert Joris).
Depuis quelques années, il a dû abandonner le piano pour se consacrer à la composition et à l'arrangement. En 2008, le label WERF rendait hommage à son sens inné de la mélodie et du rythme avec l'album The Music of Michel Herr gravé par le Brussels Jazz Orchestra et, par la suite, avec son ami Steve Houben, il portait le projet The real sax section.
Pour ce Positive Tentet, il a rassemblé neuf de ses plus belles compositions et a rassemblé une équipe de rêve. A la trompette, Bert Joris qu'il a croisé au sein d'Act, pour Notes of life et The Music of Michel Herr. Au ténor, l'Allemand Paul Heller, musicien de Cologne qui a fait partie du WDR Big Band et a enregistré plusieurs albums personnels: Paul Heller meets Roman Schwaller, ténor du Vienna Art Orchestra, Good Times avec le guitariste hollandais Peter Tiehuis ou Special Edition avec le pianiste russe Simon Nabatov. A la guitare, Peter Hertmans qui a fait partie du BJO pour The Music of Michel Herr, tout comme Nathalie Loriers très proche du lyrisme mélodique du Bruxellois. A la contrebasse, Sam Gerstmans que Michel Herr avait croisé, en tant qu'arrangeur, pour Udiverse de Fabrice Alleman avec le Chamber Orchestra. A la batterie, Dré Pallemaerts, déjà présent sur Notes of life.
Enfin, Michel Herr, qui avait participé à l'album Steve Houben + Strings et a aussi plusieurs fois écrit pour la formule jazz + cordes, que ce soit pour Udiverse de Fabrice Alleman, le String Project de Philip Catherine ou We have a dream de Tutu Puoane, a décidé de joindre au sextet un quatuor à cordes emmené par Benoît Leseure, violoniste né à Rennes mais qui a rejoint Bruxelles dès 2009.
Tout au long des neuf plages, on retrouve toute la qualité d'écriture du Bruxellois, son amour des mélodies qui permanent longtemps dans l'oreille comme ce I think of you chanté par Tutu Puoane, un thème déjà enregistré sur Short Stories et sur lequel la chanteuse américaine Judy Niemack a écrit des "lyrics" (album Beauty and the Prince, avec Jean-François Prins et Fred Hersch). Chaque composition est l'occasion de beaux échanges entre le bugle à la sonorité suave ou la trompette bouchée limpide de Bert Joris, le ténor incisif de Paul Heller (Modules, The right choices?), la guitare à la sonorité lumineuse de Peter Hertmans (Unexpected encounters) et le piano lyrique de Nathalie Loriers (belle intro en dialogue avec la contrebasse sur Pages and chapters et The positive side ou avec les cordes sur Chemistry and mystery et String Positive).
Michel Herr dirige ses cordes avec subtilité: elles offrent un écrin de choix aux échanges entre solistes (The positive side, Second look) et le rythmique est constamment présente. Une parfaite illustration de la qualité d'écriture et d'orchestration de Michel Herr, de son sens de l'équilibre entre musiciens.
© Claude Loxhay


Musicians :
Bert Joris - trumpet, flugelhorn
Paul Heller - tenor sax
Peter Hertmans - guitar
Nathalie Loriers - piano
Sam Gerstmans - double bass
Dré Pallemaerts - drums
Guest : Tutu Puoane - vocals (on "I think of you")
+ string quartet :
Benoît Leseure - 1st violin
Pierre Heneaux - 2nd violin
Jean-François Durdu - viola
Merryl Havard - cello
Concert:
Bruxelles, Théâtre 140, 7 novembre 2019