Matty Stecks & Musical Tramps – Long Time Ago Rumble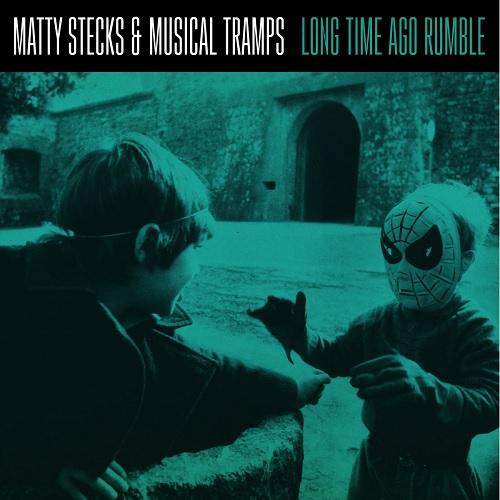 M
Ropeadope Records
Conceptalbums, een foute herinnering aan de jaren zeventig? Niet als je 'Long Time Ago Rumble' van Matty Stecks & Musical Tramps beluistert. Een dubbel-cd (!) boordevol vondsten zonder dat het "art for art's sake" wordt.
Voor 'Long Time Ago Rumble' legt deze Amerikaanse multi-instrumentalist met uitvalsbasis Manitoba (Canada) de lat wel erg hoog. Matthew Steckler aka Matty Stecks stelt zich namelijk tot doel om onderlinge structurele en compositorische gelijkenissen en verschillen vast te stellen tussen moderne jazz, pop, filmsoundtracks en electro akoestische muziekjes. Een obsessie waar hij sinds 2013 vol passie aan werkt en waaraan hij reeds verschillende studies wijdde. Dat hij inmiddels met andere gemotiveerde beeldenstormers als onder meer Anthony Braxton, George Russell en Tyshawn Sorey projecten uitwerkte, zegt genoeg. Deze cd is uiteindelijk het resultaat van een compositieopdracht in opdracht van Brandon Chamber Players. Het mocht dus wat meer zijn.
Steckler trok dan ook alle registers open. Doorgecomponeerde stukken wisselen af met collages en geïmproviseerde passages. Vandaar de "rumble" in de titel. De muziek komt van verschillende kanten en achtergronden. De kunst was om alle materiaal op eenzelfde lijn te krijgen. En ja, het gezelschap slaagt er grandioos in om meer dan anderhalf uur lang interessant en boeiend materiaal te spelen. Humor en onverbloemde referenties helpen daarbij. Of wat te denken bijvoorbeeld van 'Shape Of Rumbles To Come' en 'Begging the Beguine'.
Het is onbegonnen om hier alle details en vondsten op te sommen. De groepsnaam komt bijvoorbeeld van de Charlie Chaplin kortfilm 'Musical Tramp/His Musical Career' waarvoor Steckler een nieuwe score componeerde (de elf minutenlange opener van cd 2). We houden het verder bij John en Alice Coltrane, Motown, Afrikaanse drumpatronen, funky r&b, Gilad Hekselman en pure rock-'n-roll. Toch versmelt deze "melting pot" nooit tot een nietszeggend zootje. Wel blijft alles verrassend over heel de lijn.
Te situeren op dezelfde tijdslijn als 'The Centaur & The Phoenix' (Yusef Lateef), 'Space Traveler' (James Vincent) en 'It Is What It Is' (Thundercat). Verschenen bij het label dat ook reeds werk uitbracht van Nir Felder, Aaron Parks, Christian Scott Aunde Adjuah en The Last Poets.
© Georges Tonla Briquet

Musici:
Matthew Steckler: saxofoons, fluit, toetsen, electronics, EWI
Keith Price: gitaren
Matt Kozicki: bas
Eric Platz: drums, percussie
Leanne Zacharias: cello
Catherine Wood: klarinet
Jeff Presslaff: piano, toetsen
Lenya Wilks, Hannah Fearn, Megan Demarest: vocals