Lab Trio feat. Michaël Attias & Christopher Hoffman - The Howls are not what they seem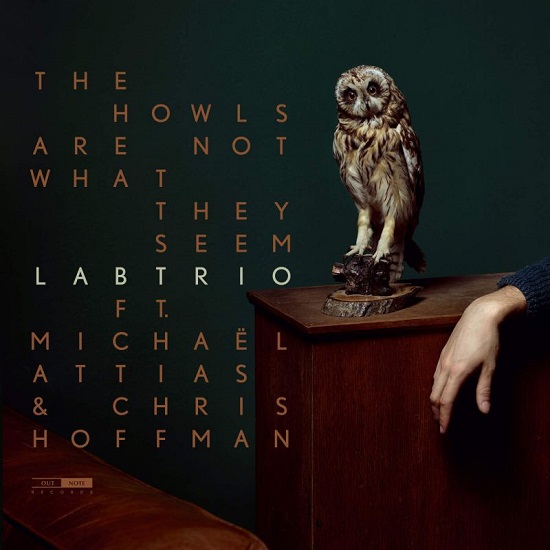 L
Out Note Records - Outhere
LAB Trio, LAB comme laboratoire au sein duquel la musique s'expérimente mais aussi, en forme d'acrostiche, LAB comme Lander Gyselinck, Anneleen Boehme et Bram De Looze, trois jeunes talents particulièrement sollicités.
Lander, le batteur, fait partie du Kris Defoort Trio, de Stuff et Ragini Trio. Anneleen a étudié la contrebasse à Den Haag avec Hein van de Geyn et à Anvers avec Nic Thys. Membre du Rob Banken Trio, elle a joué avec Chris Speed au dernier festival du Middelheim. Quant à Bram, pianiste d'Urbex, l'octet d'Antoine Pierre, d'un trio en compagnie de Jos Machtel et Matthias De Waele, il est le leader de Septych, en compagnie de Robin Verheyen, de Bo Van Der Werf et de l'Allemand Gebhard Ullmann.
Après l'album Fluxus, voici The Howls are not what they seem, au titre polysémique: Howl, comme le hibou de la pochette mais aussi, comme le hurlement qui sert de titre à un poème d'Allen Ginsberg cité dans le livret.
Pour ce nouveau projet, les trois jeunes Belges accueillent deux invités américains qu'ils avaient croisés aux Etats-Unis et retrouvés en Belgique au Storm Festival d'Ostende, au Brand de Malines et au Middelheim.
Au saxophone alto, Michaël Attias, qui a côtoyé Tony Malaby (Twines of Cohesion) comme Ralph Alessi (Spun Tree) et est le leader du trio Renku, avec John Hebert à la contrebasse (Live in Greenwich Village, Renku in Coimbra). Au violoncelle, Christopher Hofman qui a côtoyé Henry Threadgill et dirige l'Aberration Quartet.
Au répertoire, dix compositions originales du LAB Trio et une de Michaël Attias (Moonmouth), un répertoire aux très forts contrastes. Tantôt, des thèmes au tempo énergique, avec de beaux échanges entre piano et contrebasse (Treppenwitz) ou piano et batterie (Wiggle), de belles envolées de l'alto (Mastodont, Treppenwitz), de belles allainces entre saxophone et violoncelle (Low Fat), voire des déchirements free (M.A.S.T.). Tantôt des ambiances mystérieuses avec un violoncelle très connoté musique classique (Avondlijke Rust, Umea). A d'autres moments, Bram abandonne le piano pour le Fender Rhodes (Moonmouth, Kola Wars), Anneleen impose sa sonorité ronde et puissante tout au long de l'album et Lander prend à son compte de belles intros (Mastodont et Ornette, the Western Screech avec cymbales chinoises).
Un album qui illustre bien la richesse de nos échanges belgo-américains.

Claude Loxhay