Jean-Paul Estiévenart Quintet - Strange Bird (BL)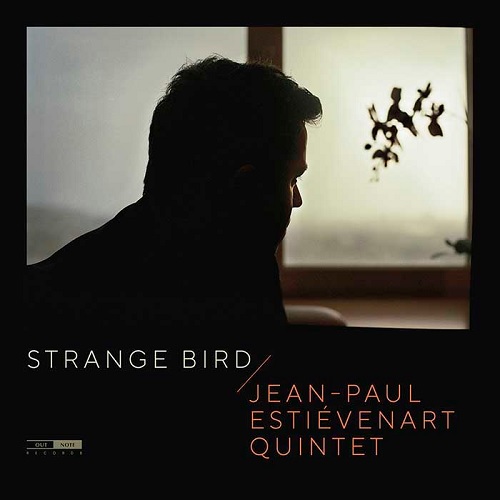 J
Out Note Records
Trompettist Jean-Paul Estiévenart (34) timmert al zo'n 10 jaar aan zijn eigen klank en liet zich meteen opmerken in vele formaties, maar bovenal de eigen persoonlijke albums in 2013 ('Wanted' – W.E.R.F.) en 2016 ('Behind The Darkness' – Igloo Records).
Nu slaat hij een nieuwe weg in met 'Strange Bird' waarin hij piano (Nicola Andrioli) en gitaar (Romain Pilon) in harmonie met zijn trompet laat schitteren. En waar hij met zijn trio telkens een blazer te gast had, komt hij nu uit bij Logan Richardson waarmee hij eerder met zijn trio op Jazz à Liège in 2016 een hommage aan Ornette Coleman bracht.
Logan Richardson wist op zijn Blue Note debuutalbum 'Shift' (2016) gitarist Pat Metheny te strikken en Jason Moran op piano. Daarmee brak hij meteen door. "Ik hou van de persoonlijkheid en het professionalisme van medemuzikanten. Ik wil me niet voor of boven de band stellen, ik ben één van en met hen.", vertrouwde hij ons bij een gesprek in Hnita in 2016 toe. Hij past helemaal in het muzikale universum van Jean-Paul Estiévenart waarin hij zijn eigen ruimte creëert ('Henri', 'La Caseta' en 'SSHHH!!!'). Hij zorgt voor enkele heftige passages binnen de overigens melodische thema's.
In 'Strange Bird' legt Jean-Paul Estiévenart een muzikale weergave van zichzelf: "Je kan door mijn hoofd reizen". Hij schreef de stukken in Spanje met een emotionele spontaniteit en veel ruimte voor improvisatie.
'Barcelona' en 'Con Passión' (met de warme bas van Nicolas Thys) zetten meteen de toon voor prachtig uitgesponnen lyrische grooves waarin de groepssound schitterend spoort.
De prachtige uitgesponnen ballad 'Strange Bird' (10 minuten) drijft op het intimistische pianospel van Nicola Andrioli in duo met een melancholische Jean-Paul op trompet, pittig opgepikt door bassist Nicolas Thys en powerdrummer Antoine Pierre, wat sober overgaat in een ritmisch kat-en-muisspel van gitaar, drums en trompet. Een voltreffer!
Dat de bewondering voor Miles Davis ('Inés 11') en ook Bert Joris hem niet onberoerd laat is bekend. In 'Bert's Sketch' heerst de groove met gitarist Romain Pilon in een fijne interactie van het kwintet.
'Strange Bird' bevestigt de stelling van Jean-Paul Estiévenart dat hij altijd al muziek wil schrijven en spelen die de mensen in beweging brengt, zowel emotioneel als fysiek. En met zijn muzikanten wil hij de energie delen die de présence overstijgt en niet de noten maar de muziek laat overheersen.
© Bernard Lefèvre



Musici:
Jean-Paul Estiévenart (trompet, composities)
Romain Pilon (gitaar)
Nicola Andrioli (piano)
Nicolas Thys (contrabas)
Antoine Pierre (drums)
& Logan Richardson (altsaxofoon)


Concertagenda:
30 november 2019 - L'An Vert – Luik
15 december 2019 - Bozar – Brussel – met Logan Richardson
13 maart 2020 - Bijloke – Gent
22 april 2020 - Chapelle Musicale – Waterloo
14 mei 2020 - Mithra Jazz – Luik

Info: http://jeanpaulestievenart.com/