Jérémy Dumont 5tet (feat. Godwin Louis) - Eretz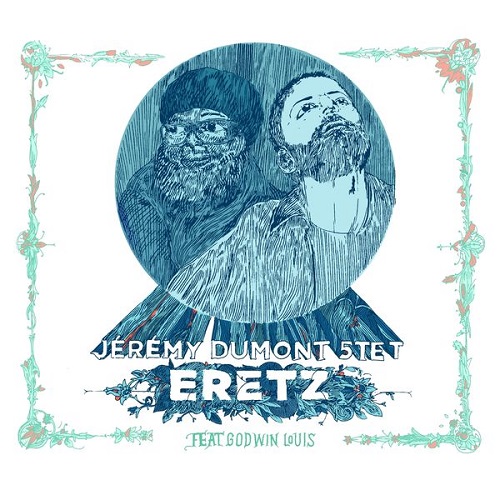 J
J4Y
Après avoir été attiré par le violon, Jérémy Dumont a débuté des études de piano classique au Conservatoire de Charleroi, puis s'est tourné vers le jazz: Jazz Studio d'Anvers puis Conservatoire de Bruxelles sous la direction d'Eric Legnini.
Il fonde d'abord un trio avec lequel il enregistre l'album Résurrection, avec Fabrice Alleman en invité et voici qu'il présente un quintet international. Au saxophone alto, l'Américain Godwin Louis. Diplômé de Berklee et du Thelonious Monk Institute, il a côtoyé Herbie Hancock comme Clark Terry et a enregistré, entre autres, avec la percussionniste Terri Lyne Carrington et le contrebassiste Michael Feinberg.
A la trompette, Jean-Paul Estiévenart, aux multiples expériences, d'Urbex au LG Jazz Collective, de MikMâäk à son propre trio.
A la contrebasse, le Français Damien Varaillon, qui joue aussi bien au sein du quartet du trompettiste Nicolas Folmer que de celui du clarinettiste sarde Matteo Pastorino (album Suite for Modigliani).
A la batterie, l'Italien Armando Luongo qui, après des études au Conservatoire de Salerne puis de La Haye, en compagnie d'Eric Ineke qui a joué avec Chet, a rejoint Bruxelles pour faire partie du trio du saxophoniste français Vincent Thékal comme du quartet du ténor italien Filippo Bianchini.



Pour cet album Eretz (la "terre" en hébreu) enregistré à Bruxelles mais mixé à New York, sept compositions originales, de Strange Feeling à Nieuwpoort Day, et deux grands classiques: Darn that dream et Tenderly. Si Jérémy Dumont désigne volontiers comme "mentors" Chick Corea et Avishai Cohen, ses compositions s'inscrivent directement dans un héritage post-bop au groove énergique.
La plupart du temps, la structure des compositions est elle-même assez traditionnelle: exposé du thème à l'unisson, suivi de solos de chacun des protagonistes, sous l'impulsion vigoureuse de la rythmique puis retour au thème. Dans ce contexte, Godwin Louis se présente comme l'héritier d'une lignée d'altos qui irait de Charlie Parker à Jimmy Mc Lean: une grande vélocité de jeu qui se marie à une sonorité incisive. Les deux classiques, Tenderly et Darn that dream, se révèlent, eux, comme des moments d'apaisement.
Un album qui ravira les amateurs de swing.
© Claude Loxhay
Déjà paru sur Jazzaroundmag


Concerts 2019:
12/4: Drogenbos, Cali Club
13/4: Bruxelles, Jazz Station
14/4: Antwerpen, Hopper
16/4: Hamme, Spacium
17/4: Liège, Pelzer Jazz Club
18/4: Bruxelles, L'Archiduc
19/4: Antwerpen, De Muze
20/4: Bruxelles, Sounds
30/4: Bruxelles, Loup et moi