Ineke Vandoorn & Marc van Vugt - Crossing Canada LIVE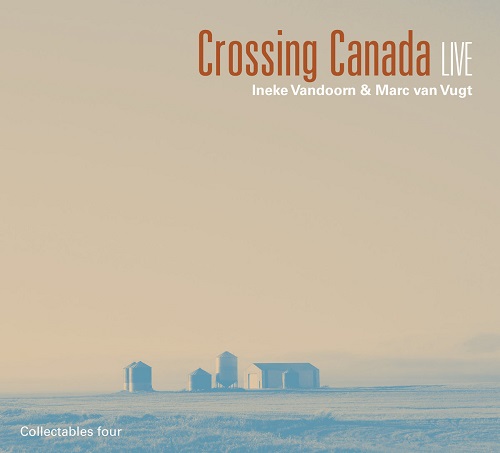 I
Baixim Records
In 2016 en 2018 trokken jazzzangeres Ineke Vandoorn en gitarist Marc van Vugt door Canada, van oost naar west, langs de Canadese Prairies en over de Canadian Rockies, van Toronto tot Montreal. Tijdens deze trip speelden ze samen met Canadese musici waarvan 4 tracks getuigen naast de duo-opnames, altijd live vastgelegd, soms onder simpele omstandigheden.
De muziek en teksten van Ineke Vandoorn en Marc van Vugt zijn geïnspireerd op hun vele reizen. Zo roepen ze herinneringen op aan eigen (water)land (Holysloot), de Franse bergen (On The Mountain) of nog de tropische regen op Bali (Bali Rain). Naar stijl refereren ze naar de Braziliaanse choro en ritmes, Scandinavische soundcapes en verhalende luisterliedjes.
Al bij al dus heel toegankelijke en fijngevoelige songs die je aan het denken zetten en evengoed weemoedige als blije momenten oproepen.
Mark van Vugt improviseert voorbeeldig met subtiele en creatieve gitaarklanken bij Ineke Vandoorns warme, expressieve stem. Het album voert je mee op een intieme, avontuurlijke muzikale reis vol impressies van On The Mountain tot Bali Rain, het stemmige Dawn, Tea, Holysloot (met fijne piano- en gitaaraccenten), het uptempo Sunny Side Up of nog Blues For A Voice tot het krachtige Power of Fragility.
Heel apart sluit het album af met een Nederlandstalig nummer, Liefde, intens warm gedragen door Ineke Vandoorn en de lyische gitaar van Marc van Vugt.
Crossing Canada opent zich als een album met bezielde gitaar en zang, harmonieus en melodisch, en vol verrassende verhalen waar je intens naar luistert.
© Bernard Lefèvre




Musici:
Ineke Vandoorn (vocals, piano)
Marc van Vugt (gitaar)
Gasten:
Michael Occhipinti (gitaar)
Mark Kelso (drums)
Søren Nissen (bas)