Igor Gehenot/Alex Tassel/Viktor Nyberg/Jérôme Klein: Delta (f. dupuis-panther)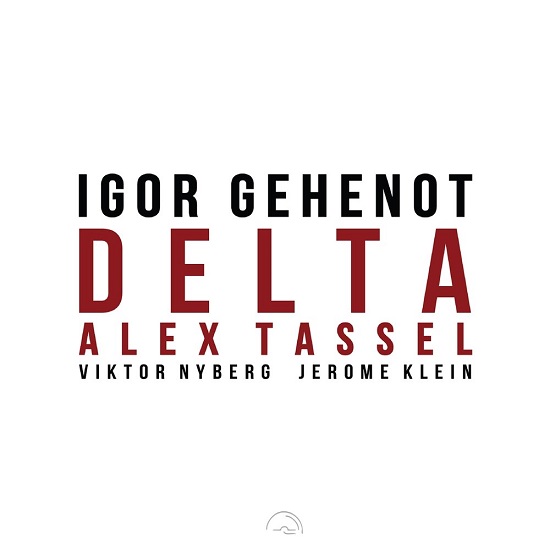 I
Igloo Records IGL280
Für das aktuelle Album hat sich der Pianist Igor Gehenot den Schlagzeuger Jérôme Klein und den schwedischen Bassisten Viktor Nyberg in sein Trio geholt. Als Gast gesellte sich noch der französische Musiker Alex Tassel am Flügelhorn zu diesem Dreigespann hinzu. Wer den Begriff Delta analysiert, der wird zugleich mit dem Bild eines Flussdeltas, des Nils, des Mississippis oder des Ganges konfrontiert. Es ist das Bild des Ausufernden, des Verströmenden, des sich fächerförmig Ausbreitenden. Alles scheint im Fluss, um es kurz zusammenzufassen.
Neben einer Einleitung sind auf dem Album Titel wie "December 15", "Moni" und "Sleepless Night" zu finden, zudem unter anderem auch "Johanna" und "Drop by". Mit Ausnahme von "Starter Pack" (comp. A. Tassel) und "Johanna" (comp. J. Klein) stammen alle übrigen Kompositionen vom Pianisten Igor Gehenot.

Kristalliner Pianoklang breitet sich über einem anschwellenden brummenden Ton aus. Dieser Klang von zerbrechendem Eis verfeinert sich, erhält noch eine Bassfärbung und klingt dann beinahe im Off aus. Das ist die Eröffnung des Albums, ehe dann übergangslos "December 15" mit einem samtweichen Klangschwall zu vernehmen ist. Über dem Besenwerk des Schlagzeugers lässt Axel Tassel seine durch das Schallstück austretende Sequenzen schweben. Eher als Beiwerk erscheinen Bass und Piano in ihren Klangäußerungen. Axel Tassel hingegen lässt uns an einen Wintertag mit Schneegestöber denken, wenn er sein Flügelhorn erklingen lässt.

Eine schlaflose Nacht lässt uns die Band um den Pianisten Igor Gehenot erleben. Dabei hat man die Vorstellung, dass der Bass und das Schlagwerk die Sekunden der Schlaflosigkeit angeben. Der helle Klang des Flügelhorns scheint eher Weckruf als Schlaflied zu sein. Vielleicht fällt Axel Tassel auch die Rolle zu, die nächtliche Unruhe, den Albtraum, das Aufschrecken, das Hin- und Hergehen, das nächtliche Herumwandern einzufangen. Derweil scheint das Pendel einer Standuhr unablässig hin- und herzuschwingen und dabei die Sekunden ohne Schlaf zerrinnen zu lassen.

"Starter Pack" hat hier und da dezente Anmutungen an Funk, jedenfalls suggeriert das der Schlagwerkduktus. Ansonsten scheint auch ein wenig Post-Bebop mit im Spiel, oder? Das Flügelhorn, gespielt von Axel Tassel, bestimmt die Auswahl der Klangfarben zwischen samtenem Rot und Grün. Dazu zeichnet Igor Gehenot mittels seiner Klangpalette das Bild eines sich nach und nach verzweigenden Flüsschens. Dagegen erscheinen Axel Tassels Passagen eher als ein Mahlstrom, zumal er in seinem Spiel durch ein virulentes Schlagwerk unterstützt wird. Man hat beim Zuhören eher das Bild eines sich in die Tiefe stürzenden Wasservorhangs, den Niagara Fällen gleich, vor Augen, oder?

Zum Schluss scheinen hopsende Kinder vor unserem geistigen Auge aufzutauchen, wenn Igor Gehenot bei "Drop by" in auffällige Klangsprünge verfällt. Axel Tassel hingegen breitet über diese Klangsprünge einen weichen hochflorigen Teppich aus, um uns zum Vorbeischauen zu animieren. "Drop by" heißt nämlich nichts anderes als das: Schau mal vorbei, Komm mal rum … Und am Ende fragt man sich in  der Tat, warum das Album nicht so, sondern "Delta" heißt.
Text: © ferdinand dupuis-panther

Press release by Igloo records
A revelation with his trio, winner of numerous awards and hailed by the British magazine Jazzwise, the young Belgian pianist Igor Gehenot has brought together the cream of Europe's young jazz scene in a new quartet project called "Delta".

After two albums as a trio for the Igloo label ("Road Story" in 2012 and "Motion" in 2014), the charismatic young Belgian pianist called on a solid rhythm section, the young Swedish double-bassist Viktor Nyberg and the Luxembourg drummer Jérôme Klein. To complete this high-flying quartet, he brought in the bugle-player Alex Tassel, a leading figure on the French scene both in terms of electric and acoustic jazz. Winner of an Adami Jazz Talents award in 2011, Tassel has shared stages with major names such as Daniel Romeo, Rick Margitza, Jacques Schwartz-Bart, DJ Cam and Baptiste Trotignon.

Recorded in October 2016 for the Igloo label, the "Delta" project offers music in Gehenot's lyrical style, alternating between strong melodies, solid grooves and elegant swing. Using unabashedly lyrical and romantic sounds, Gehenot and his partners play music that is rich in poetry and colour, giving each note room to open up and arrive at the essence.
Informationen
Label
http://www.igloorecords.com

Musiker
Igor Gehenot
http://www.igorgehenot.be/HOME.html

http://www.jazzhalo.be/reviews/cd-reviews/i/igor-gehenot-trio-motion/